Motorsport
What's Bentley's Pikes Peak Continental GT3 like to drive?
Hold on tight, it's time for a go in the maddest - and smelliest - Bentley ever made
Hang about, you drove Bentley's Pikes Peak car, but on an oval?
An oval with an infield section. After five laps I had a newfound respect for Nascar drivers, and feel I've been driving a car that gives me a bit of that flavour. Because, boy, does it makes a good noise, this wild and bewinged Bentley Continental GT3.
It's a four-turn oval, so I guess I'm at turn 2, but the way the car crawls back up the banking as I power on to the back straight never fails to alarm me. I can't fight it – well, I could but it would be unwise – it's just what happens as the angle reduces and the car takes its natural path out towards a convergence with a very unforgiving concrete wall. It moves fast, this wall, seeming to descend to meet me as I rise, then to steam alongside like a frantically puffing runaway locomotive until I gladly peel off into the friendly infield corners.
Advertisement - Page continues below
So where are we?
Welcome to the Pikes Peak International Raceway. You can see the mountain from here – it dominates the skyline over Colorado Springs – but trade descriptions could have something to say about its distant positioning relative to the mountain.
But then that shouldn't be called Pikes Peak in the first place. Explorer Zebulon Pike never reached the summit in 1806. Edwin James did in 1820, but the Spanish were there well before either, naming it El Capitan, and if we really want to get picky about it, we should refer to it as Tava or Heey-otoyoo, depending on which tribe you give precedence too, the Tabeguache or Arapaho.
Thanks for the history lesson, now let's get automotive.
This car is not for an oval obviously. And compared to what it's designed for, an oval is a stroll in a meadow. Yesterday it was blasting up the mountain, aiming to set a hill record in the super-competitive Time Attack 1 class.
It must be a big ol' thing though?
Yeah, but if you want to make a Continental GT look small just fit it with preposterous aero devices. The regulations permit them to extend way beyond the usually imposing bodywork, enabling sticky downforce at lower speeds. This car started life as a GT3 racer, so uses a production chassis and bodyshell before the weight reduction begins. The doors tickle me most. The original interior handles have been retained, but they seem adrift, floating over single-skinned carbon. There's only one seat inside, usually occupied by New Zealander Rhys Millen, who's competed at Pikes Peak 26 times, winning outright twice.
Advertisement - Page continues below
How much power are we talking?
The motor is relatively familiar – the twin turbo 4.0-litre V8 from the racing GT3 and road car programmes. But open the bonnet and you won't believe where it is, tucked so low down and far back it seems to peak timidly out from under the bulkhead. Don't let that deceive you. It's been entirely reengineered to cope with a massive power boost. In GT3 race trim it runs about 550bhp. Here, where there are no limits, Bentley is being coy. All they'll say is that it develops 750-1000bhp thanks to new pistons and conrods, higher pressure turbos and a new and far more extensive cooling system. Those big ducts behind the doors gulp air down for a new boot-mounted radiator pack in addition to the one up front.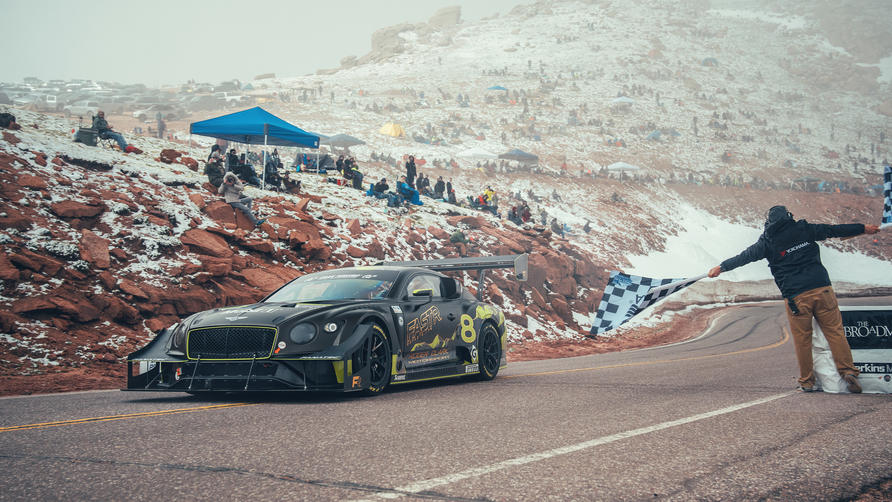 How did Pikes Peak pan out for Bentley?
Colorado had recently basked in mid-30s celsius, but the night before the race the temperature dropped well below zero. Snow fell, ice developed on the tarmac. Ironically, before the top section's dirt surface was paved over, this wouldn't have been such an issue. But it meant the start line was brought down from the summit to Devil's Playground, three miles and 400 metres lower.
Then, towards the end of Millen's run, a backfire into the inlet manifold was explosive enough to tear the thick carbon, resulting in pressure loss about a mile from the finish. An expected easy class win over the Porsche 911 GT2 RS of Romain Dumas turned into a five second deficit, a potential win into fourth place overall out of the 55 starters.
The altitude must be a killer.
The Pikes start line is at 2862 metres (higher than the top station in plenty of European ski resorts) and the finish at 4302 metres. Plenty of cars, including the Bentley, carry a green triangular 'O2 on board' sticker, meaning the driver is using oxygen to keep their wits about them. Just walking around the pit area can have you panting. An ill-advised 20-metre jog at the summit, just to see what would happen, had me developing tunnel vision.
This affects the cars in the same way. Neither man nor machine can get enough air in. It's not there for the engine to ingest, nor to flow over the cooling packs. Tuning for the 'Race to the Clouds' is a dark art, there's muttering about turbos and manifold pressure, but no-one speaks openly. Hence Bentley's power claims. So let's assume 750bhp is what it develops on the hill, against 1,000bhp at sea level.
What about at the Raceway?
It's well over a mile in the air still, so let's say 850-900bhp. But that's not what struck me first. Even on the oval's open apron and with a breeze to carry it away, the Conti stinks on start up. At the Peak, Bentley's paddock spot was next to the portaloos (don't think it's glamorous at Pikes, it's basically a one-day farmer's market for high octane machinery) and initially I assumed the whiff came from there, a weird, chemically smell. Renewable biofuel, it turns out. An 85 per cent greenhouse gas emission reduction over standard fuel, an 850 per cent worse nostril assault.
Once warmed through the smell improves, so Rhys Millen took the car out to check the new inlet manifold, replaced overnight. The car sounded like a thunderclap. Proper old-school V8 fire and brimstone erupting from exhausts that exit behind the front wheels. From the pitlane I can not only hear but feel every piston detonation bouncing off the retaining walls, and when Rhys lifts off for Turn 1, flames lick up the sides of the car. Angry, harsh and unfiltered ,it's a long way from Bentley's refined, cultured norm.
Top Gear
Newsletter
Thank you for subscribing to our newsletter. Look out for your regular round-up of news, reviews and offers in your inbox.
Get all the latest news, reviews and exclusives, direct to your inbox.
Did you get any instruction before you drove?
Rhys insisted that it's less furious to drive than it sounds: "We actually set up the suspension before the aero, because I didn't want it too stiff and that's what aero usually tells you to do. It means I have more confidence in its mechanical grip for the lower speed sections, so when I start the race I actually overdrive it for the first two corners, go in too hot and too hard, work out what's going on with the grip and from that point I can trust it."
I will not be going in too hot and too hard. I lash myself into the deep seat and pull the Fanatec steering wheel into my chest. It's more of a yoke actually, but the engineers have attached a lower connecting arm between the sides to give Rhys an extra hand grab for hairpins. There's a built-in digital display and when I give the steering a turn, I notice the gear number stays upright, while the screen spins around it. Neat. And useful when the steering wheel is rarely straight.
How easily does it pull away?
The clutch is automatic. I've driven Bentley's racing GT3 before and was instructed to dial up the revs and dump the clutch to get rolling. They've clearly moved on from that, but now it's automatic and slips, which makes you feel like an amateur. From then on the GT3 Pikes Peak makes you feel like a hero. It's because it's got some movement in it, a bit of roll and travel. Most racing cars are so rigid it's very hard to work out where the limits are, so unless you're a pro you skate nervously around, unsure what will happen when you approach them. Here, you get information from the compression of springs, the squidge of dampers.
Does that give you confidence to go harder?
Only in one spot on each lap does it feel awkward, that damn exit of turn two, where there's a bump as the surface changes and, loaded up, the Bentley just corkscrews through momentarily. It's fine, the car deals with it, but it's not one of those motions that's over before it's begun, you almost have time to react. Which would be the wrong thing to do. Let the car do the work.
Talk us through it then…
Nail it down the back straight and then peel flat out onto the infield section. Hard on the brakes, down from fifth to second, the changes wumph through, the car angling over slightly as I turn in. And that feels great; with pressure going through the suspension I can work out what grip the tyre has, and get a better idea of what's left to give.
But it's the low-speed traction that's so impressive. It doesn't detectably squat as much at the back as it does roll at the front but there's still give in it – and because of that, slightly less feedback and accuracy from the rear as I get back on the power. But my main take away is that I could've buried the throttle sooner. For the next few laps I try to work out how much sooner. Before I leave the brakes alone seems to be the conclusion.
The traction out of corners is just ridiculous. So too this car's ability to absorb kerbs as if they weren't there. Which all means you can take big liberties with everything from the apex onwards. On the hill I imagine this must be a boon, the car able to attack bumps, to put a wheel where it probably doesn't belong without too much fear of overdoing it. It may not be inch-perfect precise, but for the mountain I'd definitely take this fluency and forgiveness instead. I get the sense that it's on my side.
What about the acceleration and brakes?
If I'm honest, the brakes don't hit as hard as I'd expected, and even with a fair few vertical metres involved I thought 850bhp working on 1350kg would pack an even bigger punch. But then, as shift up lights flash on the dash, I catch sight of the speedo reading 240kmh (150mph) and realise it's the car, so well balanced and friendly that it disguises the speed it's accrued.
And look at the size of the thing it's having to drag through the air behind it. At 150mph, there's probably enough pressure to not have to lift through turns 1 and 2, to go full NASCAR and just gently lift to get the nose gripped and settled before powering on through. This Bentley feels stable and composed enough to manage that. This driver, however, knows how puckering it is when the wall comes down to meet him. But given a choice between wall and air, he knows he'd take wall any day.
What about the mountain – how's that in a regular car?
On every other day of the year, Pikes Peak is open to tourists, so I joined them and toddled up there at the posted 25mph in something less extreme. And you know what, at 25mph 'America's Mountain' is bloody alarming. I'm not just saying that. If exposed heights give you any sort of tremor whatsoever, if you have any imagination for what could happen if you got a bit sideways coming out of a hairpin, let alone if the wing fell off at 130mph, a 25mph rumble up those 12.42 miles and 156 turns will cause the palms to prickle.
And you think it's just going to be the top half, where the view through the windscreen is a diagonal slash between orange rock and white sky, where the grey tarmac often surfs that margin, forcing you to tightrope that oh-so open edge. But no, lower down it's the trees. Famously unforgiving. The accident will be over sooner, no cartoony hang time before the mountain's bare embrace, instead the sudden hard stop. Just ask Paul Dallenbach about that. That there have only been seven deaths over the race's 99-year history is, I think, remarkable.
Photography: Richard Pardon and Jamie Lipman