Top Gear Advice
The UK's cheapest, decent cars to insure…including a few fast ones
If you're not getting insured on these, you're likely not getting insured on anything…
Cheap car insurance is hard to come by unless you're approaching pension age, with a flawless driving record and an underpowered car of choice. For those of us living in the so-called 'real world', with places to be, people to see and no chance of a final salary pension, we're contemplating the sale of another kidney to afford this year's car insurance renewal.

Insurance is a funny old world where the groups are numbered one to 50. One is the cheapest. If you're wondering about 50…that's the special reserve for those top-of-the-range premium models made from the dreams and starlight of the fortunate few.

Without further ado (and dwelling on all the things Santa didn't bring us for Christmas), here's the only list you'll need if facing a cost-of-living showdown with your other half. These new cars represent your best chance of affordable insurance*.
*For those of you for whom speed is a non-negotiable, we've chucked in the cheapest of the fastest, too. Nb., these may price you out. Manage your dreams sensibly, kids.
Advertisement - Page continues below
Volkswagen Polo 1.0 S (Group 1)
Facelifted a couple of years back, the VW Polo carries plenty of styling cues from its bigger and hugely popular sibling, the VW Golf.

With its smaller dimensions and gutsy 1.0-litre turbocharged petrol engines, it's got verve. Add an interior that's both comfy and practical and the Polo's well-packaged. What's more, if you opt for a lower trim spec, you avoid the weird and unintuitive design abomination that is the climate control's touch button panel.

Sure, it's a bit too sensible and lacking in Ford Fiesta sparkle. Yet, low fuel economy and Group 1 insurance categorisation means the Polo more than makes up for these minor drawbacks.
Kia Picanto 1.0 '1' (Group 1)
Revamped in 2011, the Kia Picanto is a suitably stylish city motor with a seven-year warranty. The Picanto's peppy 1.0-litre engine in entry-level '1' trim won't break the bank when it comes to sorting out the insurance, either. Not least because this pretty city car gets electric front windows, a USB port, DAB radio and Bluetooth connectivity as standard.

Though you'll have to pony up to the 3-spec trim for Apple Carplay and Android Auto integration, the Picanto has plenty of practical pockets and enough space for frequent solo journeys, with the occasional squeeze of four whole humans (for a limited time only).
Volkswagen 'Take' Up 1.0 60PS (Group 1)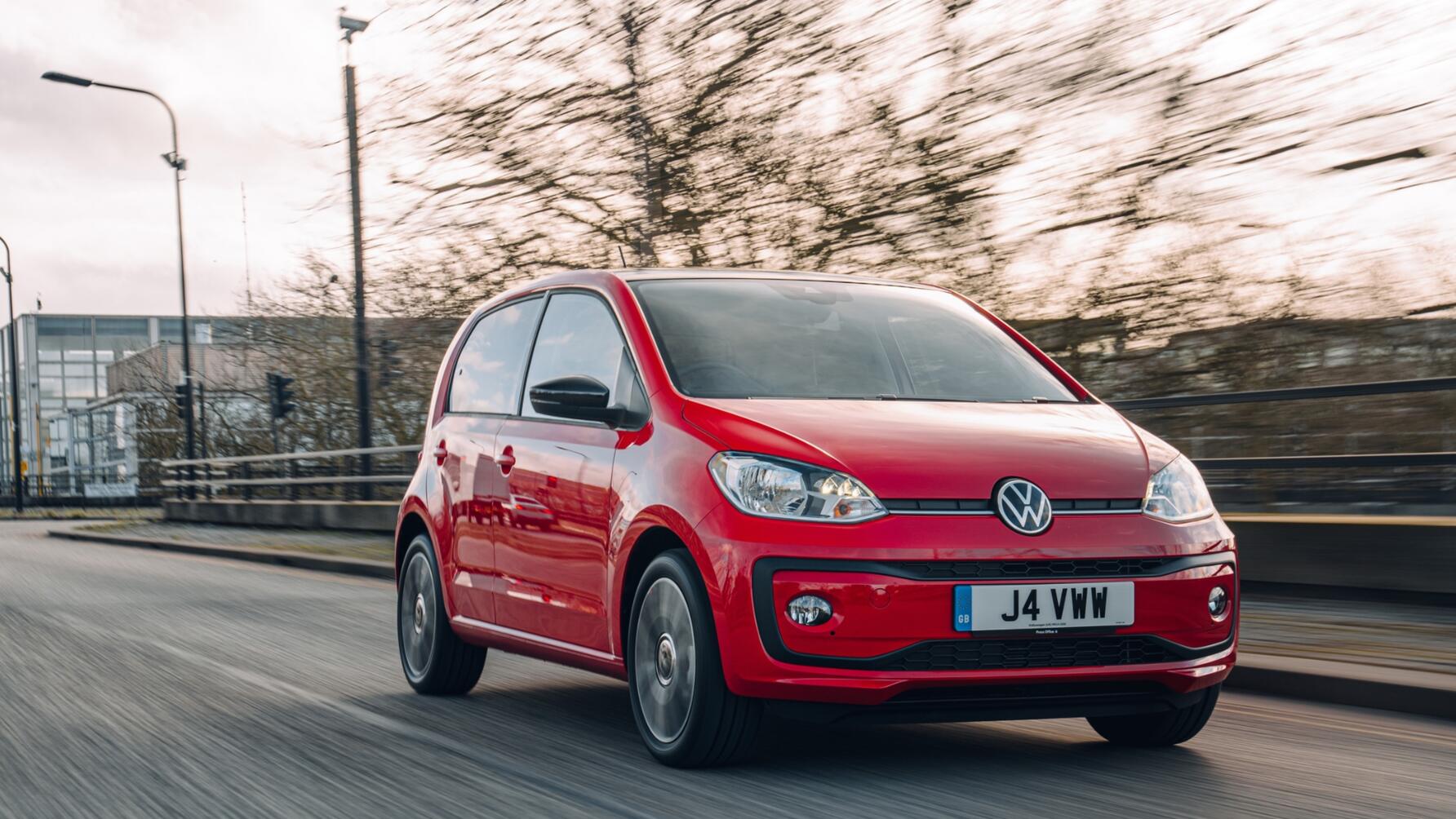 There's a lot to like about the VW Up. It's surprisingly refined on the motorway and deceptively roomy. The tech in the cabin is intuitive and the quality of this cleverly packaged build is impressive.

To qualify for Group 1 insurance, you'll have to opt for the questionably titled Take Up! Ok, so the 1.0-litre engine with an output of 60bhp is not winning any races. Yet, that engine's likeable rasp - at odds with the Up's sensible character - gives, at the very least, the illusion of beef. Avoid the jerky automatic 'box and enjoy the cheap running costs all the way to the bank.
Hyundai i10 1.0 MPi AMT (Group 1)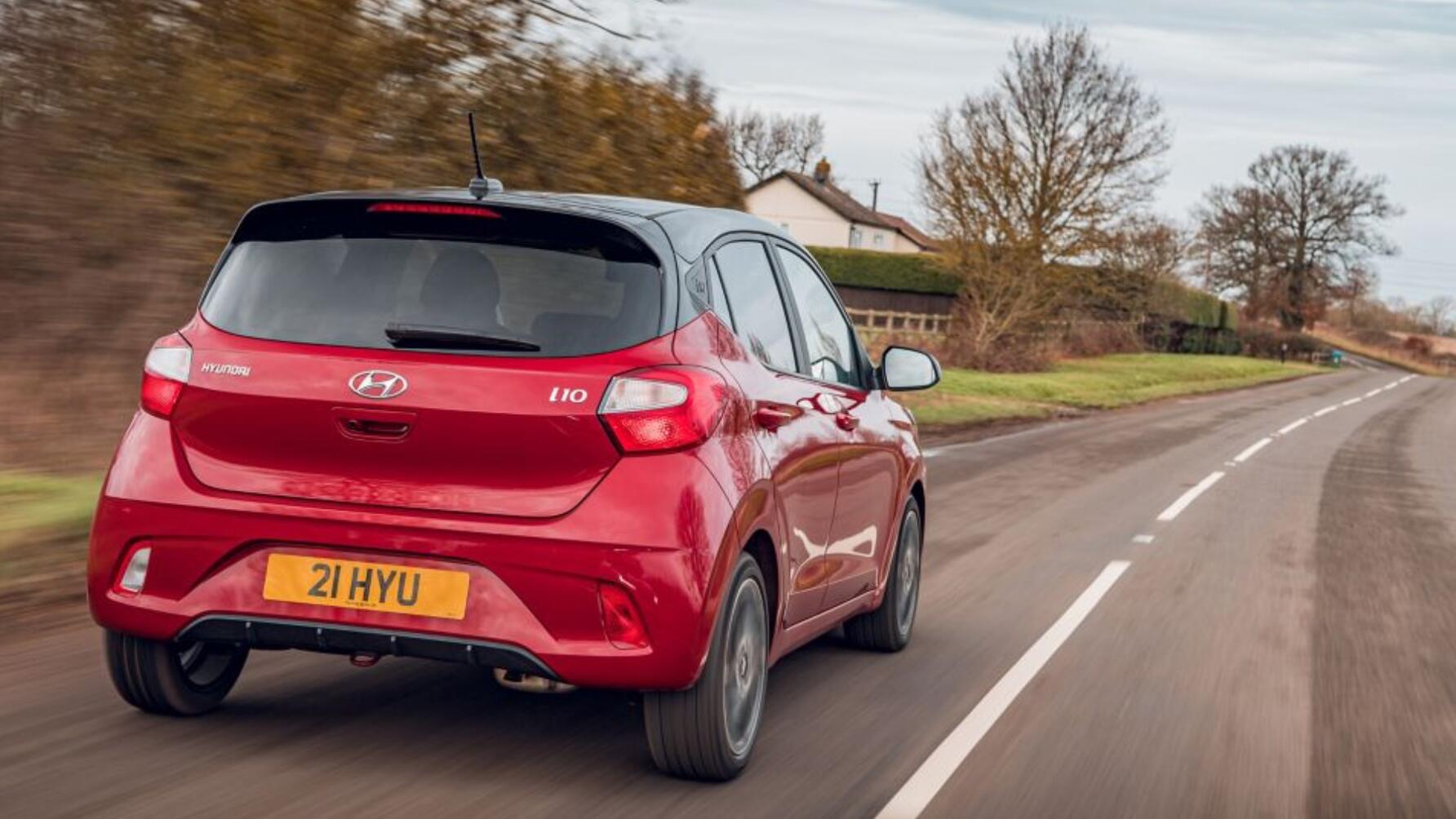 It's fair to say the old Hyundai i10 wasn't the most exciting car on the road. Hyundai somehow shifted more than a million of them since 2007 without anyone really noticing, including most of the customers who actually bought one.

The new i10 is much less amnesia-inducing. Not fast, mind - at least not with the insurer-pleasing one-litre engine - and not exactly exciting to drive. But it's refined enough on the move, comes with more kit than you'd expect from an entry-level city car, and of course gets Hyundai's five-year warranty.
Advertisement - Page continues below
Ford Fiesta Trend 1.1-litre Ti-VCT (Group 5)
When it comes to a serious supermini with definitive style, road presence and pleasing performance, the Ford Fiesta always makes the shortlist - albeit not for much longer. That 1.1-litre three cylinder turbocharged EcoBoost might not be the gregarious ST hot hatch we know and love, but this less powerful pick will put you in the pink when it comes to insurance.

Ford's reputation for being cheap to insure is partly based around its cars being cheap to repair. And the fact that all trim levels come with a responsive eight-inch centre display, air-con and Carplay and Android integration seals the deal for us.
Nissan Micra 1.0 Visia (Group 1)
Another fairly recent improver, the old Nissan Micra was once described as 'a machine purchased for the one-way drive to Dignitas'. Fortunately, the new one is much better. For the most insurable Micra, you'll need to go for the non-turbo 69bhp 1.0-litre engine. While it doesn't have quite as much power as the Fiesta, it sits very neatly into the cheapest insurance group 1.

Its sporty looks, chuckable handling and plethora of interior tech enable budget-savvy buyers to turn a blind eye to the Micra's cramped rear seats and lack of air-con. Instead, they can wax lyrical about their environmental do-gooding, with CO2 output of a mere 103g/km.
Skoda Fabia hatchback (Group 2)
Buying into a Skoda Fabia isn't the worst decision you could make if keeping an eagle eye on your motoring budget. The Fabia is the smallest Skoda in the range and embodies the reputable competence expected from a VW Group product.

The entry-level 'S'-trimmed Fabia is a refined drive with a punchy turbocharged 1.0-litre engine. Its brisk pace off the lights or at roundabouts is coupled with reasonable comfort. What's more, Skoda is unique in the mass-car market for providing a suite of quirky extras, like the umbrella in the door and the ice-scraper stored on the fuel cap door.
VW Up GTI (Group 17)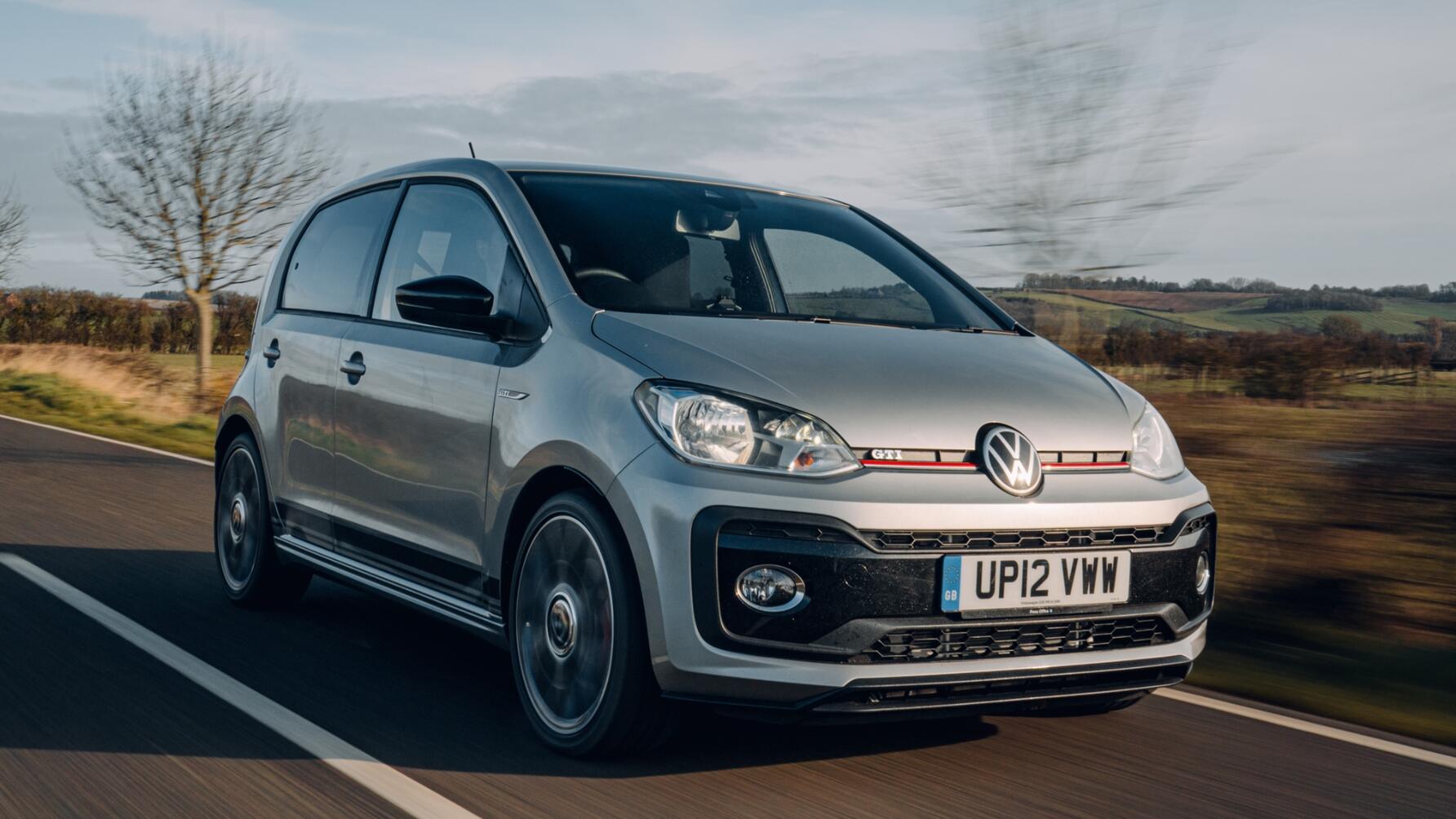 It wouldn't be very TG of us to just list a tonne of city cars which bumble effortlessly around urban streets and struggle hideously on motorways. For those drivers with a bit more budget and an uncompromising need for something fast, the loveable VW Up GTI tops our trio of the cheapest and fastest three cars to insure.

The five-door 1.0-litre TSI pushes a respectable 113bhp; a proportionately perfect pocket rocket, achieving 0-62mph in 8.8 seconds. It falls into Group 17, so undoubtedly there are other cars that are cheaper to insure, but, at this price point, the Up GTI has few, if any, rivals. 
Top Gear
Newsletter
Thank you for subscribing to our newsletter. Look out for your regular round-up of news, reviews and offers in your inbox.
Get all the latest news, reviews and exclusives, direct to your inbox.
Hyundai i30 Fastback (Group 18)
Climbing the insurance groups to 18, the Hyundai i30 Fastback is a cheaper choice for veritable speed demons. Once touted to be better-looking than the Mercedes-Benz CLA by, er, us, this super pretty, relatively practical and suitably quiet fastback offers great value-for-money.

The 1.5-litre turbocharged petrol engine pulls off 0-62mph in 8.6 seconds (8.8 with the autobox - of which we're not fans). The handling is tidy and the performance entertaining enough to justify the extra pennies. Fortunately, if you're not too heavy on the throttle, fuel economy could reach around 53mpg, which isn't too shabby either.
Mini Clubman Cooper S JCW (Group 22)
The original Minis were some of the cheapest cars to buy and insure when they first launched in the 1960s. Now, cult collectables, the '60s successors of today are bigger, brasher and a bit more expensive to buy. Still, BMW has done an exemplary job of keeping iconic features, even if the dimensions are no longer quite as quirky.

MINI's John Cooper Works Clubman is fast and good-to-drive, thanks to a 2.0-litre turbocharged motor. The 302 horses will not be looked upon favourably by insurers, but very few other cars will deliver 0-62mph in 4.9 seconds in an insurance group as low as 22.
Five of the internet's most pertinent questions about cheap car insurance

What is the cheapest insurance group in UK?
As mentioned in the intro, Group 1 is the cheapest group. Groups are decided on a number of factors. Initial purchase price, repair and component costs, repair times, engine size, safety features, security and bumper compatibility all inform the insurance grouping of a new car.
The more expensive a car is to buy, the more expensive to repair (in the main) and if you can drive it enthusiastically, there's an assumption that it's more prone to risk, despite the fitment of certain driver assistance features, which have shown to avoid or mitigate collisions by as much as 25 per cent.
Security is getting more technically advanced and while on the one hand that should make the vehicle safer, it also means the cost of replacement or repair is significantly more expensive to pay out on, if there's a claim.
Are 10-year-old cars cheaper to insure?
If you're thinking a new car is more expensive to insure, so you'll go for a cheaper car, that's not always the case. While the cost of repair for an older car can be lower and the car itself has depreciated in value, so any payout will be reduced over time, older cars often don't have the same security features as newer cars. It can be swings and roundabouts on this one, not least because there are other factors at play.
Is insurance cheaper once you are 25?
Indeed, it's not just the age of the car that plays a role in insurance calculations - driver info counts as well. Insurers' data shows that 'generally speaking' over 25-year-olds are less likely to be involved in an accident. As you get older, you may see your insurance getting cheaper.
The caveat, of course, is that many factors are at play when it comes to the specifics of the driver, in addition to age: location, job title, length of time you've had your licence and any previous claims or speeding offences.
Who else can drive on my insurance?
Only those you name on your policy. In certain countries, the USA for example, drivers insure their cars, which enables others to drive their vehicles. Here in the UK, our insurance industry requires a driver to insure themselves against a specific car. Multi-car policies and group insurance still need any drivers to be explicitly identified on the policy.
Some fully comprehensive policies, however, do enable drivers to drive any vehicle under a third-party capacity without needing to be named. You'll get this information from your documentation. If your policy doesn't cover you on other cars, and you need to drive a different car, there are hyperflexible insurance providers, such as Cuvva, which will enable you to cover yourself fully comp on a mate's car by the hour.