Top Gear Advice
Here are six of the weirdest off-roaders you can buy
Looking to make more of a splash than in a mainstream off-roader? Head this way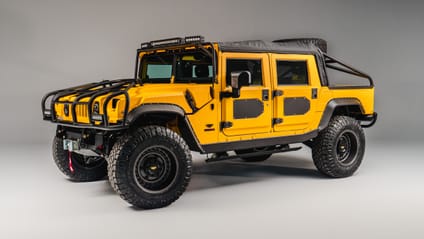 Sherp

It looks like a toy, but Ukrainian company Sherp's motto is "Obstacles do not block the path, they are the path!" which gives you some idea of its off-road ability. It's essentially a UTV on steroids, but can carry around a tonne, or up to six people, depending on configuration.

Advertisement - Page continues below

Mercedes-AMG 6x6

According to Merc "it is the most effortlessly superior and extravagant off-roader ever to be developed and built by engineers". Six driven wheels, five diffs, portal axles and a central tyre inflation system – this is one mega off-roader that's more likely found in Kensington. Sigh.

Viking BvS10

The BvS10 is a pair of tracked vehicles linked by a forward steering mechanism, so it's pretty much the off-road daddy. Designed and developed in Sweden by BAE Systems Hägglunds, it's amphibious, can carry up to 8,000kg or 14 people, and it's capable of 24/7 operation.

Advertisement - Page continues below

Mil Spec H1

Bespoke and massively upgraded Hummer H1-esque, the M1-R by Mil Spec is the second generation of product, featuring 500–800bhp from a 6.6-litre Duramax diesel and some serious off-road ability. Some of the interior quilting is suspect, the quality of the engineering is not.

Ripsaw

OK, so it's a civilian tank, really. Or 'tracked vehicle', more accurately. It's also road legal (those tracks are rubber), can do 55mph and turn in just 2.4m – its own length – which means a zero-point turn radius. The Ripsaw seats four and comes with a big diesel V8 in 375–500bhp flavours...

Multidrive LC

Multidrive Technologies from Australia specialises in utilities vehicles for a variety of specialists. But we want a dual-cab J70 Toyota Land Cruiser with a 4.5-litre V8, 6x6 and a simple backbody. You'd never get stuck, and because it's a J70 Toyota, the Earth will end before it breaks down.