Top Gear Advice
Top Gear's guide to buying a Volkswagen Golf GTI Mk2
Here's everything you should know about the archetypal hot hatch. All you need to do now is buy one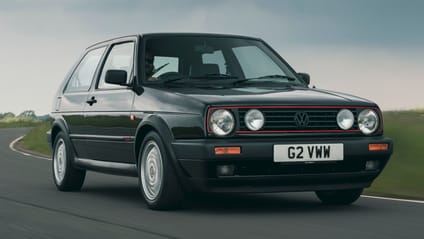 Very literally, it's a Golf GTI from more than three decades ago. Perhaps a little more lyrically, it's the difficult second album that Volkswagen absolutely nailed, cementing the legend of the Golf GTI in a way that not even the Mk3 and Mk4 could tarnish.

The Mk2 is a bigger car all over, compared to the original GTI. It's longer (with a longer wheelbase as well), wider, slightly taller and pretty solidly heavier to boot.

Perhaps it's this, or the somehow less visually successful (if much more aerodynamic) bodywork that kept that Mk2 GTI in the shadow of its older brother for so long. Maybe it's because it wasn't the original, or wasn't styled by Giugiaro?

In any case, it was a secret boon for petrolheads for a good long while – the Mk2 flew under the speculator radar for about as long as you could reasonably expect, and was available for a few thousand pounds any day of the week. And the best bit? It's arguably the better car...

Advertisement - Page continues below

What's so good about the Volkswagen Golf GTI Mk2?

In one way, it's the same thing that's good about any Golf GTI* from the past 50-odd years: it's a comfortable and almost impossibly useful hatchback that just happens to have the chops to keep contemporary sports cars honest. Not a bad effort, that.

So it's decently quick, fun to drive and a bona fide classic in its own right. It's also a little hatchback that'll sort out all your shopping in one supermarket trip. With that said, we still can't recommend driving it in the supermarket.

* Barring the Mk3 and Mk4, of course, overweight disappointments that they were

What's so bad about the Volkswagen Golf GTI Mk2?

Well, it's arguably a less attractive object than the Mk1 GTI. And, by modern standards, it's not what you'd call particularly quick, safe, well-equipped or thief-resistant. Electrics can be a bit spotty (particularly if water has gotten anywhere it shouldn't, which can happen), the presence of rust can be reasonably relied on by now, and many have been treated like the cheap fun car they've been for decades now.

Now that they're finally getting their due – and getting on in years – the bad ones have been crashed and parted out, rusted away or otherwise ruined, and the good ones are worth real money.

But just to get back to that 'quick' and 'well-equipped' part of the equation for a moment – quick has not meant, does not mean and will not ever mean fun. And well-equipped? Beyond a manual gearbox and air conditioning, what exactly do you need?

Advertisement - Page continues below

What are the common problems?

Even though the cars were heavily treated at the factory – dipped in hot wax, apparently – rust can still be the most common issue. It's in the usual spots – wheel arches, fuel filler cap, bottom of the windscreen and will show the tell-tale bubbling. Also susceptible to corrosion are the solid-steel fuel injector lines; we probably don't need to tell you how this could become a problem.

Any kind of bluish smoke on start-up or over-run indicates a) wear in the kinds of places that involve engine rebuilds, and b) an engine that's either done a lot of easy miles or more than its share of hard ones.

Rear calipers can sometimes seize onto the discs, but that's really just a case of buying two new discs and a new set of rear pads. It won't jam on as you're driving, by the way – this is one of those 'left the handbrake on' feelings as you try to drive away first thing.

Finally, the first-to-second shift can be a bit of a chore thanks to a worn synchroniser. It's hardly unique among sporting cars (or indeed anything with a manual gearbox) but fixing it is exactly as involved as you think – yanking the gearbox apart to replace the worn synchro and putting everything back together again.

What engines and trims are available?

Ah, we may have to get a touch nerdy here.

So it's accurate enough to say the Mk2 GTI came with one of two engines, depending on the year... but it's also accurate enough to say that it came with one engine across the entire model run. We'll explain.

Both engines were a 1.8-litre, four-cylinder. Both had the same engine block, this that and the rest of it, but it's the head that changed. VW moved from a two-valve-per-cylinder to a four-valve-per-cylinder setup to stay competitive in the burgeoning hot hatch scene.

The 16-valve offered a very healthy 139bhp (versus 112bhp in the eight-valve), but contemporary tuners could safely extract 175bhp from a bored-out, 2.0-litre version of the 16v engine. Back when tuning Mk2 GTIs wasn't tantamount to heresy, of course.

About that.

The first Euro NCAP test was only in 1997, coming on the back of a huge rethink and redo of the regulations around crash safety in the years prior.

Back in the mid-Nineties, crash testing consisted of little more than punting a car into a concrete wall at 30mph and making sure the steering column didn't move any more than five inches further into the cabin. Hardly holistic.

And by 1997, the Golf was already coming around to its fourth generation... which means the old Mk2 GTI was... uh, perhaps held to a lower standard in terms of crash safety.

Considering how many miles we all do on a yearly basis, serious crashes are actually pretty rare. So like anything else involving risk, it's a case of evaluating the likelihood, seriousness and ramifications of a crash and making informed decisions based on that.

How economical is the Volkswagen Golf GTI Mk2?

We're happy to say it's actually pretty decent – Volkswagen knew then, as now, that fuel economy is generally a consideration for hot hatch buyers. Not all of them, of course – hypermilers aren't exactly hankering after a 147 GTA or Focus RS – but if fuel economy is reasonable, that takes a hurdle away from buying.

The 16v is the clear standout here – the better thermal efficiency (i.e. how much of the petrol's energy is converted into horsepower) means more power, but it also means better... well, efficiency. A serviced and well-sorted 16v, driven with no special regard for economy, can do 30mpg. For a 30-year-old classic, that's the equivalent of having your cake and eating it too.

Advertisement - Page continues below

How does the Volkswagen Golf GTI Mk2 drive?

In a word, brilliantly. By modern standards, it's an absolute slip of a thing, weighing less than a tonne and measuring barely 170cm wide. These are the kinds of measurements that are pretty much custom-made for the narrow and winding back roads that criss-cross this country (and indeed many others), allowing you to pick lines through corners, maintain momentum and keep the 1.8-litre on the boil. Which is exactly as much fun as it sounds. 

With that said... comparing, as we must, with the Peugeot 205, the GTI Mk2 is less fun overall, less involving and laugh-out-loud hilarious. The upshot is a much more planted, solid feeling overall – and a car that really doesn't require any great imaginative leaps to use as a daily driver.

How fast is the Volkswagen Golf GTI Mk2?

Just saying 'entirely fast enough', doesn't really cover it, does it?

OK then, consider this: we'd say the Mk2 GTI is pretty much the Goldilocks setting for speed. Zero to 60mph in about eight seconds ensures it's never a liability in traffic, and a top speed above 120mph means motorways aren't heart-in-mouth moments either. But with a maximum of 139bhp – accessed high up in the rev range – you're free to wind the revs out without winding up before a magistrate.

Advertisement - Page continues below

What's the interior of the Volkswagen Golf GTI Mk2 like?

Maybe it's just modern tastes, sensibilities and experiences talking here, but we'd say pretty dour. Say what you will about the garish red carpeting in a 205 GTI; at least it's something other than 1990s charcoal-grey plastic and blanking plates for features you don't have.

OK, so it's a German car from the 1990s; severity is almost assured. But it's as solid as a bank vault, right?

Erm... about that. It turns out that a lot of pieces are actually pretty fragile. Whether that's how they've always been since the Jheri curl days or if Father time has taken the proverbial bat to them is immaterial; the fact is that plastic pieces will probably break, and it's getting increasingly hard to find spares. We're wondering if there's not a decent argument for some 3D-printed replacement parts, or even milled aluminium, if people are feeling fancy. Yes, originality is important and so on, but if there were ever an interior that could be livened up a bit...

How reliable is the Volkswagen Golf GTI Mk2?

Tides and cycles of the moon are about as reliable as the Mk2 GTI.

Obvious caveat here that both you and any previous owners must have done proper preventative maintenance, as well as repairing and remediating the common issues that affect any car that's had to deal with the pitfalls and potholes of the road network. Rust is getting on for unavoidable in a place like the UK, and it's unlikely to be much easier across northern Europe or the colder parts of the United States. There's a reason they call it the rust belt, after all.

But with due care and attention, there's no reason a Mk2 GTI can't soldier past 100,000 miles without a single issue, past 150,000 miles with only one major bit of work in the 16v and 200,000 miles in the eight-valve.

How much does the Volkswagen Golf GTI Mk2 cost to insure and tax?

Back in the days where insurance of anything even remotely performance-oriented was tantamount to larceny, the Mk2 GTI 16v was expensive enough to actually eject owners from... well, ownership. It really was that severe.

These days, Mk2 GTIs are old enough that even fitting into regular insurance groups is no longer guaranteed. The Mk3 GTI is still listed – insurance group 21, in case you were curious – but the Mk2 and Mk1 GTIs are something of a dealer's choice.

So we had to go and get insurance quotes to actually answer this question. Having done so, we can safely say that we never, ever want to go such lengths again.

In any case, meet Mr Sven Larsson, a 30-year-old guitar salesman from Shepherd's Bush in London. He has a clean driving record and full UK licence, and bought a 1989 16v GTI for £9,000 that he garages overnight and plans to drive 10,000 miles a year, including commuting to work. He can comprehensively insure his GTI for £1,615 per year with a known and trusted insurance company... that asked pretty much every question one could conceivably ask of a person.

So there's an idea of insurance costs. Don't ask us again.