News
Twin-test: Mercedes-AMG C43 Coupe vs Audi S5
Turbo V6 all-weather German coupes lock horns. And there's a clear victor...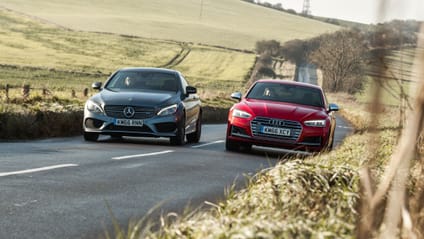 You almost feel sorry for the Audi S5. Minding its own business, having annexed the all-wheel drive, V6 posh German coupe market. Plenty of clean air between it and a BMW 435i (now 440i), and no other rivals threatening its compelling mixture of easy-going, all-season performance and knurled, quilted, fingernail-tappin' good interior. All was well.

Photography: Simon Thompson

Advertisement - Page continues below

Until Mercedes-AMG rudely showed up on its doorstep with a recipe so similar Audi will be rooting for a mole among its ranks. However you look at the Mercedes-AMG C43 – baby AMG pretender or best of the regular C-Class coupes – there's no doubting what's in the crosshairs of that dinner plate-sized three-pointed star. It's got a 350bhp-ish 3.0-litre V6 – with two turbos to the Audi's one – all-wheel drive, an automatic gearbox, and costs a whisker over £46,000 pre-options. There's flattery, imitation, and then downright cheekiness.

Here's how the numbers break down. With two blowers to call upon, the Benz suffers slightly less lag than the Audi (i.e. none whatsoever) and develops 362bhp and 383lb ft. Although the Audi makes do with 349bhp and 368lb ft, its V6 starts making max power earlier than the Benz and keeps pulling further into the rev band. The kerbweights suggest a whopping 120kg advantage in the Audi's favour. Hmm. Certainly doesn't handle like that...

Advertisement - Page continues below

Predictably, you'd need more prying surveillance than GCHQ to split them in a straight line. Both do 0-62mph in 4.7 seconds with an embarrassingly small amount of driver input. Both clatter headlong into a 155mph limiter. Both claim to return over 35 miles to every gallon of super, and neither managed more than fleeting crests above 25mpg in TG's patented testing facility known as The Real World.

So far so similar? Well then. In that first run through the gears, the Mercedes driver is smiling harder. And probably wincing, because deary Lord is this car loud. The sports exhaust button is the same as the one you'll find in the C63 V8, but at low revs, the C43 is louder, with a harder, less woofly note to its barrel-chested V6 blare. The sound ripens as the revs climb, punctuated with crackling on the overrun and addictive whumps on upchanges, whether you leave the nine-speed auto to its own business, or interfere with the short-travel paddles.

Meanwhile, the Audi hums along. Try humming aggressively now, if you're not sat in public. See? You can't. You can't intimidate someone with a hum. Interestingly, there are many 'dynamic' options available on the S5 (all of which are fitted to this test car, helping hike its price to almost £58k), like adaptive suspension, variable ratio dynamic steering, and an adaptive quattro sport differential. But no sports exhaust. This Mercedes is a £56k example, but none of that extra garnish affects how the car actually drives. So if you like your powertrain to sing from the rooftops about how effective its performance is, you're going to need the raucous AMG, with its crisper throttle response – and slightly less intelligent gearbox.

Mind you, what you lose on shift mapping politeness, you gain in interaction. The Audi feels slower (though it demonstrably isn't) because its gearing is more long-winded than one of Reverend Lovejoy's sermons. Want an example? Okay, find a track, stick the S5 in manual mode, pick second gear and plant the gas. It'll run into the rev killjoy at 86mph. In second. Now hop into the C43 and repeat. It furiously demands third gear at 51mph, so you're busier. Both cruise at 70mph well below 2,000rpm, the C43 pipping the S5 for wind noise.

Advertisement - Page continues below

But if you were covering big distances, you'd struggle not to swoon for the Audi's cabin. Yes, we've reached the part of the review where we have to pay reverence to the genius of Audi's cockpit design. The Benz runs it close, but though it looks more opulent – more art-deco – than the Audi's brutally businesslike, geometric cabin, the more of it you fiddle with, the more you notice the weight of materials used isn't as solid as the S5's.

The Audi's more open layout increases the feeling of space, helped by its lower windowline, bigger rear window and ever-so-slightly higher seat. It's easier to see out of, but the Audi still feels like a thicker-set, bigger car from behind those genius Virtual Cockpit dials and pleasingly small steering wheel. Which, for £100, Audi flattens the bottom of for you. Bargain. I'll not bang on about the stuck-on 'floating' screens because that's what internet comment sections are for, but there's no doubt Audi's MMI still has the edge on Mercedes Comand as a human-media interface.

Advertisement - Page continues below

But all of this is true of, say, an Audi A5 diesel. A 2.0-litre, low-CO2 job. This is the S5's problem. It's utterly brilliant at mundane, everyday mooching, but so is a regular A5, and there's a nagging feeling the boons of picking the thirsty V6 flagship just aren't there when you're finally rewarded with a clear section of twisty, flowing road.

And those 'dynamic' options we talked about earlier? Don't believe the hype. Where the Mercedes put daylight between its Comfort, Sport and Sport Plus settings to make fiddling worthwhile, and increase the car's breadth of ability, the Audi's settings have a narrower operating window. On the launch in Spain I guessed Dynamic ride might just be tolerable in the UK, but it turns out I was wrong, and the Auto and Comfort settings just do it better.

Dynamic steering remains freakishly unnatural, and actually makes the car feel heavier than it is, because you're so confused by how much response you'll get piling into a corner, you either over-stop the S5 in fear of running wide, or get an eery glassiness from the steering until weight arrives fractionally later. Mercifully for the Audi, steering is easily the C43's weakest link. It's numb and non-linear, taking bites out of each turn like you're circumnavigating a 50-pence piece, but at least you'll acclimatise.

If you must spec your S5, have the £1,200 (oof) sport differential. At last, a fast Audi that wants to send power to its rear wheels. Wonders shall never cease. This at last gives the S5 an edge – some reward for leaning on it through a corner and burying the throttle miles before you're even thinking about straightening the steering. The car suddenly shrinks around you, rotates about itself, and at last you discover some ability not present in a diesel A5. The C43 can misbehave under heavy provocation, but not as predictably as the Audi. But then, it has a bigger brother, with free-wheeling front tyres, for that malarkey...

And in that detail, I think we arrive at the secret of why Audi has kept the S5 curiously subtle, while the C43 wins over its occupant with noise, agility and sheer bloody joie de vivre.

Word on the motor show boulevard is that the next RS5 won't have an atmospheric V8, but a turbocharged, downsized V6. And all-wheel drive, an automatic gearbox…remind you of anything? The S5 is one of those classic cars that feels hamstrung and reined in, in anticipation of the main act, on stage next. The C43 doesn't have this problem. The C63 emerged earlier, has a V8, phat arches, and rear drive. Very little customer crossover, zero chance of the new kid embarrassing the mack daddy.

If you lived with this S5 every day, you'd smile the knowing smile of a person whose car does everything they need it to, when asked, in comfort, with high technology and extreme subtlety and class. It's accomplished and professional. But we're spending the thick end of £50,000 here (I wish), and sacrificing just a smidge of that maturity for the C43's pacier character would crack that smile into a Cheshire cat grin time and again. Mercedes had a look at the fast everyday coupe sweet spot, parked its tanks on Audi's lawn, and nicked the S5's territory from under its Hannibal-like nose.