USA
Top Gear's top 20 electric cars in the US
From quirky hatchbacks to pickup trucks, these are the best new EVs you can buy right now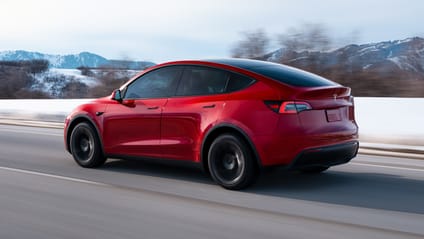 Never mind the build quality issues, problematic "Full Self-Driving'' tech, and dank meme CEO – no automaker has done more for the advancement of electric vehicles than Tesla. The company's Supercharger network is simply unmatched, and the Model Y is one of the best-selling cars in the US today, electric or otherwise. If you're itching to park a Tesla in your driveway, the all-around usable and reasonably priced Model Y is our pick.

Advertisement - Page continues below

Rumor has it the Ariya was supposed to be an Infiniti, not a Nissan, and that's evident from the moment you step inside. This is one of Nissan's best-executed cabins ever, with tons of space, lovely materials, and fancy little surprise-and-delight features (we dig that power-sliding hidden glove box). Why buy a frumpy looking Volkswagen ID.4 when you could have something much more expressive – not to mention better to drive.

What the Mini Cooper SE lacks in driving range it easily makes up for in personality. It's an absolute cutie with tons of curb appeal, and it makes running errands in a congested city a whale of a time. Who cares if it'll only go 114 miles on a charge? The Cooper SE proves range isn't everything.

Advertisement - Page continues below

Mercedes-Benz really impressed us with its fully electric EQS sedan, but those full-size luxury chops are even better in the EQS SUV. The higher seating position means you don't feel like you're sunk in a bathtub from behind the wheel, and back-seat riders will surely appreciate the increased headroom. The exterior styling might be rather bland, but wow does the EQS make a statement from inside.

Genesis is all about flying under the radar, and nowhere is that more evident than in the Electrified GV70. Handsome yet unimposing, the GV70 has a truly upscale interior and some of the best infotainment tech around. It's also less expensive than many of its competitors, giving the Electrified GV70 a real advantage when it's time to open your wallet.

Like the EQS sedan but smaller, the EQE is every bit as swanky while being a bit more agile on the road. There's even a hotted-up EQE AMG version with 677hp and 738lb ft of instant electric torque. Don't want to splurge on a Porsche Taycan? Give the EQE a look.

There's something so satisfying about the Volvo XC40; it's one of our favorite compact SUVs. The XC40's been a champ ever since it launched, but the Recharge is even better, jettisoning the crossover's decidedly anemic internal combustion powertrains in favor of single- or dual-motor electric oomph.

Advertisement - Page continues below

It's certainly homelier than its Porsche Taycan fraternal twin, but the Audi e-tron GT is every bit as exciting to drive. Low slung and hot to trot, the e-tron GT is a reminder that electric luxury sedans needn't be stodgy eco-blobs.

The Polestar 2 is mechanically similar to the Volvo XC40, which is an excellent place to start. Add sophisticated exterior surfacing, fantastic fit and finish, and a Google-powered multimedia system that's smart and seamless to operate, and the Polestar 2 really makes a case for itself – much more so than a finicky Tesla Model 3, at least.

Advertisement - Page continues below

Look, it might be a Mustang in name only, but Ford's Mach-E electric crossover isn't without some performance spirit. The Mach-E GT is a blast on a backroad, and all versions are packed with the sort of creature comforts and tech conveniences that make it an easy-peasy daily driver. Besides, you can still boast, "I drive a Mustang" and not technically be lying. That has to count for something.

The term "game-changer" is somewhat overused, but with the Rivian R1T, it's apt. Rivian was the first company to sell a fully electric pickup truck in the US, and the American upstart totally knocked it out of the park. Tough as nails, surprisingly rugged, and full of fun little features, the Rivian R1T has mega appeal. Ditto its SUV sibling, the R1S.

While not as flashy as the new EV6, don't sleep on the Kia Niro. This compact crossover looks sharp and comes with all of Kia's latest and greatest tech. Its 253-mile electric driving range is nothing to scoff at, either.

What a weird, wonderful electric crossover. Genesis' new GV60 shares its bones with the Hyundai Ioniq 5 and Kia EV6, but adds a healthy dollop of luxury and a slight performance edge. It's also got one of the best interiors to ever come out of South Korea, complete with a funky little light-up orb that doubles as a gear selector. If that doesn't impress you, the GV60's speedy fast charging and excellent driving range surely will.

The Lucid Air is like a chic mid-century modern living room on wheels. And with the longest electric driving range of any new EV on sale in the US – 516 miles – you can enjoy those beautiful surroundings over the long haul.

The BMW iX isn't just an electric variant of an existing car, and right away, you can tell it's better for it. Sure, the exterior is polarizing, but spend some time inside the iX and you'll agree: this SUV has a posh, roomy cabin that really raises the bar for luxury cars, electric or otherwise.

A Kia-skinned version of the well-to-do Ioniq 5, the EV6 is for buyers who just can't get behind the Hyundai's gamer-chic appearance. A spacious and well-appointed interior, comfy road manners, and quick charging capabilities make the EV6 a compelling daily driver. The 576hp EV6 GT packs a wallop of thrills, too.

Clock the Ioniq 6 from the rear and it kind of looks like an 8-bit Porsche or a pint-sized Mercedes CLS – things we never expected to say about a Hyundai. While not as versatile as the larger Ioniq 5, the Ioniq 6 has the same great attributes, plus a huge focus on design that ensures this EV will command attention wherever it goes.

The Ioniq 5 gives off major retro hot hatch vibes, but that only scratches the surface (literally) of what makes this EV so great. Generous driving range (303 miles), fast DC charging speeds (250 kW), and a boat-load of driver-assistance tech provide oodles of substance to go with that awesome style. The Ioniq 5 is one of the best all-around electric cars you can buy, period.

The fact that Porsche sells the Taycan in not one but two wagon variants makes it one of Top Gear's top picks. But we'd be remiss not to point out that the Taycan absolutely rips on a winding road, providing the same level of comfort and onboard tech we've come to expect from Porsche. Driving a Taycan never, ever disappoints.

Without question, this is the most important EV in America. Why? It's a fully electric version of the Ford F-150 pickup – the US' best-selling vehicle for decades – and it proves that EVs are fully adept at doing tough guy truck stuff while also being tech-rich, comfortable, and nice to drive. The F-150 Lightning can even power your house – no, seriously. Just like an internal combustion F-150, the Lightning can really do it all.