USA
Top Gear's top 20 luxury cars in the US
Pinkies out, let's get fancy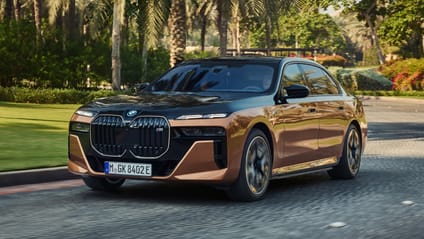 A car doesn't have to be large and expensive to offer a luxurious experience. Take the compact Volvo XC40: it has a quiet, comfortable interior, oodles of interesting fabrics, a powerful electric powertrain, and fabulous fit and finish. This SUV totally punches above its weight in terms of bang for the buck.

Advertisement - Page continues below

Speaking of bang for the buck, good golly, it's hard to beat the Cadillac CT5-V Blackwing. It's a leather-lined luxury sedan that deserves a place on this list for its style and tech roster alone, but then lift the hood and marvel at the 6.2-liter supercharged V8 that cranks out 668hp and 659lb ft of torque. Good luck finding another sedan priced under $100,000 that'll hit 200 mph – and has a manual transmission, to boot.

We tend to think of Porsche's ubiquitous 911 as a fantastic sports car, but you know, it's a worthy grand tourer, too. Spend hours behind the wheel of a 911 and you'll wonder why anyone would buy other sports cars or supercars that aren't as comfortable. Ten bucks says the 911 is better to drive than those other options, as well.

Advertisement - Page continues below

As a brand, Lexus is synonymous with luxury. But the LC coupe really elevates the carmaker's game by adding in a whole heap of style and a renewed focus on interior color and materials. The result is one of the most striking and most premium-feeling cars to come out of Japan in a long time. Cars like the Lexus LC won't be around forever, but we won't be forgetting this one anytime soon.

If you want the definition of "American luxury", the Lincoln Navigator is it. This brute is big and bold, with endlessly adjustable seats that are as close as you'll find to La-Z-Boy chairs. The Navigator spares no expense when it comes to prioritizing passenger comfort and quietness above all.

No, that's not a typo. The Telluride is the culmination of Kia upping its game over the past few decades, and we challenge you to sit inside one and find a feature that isn't also available in a more expensive Audi, BMW, or Mercedes-Benz. Beyond the cabin, the Telluride looks the business and offers an incredibly refined driving experience. Sure sounds like a luxury car to us.

Acura's always been quietly offering solid luxury cars, but the company's latest round of products really deserve your attention. The MDX SUV can easily stand toe to toe with its key German rivals in terms of available features and interior refinement, and the Type S packs a hearty twin-turbo punch. Bonus points for Tiger Eye yellow paint.

Advertisement - Page continues below

In America, full-size pickups are as expensive as full-size luxury sedans, but given the amount of features these trucks offer, the pricing actually makes sense. GMC's top-shelf Sierra Denali is one of the plushest pickups you can buy.

Audi's humble A6 sedan has nicely weathered the test of time, and these days, it looks and drives better than ever. It might not have the in-your-face ambient lighting of a Mercedes-Benz E-Class or the focus on driver engagement of a BMW 5 Series, but the A6 continues to feel like a proper German bank vault on wheels – an endlessly likable luxury sedan you'd be proud to park in your driveway.

Advertisement - Page continues below

While it's mechanically identical to the Hyundai Ioniq 5 and Kia EV6, the Genesis GV60 levels up through its extra visual appeal, interesting color palette, and something no other new car offers: keyless biometric tech. That's right, you can unlock and start the GV60 using your face and fingerprint. It really is the future.

When the original Grand Wagoneer launched decades ago, it was arguably the first proper luxury SUV. Now, it's back – large and in charge, and absolutely loaded with features, making it one of the single best products offered in the entire Stellantis portfolio. And hey, go on and get it dirty. It might be fancy, but the Grand Wagoneer is still a tried-and-true Jeep.

Can mid-century modern design work in a car? For sure; look no further than the electric Lucid Air. Its cabin is beautifully appointed and rivals some of the industry's best. Plus, the Lucid gives its customers the luxury of fast charging speeds, and if you get the Air Grand Touring, an impressive 516 miles of driving range. Now that's class.

What's a luxury car list without a Flying B? No Bentley is as show-stopping as the two-door Continental GT, and despite it not being the brand's new hotness anymore, this powerful, elegant coupe remains a truly impressive thing. Get it with a snarling V8 or wondrously smooth W12. Either way, this is a very special kind of motoring.

Okay, maybe you don't love the way it looks outside, but sit inside the iX and its cabin will seal the deal. The iX is unlike any other modern BMW – and unlike most other luxury cars, too. The interior's combination of interesting textiles and modern design makes it endlessly elegant, with special details like glass controls and backlit wood. How 'bout that teal microfiber?

Yes, the G-Class is engineered so that you could drive up the side of a building if you wanted to. But these days – especially in the US – the G is more of a status symbol than anything, burbling its boxy self around posh Los Angeles neighborhoods, driven by heavily botox'd pumpkin spice latte enthusiasts. And you know? The G deserves that place in the world of luxury. It's a fancy SUV that looks fashionable covered in mud or rollin' down Rodeo Drive. This Merc absolutely oozes appeal.

Genesis is a relative newcomer in the luxury space, but holy moly, does this South Korean automaker have its act together. The full-size G90 doesn't just try to copy the BMW 7 Series, Lexus LS, or Mercedes S-Class – it makes its own waves in the big luxury sedan space, with killer looks and excellent attention to detail. Did we mention it's also priced thousands less than its rivals?

There's nothing quite like a full-size Range Rover, and the latest generation of this Landie knocks it out of the park. We aren't just talking about its style, either – the powertrains are excellent, the cabin coddles you in soft leathers, and, yes, it turns heads wherever it goes.

The 7 Series misses this list's second-place spot by a nose – literally. BMW's flagship is phenomenal to drive, whether in standard or fully electric guise, and the cabin is lavish and modern. We just wish it wasn't so freakin' homely, especially up front. Part of being fabulous and luxurious is arriving in style, and with a schnoz like that, the 7 Series seriously lacks curb appeal.

As it has for years, the Mercedes-Benz S-Class continues to be the benchmark of full-size luxury sedans. It looks great, everything inside is plush, and the amount of tech inside this thing practically rivals Google. The S-Class isn't just a one-trick pony, either: the Mercedes-Maybach version ups the luxe factor to a level that matches Bentley and Rolls-Royce, while the Mercedes-AMG S63 E-Performance will embarrass other sport sedans. The S-Class can do it all.

Okay, this one seems like an obvious pick, considering it costs $420,000. But, you know, spend just five minutes inside the Rolls-Royce Spectre and you'll be hard pressed to think of another car more luxurious. Every detail is perfect, it looks like a million bucks – or half a million bucks, anyway – and the Spectre's electric powertrain perfectly suits Rolls-Royce's waftable, powerful nature. This is automotive luxury defined.