Weird
April Fools' Day: six of the best motoring hoaxes
Car companies dropped red herrings left, right and centre. Including these, um, gems...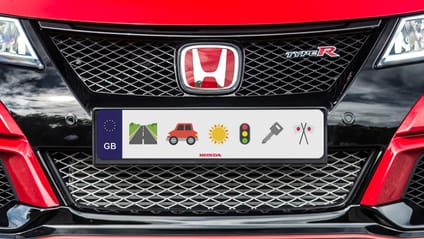 The Vauxhall ADAM C with 'zero running costs and emissions'

What Vauxhall said

"After a significant investment and several years of highly secretive research and development, Vauxhall today releases first pictures of the ADAM C, the world's first full-size production kinetic car.

"The ADAM C is powered by a state-of-the-art kinetic mechanism that's not too dissimilar to those found in children's clockwork toys (the 'C' stands for clockwork).

"It's as simple as just winding it up. All you need is manpower. Just fifteen minutes fully powers the vehicle and connects everything from the acceleration to six-speaker sound system.

"And because the new model achieves an operating range of up to 125 miles on one full wind-up, it's as perfect for city driving, as it is for longer journeys.

"The result? Zero running costs and no damage to the environment. All without compromising performance."

TG verdict: A tongue-in-cheek story with plenty of self-depreciation. April 1st done properly.

Advertisement - Page continues below

Honda introduces 'emoji license plates'

What Honda said

"Honda today unveiled plans to introduce emoji registration plates for car buyers in the UK, releasing images of the world's first official emoji number plate on its race car for the road, the Honda Civic Type R.

"Honda's plans for emoji registration plates are in response to demand from younger car buyers across the UK, and initial talks are planned with the Driver & Vehicle Licensing Agency in an endeavour to exclusively launch the new plates in early 2017.

"In research conducted with UK consumers earlier this year, 96% of respondents aged under 30 indicated a preference for emoji plates over the traditional car license plate. 97% of those questioned admit they now use emoji faces as their main method of expressing an emotion or idea in texts and instant messages."

TG verdict: At last, number plates that the Stig will actually be able to read.

Citroën inspires 'world's first stadium sunroof'

What Citroën said

"Citroën and Arsenal Football Club today announce a unique new partnership, never seen before in sport. The French car manufacturer, known for its creative approach to technology and innovation, has inspired Arsenal Football Club to install the world's first retractable sunroof at the club's Emirates Stadium.

"Inspired by the Citroën C1 Airscape roof, and with building work due to commence at the end of the 15/16 season, the development is part of the 'Arsenalisation' project, a scheme that aims to make the 60,000 seater stadium the best in the world.

"Fans will not only be able to watch replays through a projection on the roof, but one lucky Arsenal fan will be given the chance to decide and control whether the roof should be open or closed ahead of each game."

TG verdict: April Fools' stories at least have to try and look real. This didn't.

Advertisement - Page continues below

MG launch 'invisible car'

What MG said

"MG Motor has today launched its latest concept car highlighting the innovation and technological excellence the company is famous for.

"Engineers and designers based at Longbridge have manufactured the world's first invisible car. MG has brought in renowned experts in this field to assist with producing such an advanced model, as this is a first not only for the Birmingham-based manufacturer but for the world."

Matthew Cheyne, Head of Sales and Marketing for MG, said: "At first we had some trouble with the cars, as people kept walking into them or we'd misplace them on the site. As soon as we placed the iconic MG badge on the front of them, using non-invisible materials, we were able to find them much more easily.

"It definitely makes parking in busy cities easier, as traffic wardens can't see the car to put a ticket on!"

TG verdict: James Bond's invisible Aston Martin was unpopular for a reason...

Mini unveils 'hipster hatch'

What Mini said

"MINI has whipped a fair-trade Peruvian cotton sheet off its latest model this morning in Hoxton, London. Featuring Instagram filtered windows, Twin-deck cassette player and a fixed-gear drivetrain, the new MINI Hipster Hatch launches today.

"Avant-garde and upcycled, the MINI Hipster Hatch is effortlessly stylish and the perfect companion for a spot of vintage clothes shopping, or indeed the odd trip to the market for artisan kale. 

"The new MINI Hipster Hatch has just one forward gear with a maximum speed of 25 mph. Taking inspiration from the 'Fixie' pedal bike, four of the forward gears have been removed to give the driver a greater feeling of control when popping out for a superfood smoothie.

"The stonewash denim upholstery means the four seater MINI Hipster Hatch is a match for even the tightest pair of jeans, allowing the driver and passengers to coordinate their outfits accordingly. 

"Inside, a twin-deck cassette player harks back to when it was all about the music, allowing occupants to sidestep the mainstream with their own mixtapes. On the outside, MINI Hipster Hatch boasts alloy wheels carefully upcycled by hand from previous alloy wheels."

TG verdict: A superb effort from Mini. We laughed so hard we nearly choked on our quinoa.

Hyundai reveal 'virtual reality windscreens'

What Hyundai said

"Hyundai is showcasing the future of in-car entertainment, with a brand new VRES (Virtual Reality Entertainment System) available on the Tucson for a very limited time.

"Building on Hyundai's current heads-up display technology, VRES takes things a step further with an augmented reality windscreen and electrochromic glass in the rear windows and panoramic roof. While drivers get accurate sat-nav instructions and important information, passengers can be entertained and educated by VRES.

"VRES is fully customizable, allowing users to download bespoke programs from Hyundai's new app store, App: Real Feels. Once downloaded through the onboard data connection, passengers can access the apps through the touch-sensitive windows, turning them in to fully-functioning interactive screens."

Tu Morrow, Head of Hyundai's Future Technology Division, said: "With VRES we're really changing the way people will feel about car journeys. With educational apps and entertainment at your fingertips you'll never hear your passengers complain about a long journey again. Our 'I Spy' app is particularly good."

TG verdict: If you watch the video first, you might nearly be convinced...