This review was first published in Issue 165 of Top Gear magazine (2007)
Wow, a hot roadster from Opel. Can't wait for the right-hand-drive Vauxhall version.
Advertisement - Page continues below
Ah, sadly not. There won't be one. There's no RHD, because this car began its dislocated life in America as the Pontiac Solstice roadster. Which was redesigned as a one-off Vauxhall concept, the Lightning, a shape that got manufactured as the Saturn Sky, and is now rebadged an Opel for mainland Europe.
Pontiac to Vauxhall to Saturn to Opel: General Motors will tell you this car is an exemplar of leveraging its global resources, utilising synergies between divisions, commonising architectures, protecting brand-specific character. Watch out, or you may well be sucked into the yadda yadda yadda of the management-speak vortex.
But good on GM for throwing off its stultifying corporate conservatism and launching a pure-bred sports-car platform. And at least the Opel GT's gene pool has given it great looks. The Lightning was drawn in 2003, when GM's British division Vauxhall was looking for a way to celebrate its centenary, and GM's advanced studio in Britain, led by Simon Cox, proposed this car based on the solstice platform. Well, a sports car was always going to be preferable to the usual office party vibe of a birthday cake scorched by 100 candles and flat champagne-substitute in cheap plastic glasses.
Back then, in '03, the Pontiac Solstice was still morphing secretly from a 2002 concept car to a 2005 production one. Still, European sales numbers wouldn't have justified production of a separate Opel/Vauxhall version, like Cox was proposing. But then GM decided that Saturn in America would start sharing a design language – and, in many cases, entire cars – with Opel/Vauxhalls. And, furthermore, that Saturn deserved a version of the Pontiac Solstice.
Advertisement - Page continues below
So Cox's design was dusted off and given a Saturn nose, which happens to be an Opel nose. But in a final irony, it will never be sold as a Vauxhall, because a Vauxhall in left-handed form would sell in miniscule numbers, so they won't even be bothering with bringing it in officially as LHD.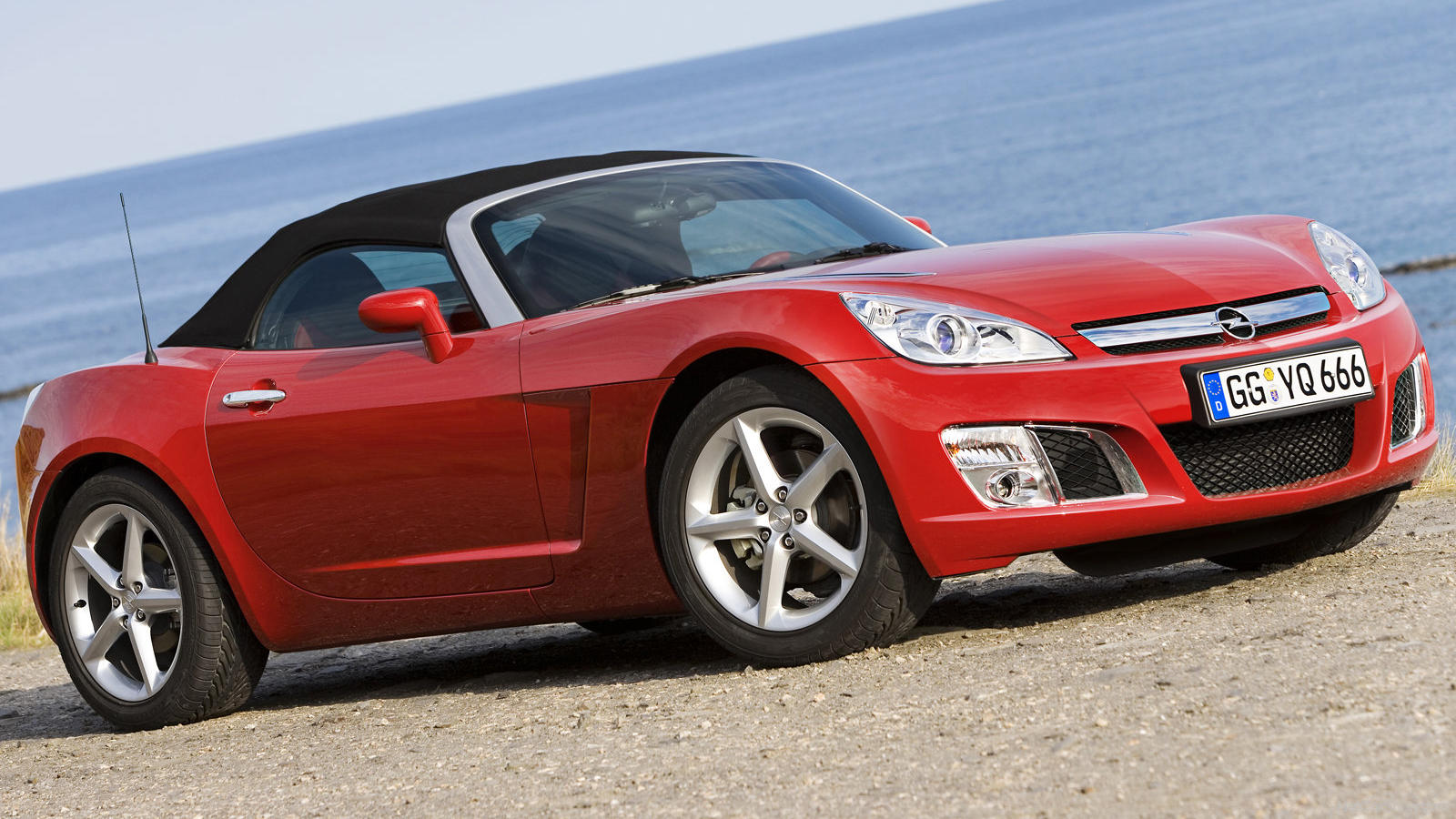 The GT looks quite the classic roadster, but made modern with a strong stance and clean-cut edges, distinctively crisp where the Pontiac is plump. The outside panels roll over into a sharp, well-tailored dash design. The interior materials and finish are pretty good – probably better than an MX-5, which shows how far GM has come since the days when all its American interiors were made of throwaway plastics, held together with spittle and hope.
Up front is a four-cylinder, 2.0-litre turbo engine kicking out a very spicy 260bhp and 260lb ft, thanks to a twin-scroll turbo, direct petrol injection and twin variable cam-phasing. It has two balancer shafts too. It's hooked up to a five-speed manual – no need for six when the torque is spread this widely. A limited-slip diff takes care of traction, and suspension is by double wishbones. It's a pedigree spec, and in Germany it costs only a few hundred euros more than a hot-hatch Astra.
Most of the body's strength comes from separate steel side structures plus cross-members – a bit like a Corvette understructure. You can feel the rigidity when you drive it: the body hardly quivers, even over the lowest-budget American roads.
Top Gear
Newsletter
Thank you for subscribing to our newsletter. Look out for your regular round-up of news, reviews and offers in your inbox.
Get all the latest news, reviews and exclusives, direct to your inbox.
Trouble is, all these beams and girders swallow up so much of the car, there's hardly any room left for you, and none at all for your stuff. You sit low in a narrow corridor, wedged so tight between sills and tunnel that there's no room for door pockets, and it's a contortion just to reach the electric window switches. The seat adjusters are jammed so tight to the side, it's best to set them up before you close the door.
But it gets worse. There's no real boot either. The rear deck lid is hinged at the aft end, and it encloses a shallow, awkward space. The folded roof drops on top of that space and pretty much obliterates it. And the roof mechanism is clumsy, heavy and slow. You have to get out of the car to fold or raise it and, ideally, have someone to help you. Not like the five-second, one-handed roof of an MX-5. I still can't see how they managed to get it so wrong.
But hang on, roadsters are meant to be about fun, not cargo capacity. Ok, so let's assume it's a trade-off, and the loss of practicality should be the price you pay for a sublime driving experience. So just how sublime is the GT?
Well, it's quick, and it corners hard. In a cheap roadster, 260bhp is a number to be reckoned with. It feels that way right now, too. The exit of a third-gear corner, 3,500rpm on the dial and full stretch for my throttle foot. There's a brief hesitation, because this is a turbo engine, but nothing to worry about.
Then a surge of boost, a feeling that the rear tyres are really having to work, and solid propulsion away down the straight. Pushing on like that, body roll is well under control, and small inputs to the steering get an alert response. The big tyres keep a claw-like grip, so you can travel at true sports-car speeds.
But you're not drawn into the action. The steering feels dead, and there's no subtlety to the results of mid-corner changes to steering or throttle. The handling is efficient, but soulless. The GT doesn't make you ache to thrash it. It's a swift, smooth cruiser, rather than a hectic roadburner. The engine has the same effect: the noise is disappointingly flat at the top end. You drive it on the wide torque curve.
But then, if this is a cruiser not a sports car, we're back to the practicality thing. If I was going long-distance cruising, I'd want room to stretch out in the cabin, and a bit of a boot. I'd want a car that cuts quietly through the air when the roof is up. The GT doesn't.
So it fails both as a hardcore sports roadster and as a practical cruising tourer. It's got an identity crisis. A child brought up being shunted casually between parents and guardians can end up with behavioural problems. Obviously, having such a confused parentage can have the same effect on a car.
Verdict: Looks good, goes fast. But thrashed by an MX-5 for pleasure, practicality and position of the steering wheel.
2.0-litre 4cyl turbo
260bhp, RWD
0-62mph in 5.7secs, max speed 143mph
1,395kg
£20,500 (in Germany)
Powered by