SPEC HIGHLIGHTS
BHP

133bhp

C02

160g/km

Insurance
group

18E
This review first appeared in Issue 208 of Top Gear magazine (2010)
Right, settle down at the back. That's enough of your fart jokes. This Renault gets an English name (albeit a tittersome one) because it's a car Britain will, in theory at least, be gagging for. Of all European nations we love convertibles the most, and we also buy more RenaultSport cars than anywhere else. The Wind is a convertible that was engineered by the geniuses at RenaultSport. it was conceived so much with us in mind that it's actually on sale here four months before the French get it.
Advertisement - Page continues below
The roof is the party trick. Remember the Ferrari 575 Superamerica's back-flip roof? This takes inspiration from there. A targa panel is hinged behind and below its rear edge. Release a handle, press a switch and it swivels over backwards, coming to rest lying upside-down on top of the bootlid. Unlike the Ferrari, the Wind has another panel, hinged at the very rear of the car, that raises and drops again to let the roof snuggle protected underneath it. So next time you put the roof up your hair won't be rubbing in bird poo.
The whole deal flips in 12 seconds, and is a vastly simpler mechanism (meaning cheaper, more reliable, and lighter) than other folding hardtops. The other advantage is that the bootspace doesn't change when you drop the roof. This means you don't have to plan ahead. In almost all the other folding hardtops you have to be careful not to fill the boot more than half-full or the folding roof is nothing more than an empty promise.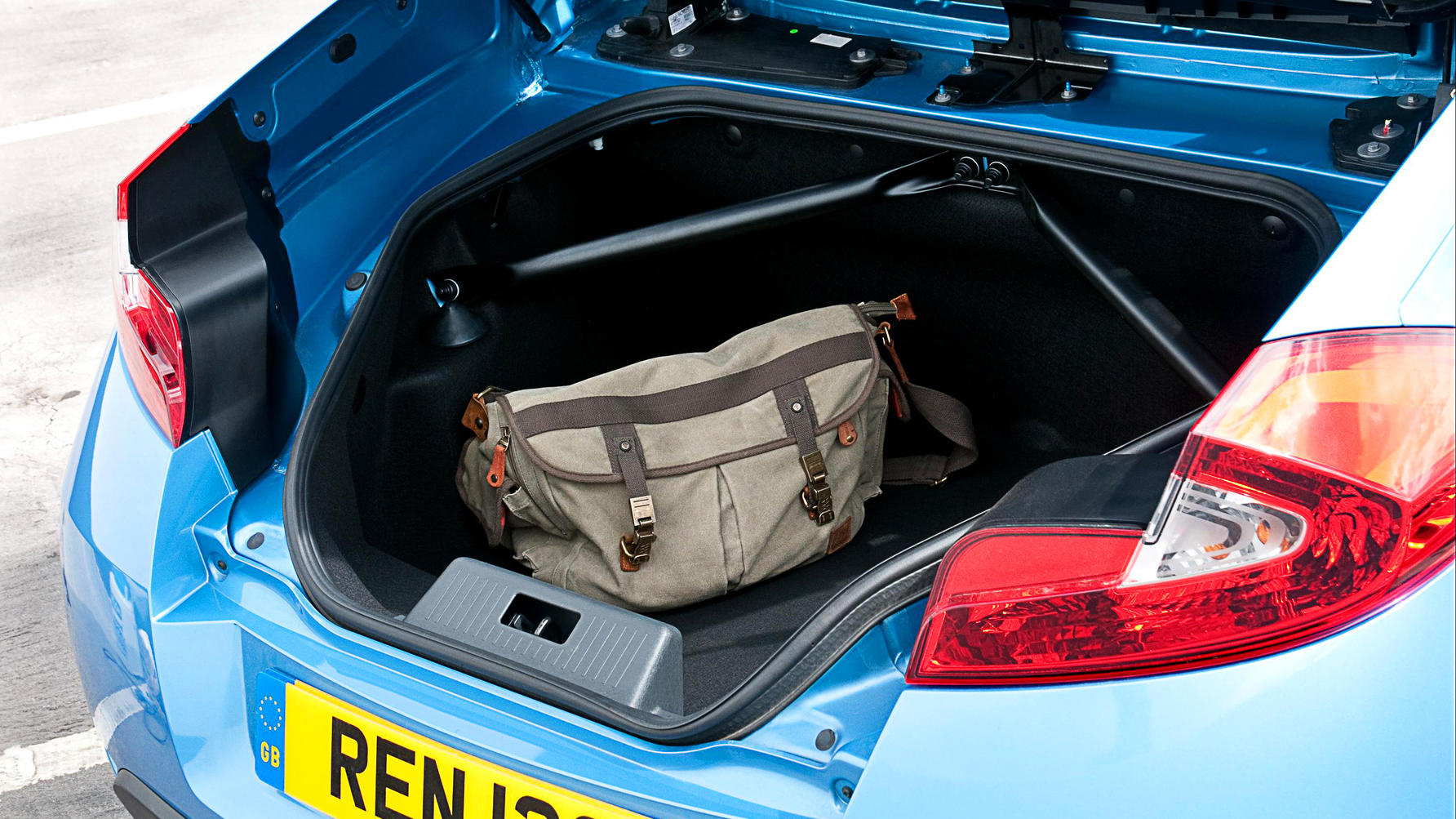 Renault has systematically batted away objections to the existing small convertibles. Soft tops too noisy? Ours is a hard-top. Don't like adapted hatchbacks with pointless rear seats? Ours has unique styling. MX-5 RC boot too small? Ours is double the size, for less money.
But no car gained a personality by merely defining what it isn't. It must know what it is. The Wind isn't quite what you'd guess. You've looked at the photos and brought to mind those two-seat, front-drive, furry slippers the Vauxhall Tigra and Honda CRX Del Sol. So you wouldn't drive a Wind because your mates would think you'd gone soft.
Advertisement - Page continues below
Consider ignoring them. The Wind has small engines but underneath it's a rebody of the excellent Clio Mk2 RenaultSport, closely related to the current Twingo RenaultSport. Its new bodyshell is rigid enough to use fairly taut chassis settings. Point of fact it's noticeably stiffer again if you put the roof up, and is all but immune from shivering in that mode.
So it turns more eagerly than pretty well any other small front-drive convertible, with pointy grip and a sense of balance on the throttle. Lean hard and it keeps coming back for more. The steering feels slightly numb but it's accurate and sharp. Of course the Wind isn't as nimble as an MX-5 or the old Clio RS, but it's closer than the rest of the front-drive opposition.
RenaultSport's own 1.6 133bhp encourages driving flat out, with a chirpy rasp at big revs. But it's thin on torque, so unless you're really diligent with the gearbox it makes heavy work of hills or overtaking. It's a right grin when you're up for it, but when you're just wafting about, the lack of torque is annoying. There's no sixth gear either, so it's buzzy on motorways.
The other engine option is a 100bhp turbo 1.2-litre. In the mid-ranges that feels just as muscular as the 1.6, though its enthusiasm droops once you move towards the red-line.
Top Gear
Newsletter
Thank you for subscribing to our newsletter. Look out for your regular round-up of news, reviews and offers in your inbox.
Get all the latest news, reviews and exclusives, direct to your inbox.
The ride is decently supple too. This is part of the genius of RenaultSport; it can do spring and damper settings that make cars handle sharply without riding like carts. RenaultSport's boss tells me this is because he has just a few engineers developing each car. Too many and the result is muddled, he says. The people from the main Renault company say the same thing: if they hadn't got their RenaultSport boutique to take on the entire job of developing the Wind, the car would never have happened because the engineering system at the main company would have been too expensive and unwieldy.
Amazingly, they found the cash to do a complete new dash – it's not just a recycled Twingo or Clio interior, and it's all the better for it. It's hardly plush, but it doesn't feel cheap, and it has the right sort of simple jaunty purposeful ambience. The dials are where you want them and the seats hold you in place. The only hassle is that there are hardly any places to put the necessary incidentals – map, iPod, sunglasses, cap, factor 30.
There's a leather-trimmed launch edition, but after that the Wind comes in a simple pair of trims, Dynamic and Dynamic S, the upper level netting you Bluetooth, a louder stereo with USB/iPod instead of a plain aux-in, 17s instead of 16s and auto climate instead of plain aircon. You can have either trim with either engine. It's £900 for the step-up in engine and the same increment for the step-up in trim, so take your pick.
Lots of front-drive convertibles have you sitting high and upright, but Renault has taken the trouble to lower the Wind's seat and dash, so you feel like you're in a proper roadster. The windscreen top rail is reasonably slim too, so the sun catches your bonce in the approved manner. But those fat rear buttresses block the view and make Y-junctions tricky. Worse, they stir up (or something else stirs up) a lot of wind buffeting at high speed.
Ah but do those buttresses look racy enough to protect you from your mates' jibes? Probably not.
Verdict: a good effort, but d'you know what? Better to pack lighter and save an extra grand for an MX-5 RC.
1.6-litre 4cyl
133bhp, FWD
0-60mph in 9.2secs, max speed 125mph
1,173kg
£17,300
Powered by
more on this car
Take one for a spin or order a brochure
Powered by