You are here
Renault Megane R.S. 300 Trophy – long-term review
Five things we don't like about our Megane RS
Specification:
Renault Megane R.S. 300 Trophy
Engine:
1798cc, 4cyl turbo, FWD, 296bhp, 295lb ft
Claimed MPG:
34.4mpg, 183g/km CO2
Performance:
0–62mph in 5.7secs, 162mph
Price:
£31,835 OTR/£36,185 as tested/£455pcm
There's one bit of Renault design that hasn't changed since 1984: the gopping Duplo block behind the steering wheel that controls the audio entertainment. It was first seen on the Renault 25, and doubles up as a miniature game of Bop It! as you push it, twist it and spin it to change tracks, volume and media. But given how many are in production, and how the design hasn't changed, I'm pretty sure they just inputted too many zeros in the original order – a bit like the person who blatantly over-ordered the Monkey Nuts at Five Guys. Saying that, once you're used to it, it's an initiative and good system. But Renault, surely it's time to make it sleeker?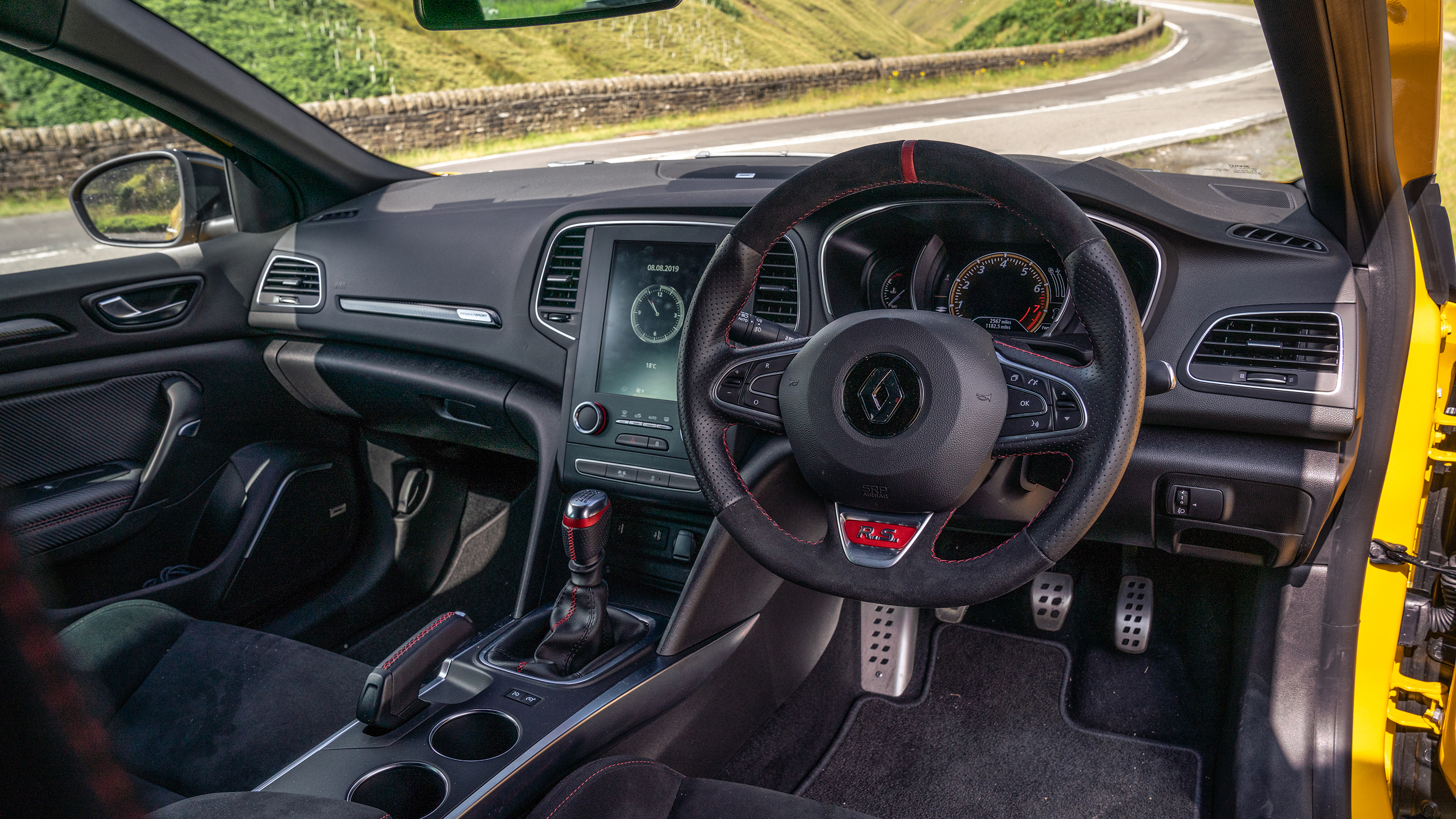 The whole job of a cup holder is to be able to hold a cup, right? On this basis, the Megane's cup holders are utterly useless. Being made of fixed, hard plastic, they only accept a certain size of cup or bottle – none of which seem to be on sale in the UK. So your drink either jiggles around and spills everywhere, or can't fit in at all. Grr!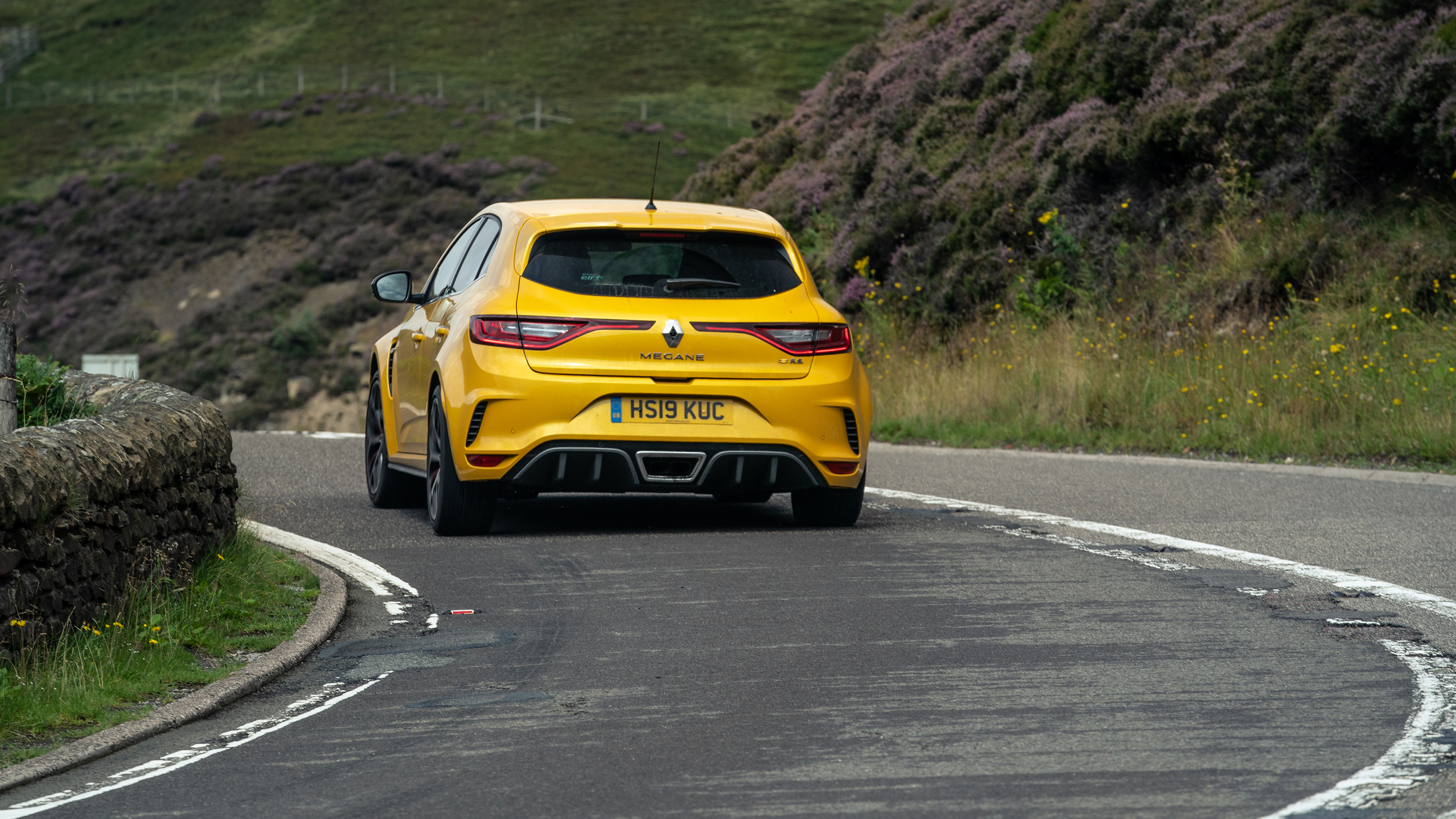 In road-test speak, there's many ways to describe the way a car rides; wafty, nuggety, fidgety – that kind of jazzy jargon. But there's one very literal way to describe the way the Megane handles the tarmac: sickening. See, with the Cup chassis fitted, the Cup the 300 Trophy is 10 per cent stiffer than the standard Megane R.S and also has revised springs, dampers, anti-roll bars and bump stops more suited to the track. This causes the car to be ultra-sensitive to any imperfection on the road, bobble and jiggling at any opportunity. Which, when carrying a passenger back from a wedding recently, was too much for their weak stomach, as I had to pull over for them to chunder.
We don't know how much Armagnac was consumed the day before signing off the Megane Trophy RS 300's gearbox, but we're guessing A LOT. It's probably the biggest flaw in the whole package, and, given that it's a driver's car, a pretty fundamental one at that. It has the action and feel akin to stirring a spoon through a bag of smashed crabs; graunchy, inaccurate and unpleasant. Even a quick drive in an i30N would show what a joy a snickety, short throw shift is. Still, we'd rather have it than the double-clutcher as engagement is key.
You navigate your way around the Megane's menu by Renault's fiddlesome R-link touchscreen. And it's a proper labyrinth. There's a horizontal 7-inch screen in lower level Megane's but in the 300 you get the larger, 8.7-inch portrait screen. The graphics are basic, but the structuring of menus and where they are is slightly confounding to use. Not helped. By the fact that the 300 also boasts an RS monitor on top of its previous audio and climate responsibilities. We're talking telemetry and data acquisition, corralled by 40-plus sensors around the car, and taking in acceleration, braking, yaw, steering angle, and what the 4control system is up to. For youthful narcissists with way too much time on their hands, all this stuff can be uploaded to the RS Replay website. If you can work out how to do it.