Advertisement Feature
Build the McLaren Senna and other icons with LEGO® Speed Champions
These three LEGO® models are the perfect building project for bigger kids or young-at-heart grown-ups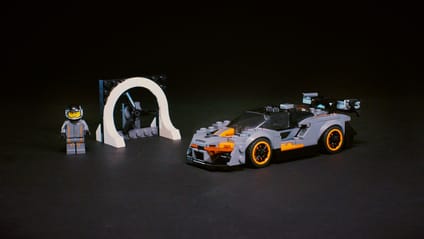 ADVERTISEMENT FEATURE by LEGO Drive What You Love
What is an advertisement feature?
The Speed Champions range

However old you are, there's nothing quite like the feeling of completing a big build. Whether you're on your tod or helping out a budding mechanic, it's incredibly therapeutic to watch those tiny LEGO® pieces slowly become an iconic supercar. To the delight of both LEGO builders and petrolheads the world over, the Speed Champions range has something extra special in store for those rainy afternoons.

Advertisement - Page continues below

The McLaren Senna

This year's flagship model is the culmination of an incredible collaboration between LEGO Group and McLaren. It's fitting that the most ambitious, extreme car McLaren has ever built was named after the incomparable Ayrton Senna, and you may have seen the glitzy video in which the eponymous legend's nephew Bruno tours you round the extraordinary full-scale LEGO model, built from a staggering 467,854 bricks. At 219 pieces, this scaled-down model is a slightly more manageable challenge, but no less thrilling. Not only does it come with replaceable wheel rims, but you can replicate McLaren's fastidious addiction to performance with the accompanying wind tunnel. You'll make a mini Ron Dennis of them yet.

Ferrari F40 Competizione

If you're looking for thrilling race action as well as a top-drawer cruiser, this customisable Ferrari is perfect. It's a nice quick build at 198 pieces, so once you're done, you can place the driver in the cockpit and starting racing with your mates. Then, you can change the hood and spoiler to transform this race car into the classic Ferrari F40 and hit the road.

Advertisement - Page continues below

2018 Dodge Challenger SRT Demon and 1970 Dodge Charger R/T

If LEGO building is the perfect activity for people of all ages, there can surely be no greater race than this. It's time to start assembling in preparation for the ultimate battle of generations: a new car vs classic car drag race. Power up the classic Dodge Charger with the supercharger and place the racing drivers in cockpits. Wait for the Christmas tree lights to change and speed away at full throttle. Who will be first past the chequered flag?