Big Reads
From the archives: Audi TT vs BMW Z4 Coupe vs Nissan 350Z GT
A throwback to 2006, when the then-new Mk2 TT took on its rivals from BMW and Nissan. Bring back sports coupes!
As our automotive existence crawls inexorably towards a future of electric bicycles, pay-per-metre motorways and sanctimonious political posturing, there's a great deal of comfort to be taken from the sports coupe. Small boots, limited interior space, fixed roofs and bags of grunt – such purity of purpose is getting very rare from mainstream manufacturers. Thank God someone still gives a damn.
Both the Audi TT and BMW Z4 Coupe have only very recently been launched, both of them to some serious acclaim from us at TG and the industry as a whole. Meanwhile, the Nissan 350Z, already clutched close to our collective bosom, has had a few timely tweaks. While each car here brings something different to the table, they also form a neat little grouping: the £30,000 coupe is the perfect balance between sporting prowess and financial attainability.
Advertisement - Page continues below
This feature was first published in Issue 158 of Top Gear magazine (2006)
Images: Lee Brimble
How best to separate them then? To exploit the all-round abilities of three powerful, refined and capable coupes – and as a home-grown homage to this issue's coast-to-coast motif – we go from North Sea to Atlantic Ocean (and most of the way back again) in a day. Criss-crossing the best and worst of Britain's A-, B- and M- roads, with a lot more power than time to play with, these cars must offer up not only the best of their speed and handling, but the best of their comfort, refinement and practicality as well.
The pre-dawn kick-off on the east coast immediately highlights something fundamental for each car, and its driver. Even stationary, they are very nice places to be. Audi and BMW have both got a very solid grasp of what makes a decent interior. They do it very differently, but equally well. The TT carries a lot over from the outgoing model, which was radical at the time and even now remains one of the most inspired and inviting cockpits on the market. It's all still instantly familiar, but some of the minimalist detailing has receded slightly in favour of a more practical, if fussier, finish. The inclusion of Audi's flat-bottomed steering wheel, much like in the RS4, is a positive aesthetic improvement, though. And it works even better here, trimmed as it is in full leather rather than that bit of silver on our Deputy Editor's Lifer (that he insists is metal and we all think is plastic). Fundamentally, though, this car provides an excellent sense of space, light and comfort, all wrapped up in a beautifully designed and superbly executed package. All very, very Audi.
Advertisement - Page continues below
The Z4 interior is a strange thing, being both more discreet and yet more adventurous than the TT. There are unlikely shapes and unexpected materials in here, and a symbiotic sense of past and present meeting rather than colliding. Take the faintly retro steering wheel, for example. The only thing that stops it being entirely cutting edge is its subtle yet assured referencing of the past. But what the Z4 Coupe really has over the others, and over almost anything else out there for any money, is a true sense of involvement. You sit so low, hunkered down behind that broad, slim-rimmed 'wheel and gape out over what looks like way too much bonnet for such a little car. The interior seems to wrap itself around you, and with your arse almost on the back axle, it's exactly the sort of intimate melding of man and machine the best drives provide.
That the 350Z's cabin is the least impressive doesn't really detract from it as a standalone experience, either. Much like the first TT, it carries over plenty of those bold ideas from the original show car, but is more obviously hampered by budget. There's less polish to the detailing, and there are cheap-looking plastics all over the shop. It's no Audi, but it's solid, good-looking and mercifully different. 
Where the Z comes into its own is on the move. Fire the 3.5-litre V6 and there's a stylised bark from the exhaust. The action of the gearbox is consciously meaty, as is the steering and pedal feel. Power is up to 296bhp for the 2006 car, an increase of 20bhp over the old one. It's not a substantial jump, but we never thought it was lacking much in the first place. This car still feels brutal, almost agricultural, in its power delivery. Every input from the driver requires noticeably more physical effort than from either the TT or the Z4, but that's by no stretch of the imagination a bad thing. If just popping to the shops has a sense of drama, the Z has what it takes to immeasurably improve your life.
And that is exactly what the TT lacks. All in, it's definitely a more complete car than the Nissan, but within 24 hours it gets boring. We opted for the S-Tronic (The Gearbox Formerly Known As DSG) transmission, the better accompaniment to Audi's 250bhp 3.2-litre V6. It's a seamless driving experience, with exactly the sort of refinement and whispered ability that you'd expect from an Audi, if not what you'd hope for from a sports car. The steering is sharp, if a little muted, and the ride still stiff but a solid improvement over the previous generation car. Quattro four-wheel drive means there's bags of traction, too, and the TT feels quick off the line in either semi or full automatic mode.
The contrast between it and the Nissan is acute, though. One is a clinical expression of everything sensible and stylish and just-so about 21st-century motoring. Allow for a spot of anthropomorphism and the TT is the one who irons his work shirts the night before and goes to bed early with a good book. Meanwhile, the 350Z is in an all-night tattoo parlour on the wrong side of town. On a winding Welsh B-road, the TT starts to leave the Z behind, power deficit notwithstanding, and it does so without even putting the wind up you. But muscling the Z in the Audi's wake, change-up and traction-warning lights blinking merrily in the dusk, you get hooked on that jangle of nerves.
The compromise is the Beemer – although compromise hardly seems like the right word. This is the car that does what both TT and 350Z do, while somehow still managing to outdo both. It's probably been out all night with the Nissan, but shows up the next morning all freshfaced and with a twinkle in its eye. The controls are light and accurate, the car lithe and direct in response to your commands, and yet that vital element of savagery, that 20th-century bullishness that gets the palms wet and the heart pounding, is still right there for the taking.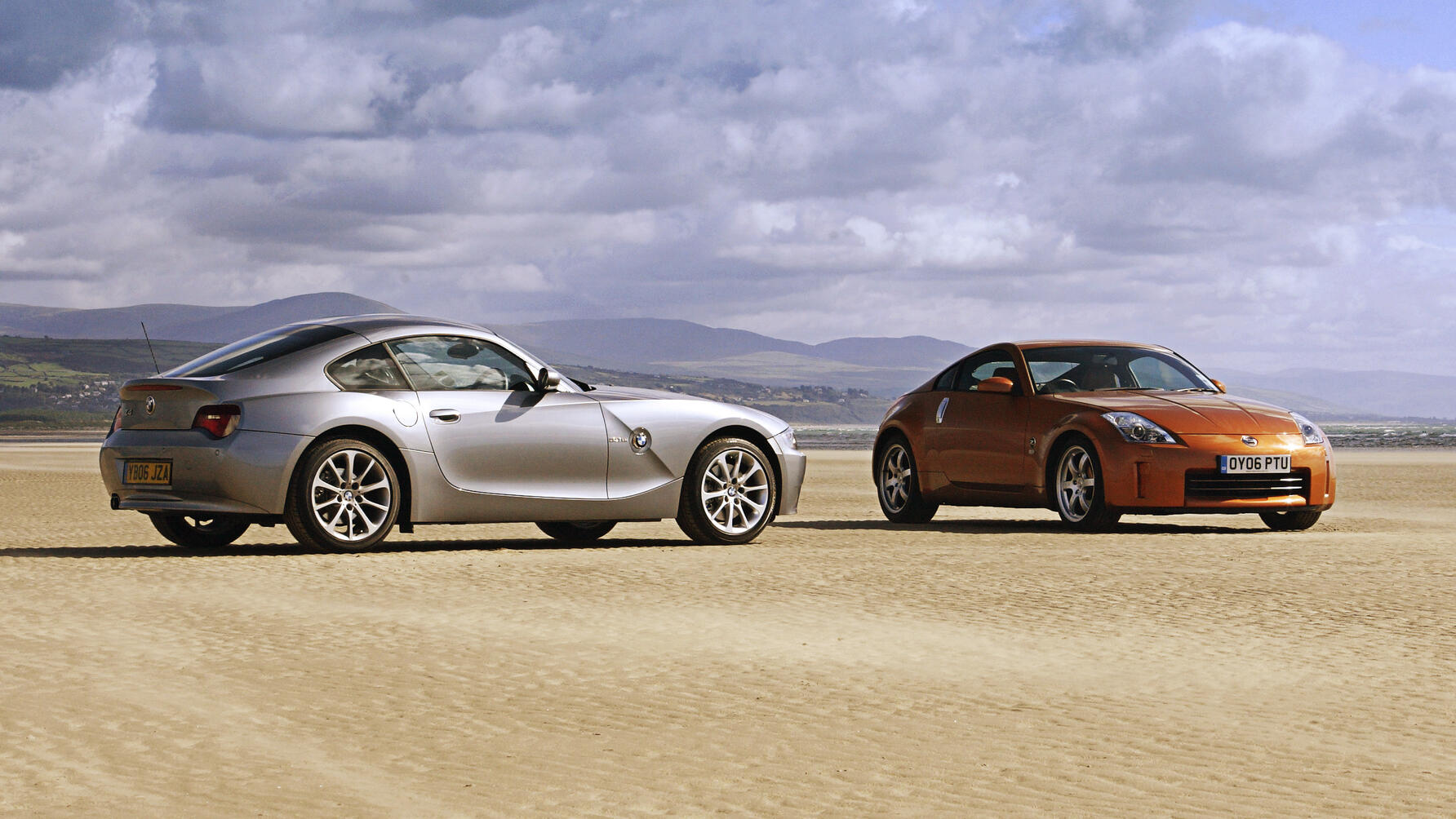 BMW does a bloody impressive line in engines and there's little sweeter than a three-litre straight six. Some 261bhp is yet more middle ground for the Z4 in this test, but it seems to bring with it a hell of a lot more urgency than the others. There's enough grip to get that power on remarkably early out of corners, too, exploiting a manic surge of acceleration that neither the Audi nor the Nissan can emulate.
Top Gear
Newsletter
Thank you for subscribing to our newsletter. Look out for your regular round-up of news, reviews and offers in your inbox.
Get all the latest news, reviews and exclusives, direct to your inbox.
Thanks to the lowest kerb weight here, the BMW has a power-to-weight ratio to match the dumpier but more beefy 350Z too. Lightness means so much to a sports car, and when you can match it to some muscle, the end result is somewhere close to awe-inspiring. There's no bad drive among these three, but the one that had us all hooked was the BMW.
Another defining aspect of all these cars is appearance. The new TT looks stunning on the road, but it's not terribly surprising what little attention it gets alongside bold and brash styling exercises like the Z4 and 350Z. At one point a punter in an old-model TT pulls up alongside and it's startling just how modest the visual changes actually are. Creases in the car's flanks, narrower headlights, a slightly wider track – there's really not that much to it. The first TT was a huge leap into the unknown for Audi, and this looks more like a subtle evolution of that first, headlong revolution. Much like the driving experience, we fear it will rapidly become quite ordinary. Not something you could ever say about the other cars here.
Towards the end of the day a largely disinterested interloper, who had been half-heartedly trying to get us into trouble with the council for taking pictures somewhere pretty, suggests that the BMW looks like an old Aston Martin. It's not something I'd noticed, but the underlying point he makes is vital. Here's a car that expresses some of the finest aspects of traditional sports-car styling, albeit in a thoroughly modern skin. Low lying, compact in proportions, gracefully long bonnet offset by tiny rear end. In a basic structural sense it does resemble some of those gorgeous early post-war GTs.
We all love the Nissan too. It's far from perfect, from some angles a little awkward even, but the expression of power and purpose is an ideal complement to that haymaker of a drivetrain. It's the antithesis of the Audi's modesty and conservatism, and with two such utterly different cars side-by-side it's hard to believe they could both be considered by any one potential buyer. The BMW reaches into both camps, though, and has the capacity to satisfy the needs of both. So at £31,400 against the TT's £30,685, it should be the runaway success. Granted, the Nissan is only £28,800, but a negligible increase in your monthly repayments gets you a hell of a lot more car in the BMW. It's the one we all came away wanting – to all intents and purposes, a clear winner. But isn't there always a hitch?
I'm sitting here writing this, pausing frequently as sirens scream across the Westway, and as they do so I fiddle with a pencil. Not just any pencil. A Porsche pencil. It's brand new, matt black, with an untouched black rubber on the end and the silver moniker embossed in that company's trademark Bauhaus characters. I'm not sure if it's a good pencil, but I like it more than any other because it has an association with peerless quality, desirability, even exclusivity. Porsche knows this. That's why it makes them and gives them away to journalists. And probably sells them online to strange obsessive types. The point here is that loyalty manifests itself in the most moribund of places. People will buy the TT because it's the TT, even though it's lost the breathtaking originality of the old car; even if it's not as fun as the Z4 or the Z. And most of them won't be disappointed.
The Z4 Coupe, however, is not far off being the perfect car for many people. Yes, it rides quite badly, looks odd from the wrong angle and will make your neighbours hate you because the badge is a bastion of nouveau riche achievement, but forget that and forget them. We need to suck this sort of thing up while we still can. In the twilight years of the internal combustion engine, and amidst the contradictory global knicker-twist that is the oil we all want versus the pollution we don't, there's still a company designing and building a car that flies in the face of everything that's wrong with modern motoring. A proper sports car you can afford, rely upon, frighten yourself in and use every day. It's not going to last. Get in one while you still can.