Big Reads
Big Read: An exclusive audience with the 1,035bhp Ferrari FXXK
LaFerrari not man enough for you? Ferrari thought the same and created the FXXK...
We've discussed carbon fibre; now we're talking concrete. This isn't a wholly unexpected conversational U-turn from Flavio Manzoni, given that Ferrari's Sardinian design director trained as an architect in Florence.
Words: Jason Barlow / Pictures: Alex Howe
Advertisement - Page continues below
He's not an abstract thinker and you won't find Flavio at the fluffier end of the design spectrum. When it comes to cars like Ferrari's FXXK, this is a good thing. 
It has double the downforce of the LaFerrari
"Frank Gehry and Santiago Calatrava," he says, citing two modern architectural masters. "Pier Luigi Nervi, who Italians refer to as an ingegnere edile [building engineer], did amazing things with reinforced concrete. His work demonstrates a strong combination of sculpture and engineering. I like that."
There's no better way to sum up Manzoni's approach. Five years ago, Ferrari wrested control of its visual creative back from Pininfarina, Maranello's chosen couturier since a celebrated meeting between Enzo Ferrari and Battista Farina in 1951, and set up its own Centro Stile under Manzoni.
Advertisement - Page continues below
Since then, he's won the famous Compasso d'Oro for the F12 Berlinetta, and his team has genetically modified Ferrari's hypercar bloodline to stunning effect with the LaFerrari. But even that somehow pales in comparison with the monster you see here, the FXXK, the car that Manzoni quietly regards as CS's greatest achievement so far. This is sculpture and engineering on an unimaginable scale.
Let's recap. The FXXK is the latest product of Ferrari's Corse Clienti division, a limited-run track-only mobile laboratory for the super-rich strata of the company's customer base that prefers to operate at the bleeding edge of high performance, rather than commission a one-off SP (special projects) car or run a decommissioned Formula One machine.
When Ferrari announced the FXX programme a decade ago, some scoffed at the notion of a £1m-plus track car, stored by Ferrari and ferried to different circuits around the world, never mind the idea of using owners as guinea pigs for new technology. But if imitation is the sincerest form of flattery, Ferrari ought to be very flattered indeed by McLaren's P1 GTR and Aston Martin's Vulcan. 
Typically, the FXXK has the jump on them. A power output of 1,035bhp provokes memories of insane Eighties F1 cars, and if that figure falls short of the Veyron in sheer Top Trumps terms, remember that the Bugatti is lugging the equivalent of an Alfa 4C in excess baggage. 
The FXXK has 101bhp more than the regular LaF, with 848bhp generated by the 6.3-litre V12 and the remaining 187bhp ponied up by the electric motor. The combustion engine has new camshafts, reworked intake manifolds and an exhaust system that junks the silencers. Watch the video online of the car's debut at Ferrari World Finals last November in Abu Dhabi, and you won't need to worry about dislodging any recalcitrant ear wax. 
No word yet on how quickly it gets around Yas Marina, or exactly how much harder and faster it accelerates, but we do know that it takes an enormous chunk out of the LaF's lap at Fiorano – five seconds, in fact, to record a 1:14 time. Bespoke Pirelli slick rubber and 1,000bhp-plus can do that to a place.
Top Gear
Newsletter
Thank you for subscribing to our newsletter. Look out for your regular round-up of news, reviews and offers in your inbox.
Get all the latest news, reviews and exclusives, direct to your inbox.
Inside, four new manettino settings (Qualify, Long Run, Manual Boost and Fast Charge) harness conventional and hybrid power sources to optimise performance over short or longer periods. An extra five-position manettino governs the E-diff, traction control and Side Slip Angle Control system – although Sebastian Vettel appeared to quickly dispense with the software safety net during his run in the car earlier this year. ("I did a half-spin," he admitted sheepishly.) 
But it's the FXXK's remarkable body and aero dynamism that most commands your attention. On TG's visit to Ferrari's design hangar, in the heart of the Maranello citadel, a full-size clay model of something new was being hurriedly covered up in the background. So comprehensively does the FXXK hoover up your eyeballs that they really needn't have bothered. 
Its aero configuration is where Ferrari's Formula One learning and a decade of FXX development lead to a big pay-off. Upfront, a beautifully complex splitter sits 30mm closer to the ground. End plates and vertical fins help channel air along the side of the car.
The fins work almost as a wall...
Yet more fins on the side skirts improve the airflow towards and over the rear wheels. At the rear is arguably the car's most innovative and eye-catching feature: a pair of unusually abbreviated rear fins that work in harness with the LaFerrari's ingenious active rear spoiler. 
In low-drag mode, the FXXK has double the downforce of what we must laughably refer to as the 'standard' car. When it's in maximum-attack, full-aero mode, it generates another 30 per cent.
Tellingly, Manzoni cites the mid-Sixties 330 P3/4 racing car as his favourite Ferrari – "an amazing beast, my God… and a car consistent with the importance of synergy between functionality and beauty" – but, even so, surely the FXXK is too much of a weapon to qualify as beautiful, as all Ferraris are required by international law to be.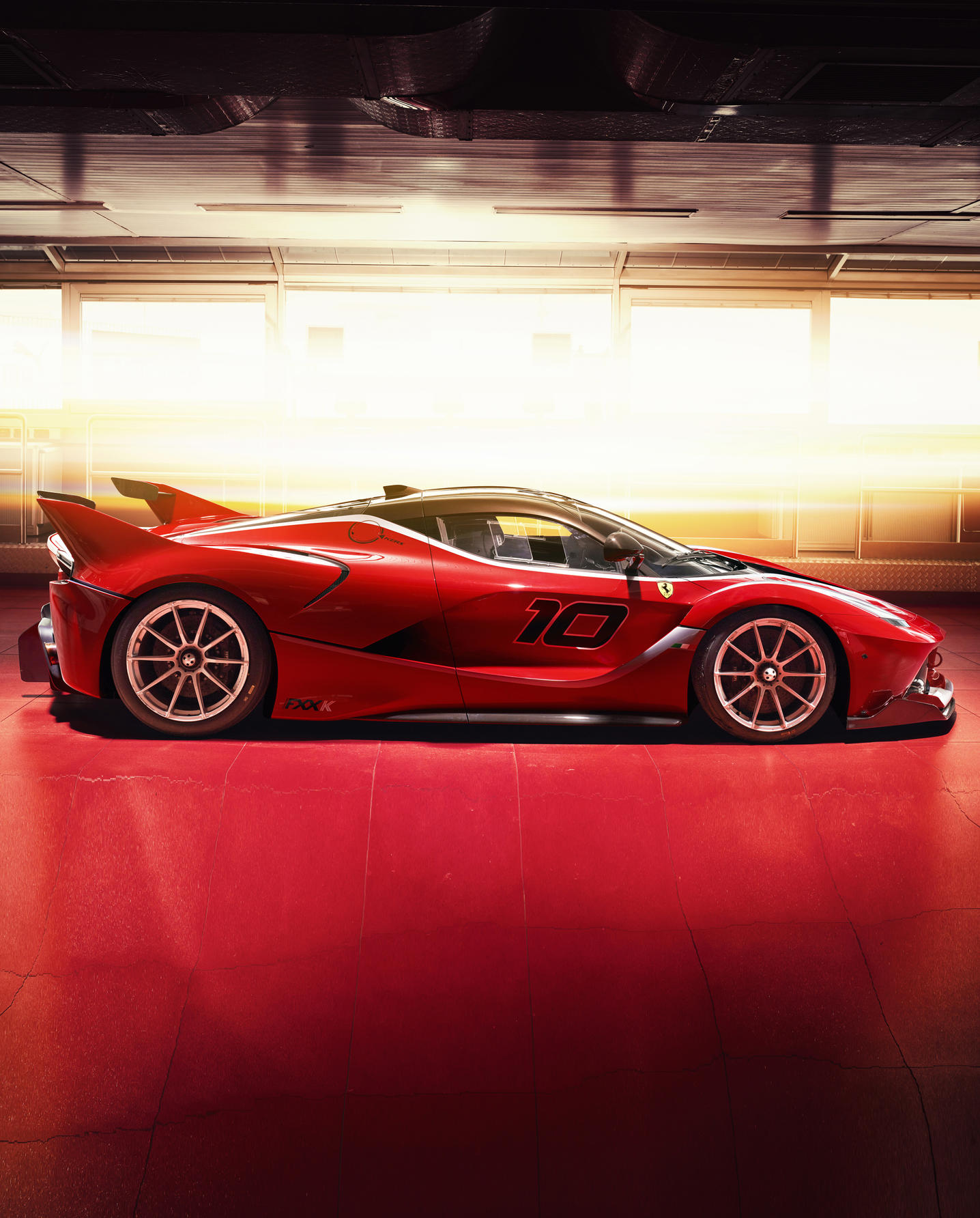 Manzoni disagrees. "This is my favourite Ferrari of the past five years," he says firmly. "It's very complex, but at the same time very pure. It's exactly how I wanted it to be. The engineering effort on this car is considerable, but there was a lot of room to transform it into a beauty by working very closely with the aerodynamicists. Everyone thinks a track car has to be brutal because it's functional, and nobody really believes that a car like this can be beautiful. So this was the major achievement."
Manzoni admits that he's not just a car fanatic like many automotive designers – "I tend to have a multi-disciplinary approach." Start a debate with him about the distinction between styling and design, and you'll spot the first ripples in the imperturbable exterior. 
"There's a temptation to create something because it is nice, purely because it looks good," he concedes. "So it's partly my job to ask, 'Why is it like this, and not different? Is there a rational explanation for it?' Otherwise it could become pointless. If everything stays respectful of the technical principles, that's better. We would not feature bulges or scallops on the bonnet where they are not needed." 
Crucially, though, Manzoni wasn't fighting a straitjacket of aero-intensive, data-dictated hardware. "Aerodynamics is a huge opportunity for designers," he insists, pointing to the front end of the FXXK. "What I say to my team is always the same: 'If you can learn and understand how a device works, then you can interpret it in a very organic way through the overall design of the car, and create something truly new.'
"It's impossible to think of a modern car like this without understanding the engineering principles. We must know them, digest them, metabolise them and translate them in a way that is artistic. The co-operation [with the aero department] was so great that we found many promising and inspiring ideas. The more we could process these ideas, the closer we got to the final shape of the car."
Centro Stile also designed the LaFerrari with the track version in mind, a process made easier by the suspicion that such a car was almost inevitable. Its predecessor, the FXX, was the unplanned spawn of the Enzo, and evolved in a very ad hoc way. Hugely dramatic, yes, but still something of a Frankenstein's creature. The 599XX that followed five years later was also largely improvised. This time, things would be different. 
"I thought the LaFerrari was ready to be interpreted more radically," Manzoni smiles, citing its arrow-shaped prow as one of the highlights. "During the development of the LaFerrari, I wanted to change the archetype. The FXXK provided the perfect opportunity to revisit the lights, for example, so that the expression is totally different. It has very small, very expressive headlights, like closed eyes. This is a track car, so it gave us the prospect of reimagining the car's graphic elements."
But the story reaches its apogee with the rear end. "The aero treatment at the back of the FXX became quite well known, and we didn't really want to repeat it. The aero guys said that they didn't need a double spoiler, so we began considering two smaller spoilers cantilevered on a fin. The fins are great for maximising the downforce on the active rear spoiler when it is open. The fins on either side work like boundaries, almost like a wall, and they keep the airflow concentrated on the right path." 
There's more sculpture in the rear diffuser, and LEDs fill the sockets that house the lights on the LaFerrari. It's all 100 per cent functional, yet utterly bewitching at the same time. Aston Martin expects at least a handful of Vulcan owners to treat their cars as static works of art. It's not something you can imagine Ferrari tolerating. 
"There are always things I'd like to change on a new car," Manzoni concludes. "I don't want to sound presumptuous, but I think the whole team did a pretty good job on this car..."