Best of 2022
Chasing the sunset in a Bruder EXP-6
Want to chase the sunset on the longest day of the year? You'll need a 4x4, somewhere to sleep and a strong plan B
Let me take you back. June 21, 2022. The longest day of the year. Sunnier, more illuminated times. And you join me at the stunning curve of Kylesku Bridge in northwest Scotland. It's very early, grey and lightly blustery, with dampness drifting through the air. The smells are heathery and fresh, the sounds are seabirds. I deliberately parked last night so I'd wake up with a view over the mighty sea lochs and when I did it was utterly captivating. To lift a blind and see such majesty doesn't half make you question your priorities in life. There's no one else here. I wasn't aware of a car passing in the night, and none will pass for another half an hour while I walk around nursing a hot cup of tea.
I hate caravans. They're so dull and ordinary. There they go holding up traffic, dawdling about, being ugly, being tedious, being beige, driving me mad. And then there's the Bruder EXP-6. God I want one.
Advertisement - Page continues below
Photography: Jonny Fleetwood
Fickle me. But I'm not alone, am I? It's Australian (but of course), designed for outback endurance by a firm with a background in military equipment. You're not surprised are you? It has cabin pressurisation, up to 650mm of ground clearance, 600W of solar panels, 33-inch tyres, is mostly bulletproof and thanks to eight shock absorbers and four three-tonne support airbags, can be dropped off a cliff and emerge unscathed. The same does not apply to the contents. Land Rover probably claims as much for the Defender, but if I had to be the contents in one of them and dropped from a great height, it would be the one with a king-size double bed. The mattress is a doozy.
Far above and beyond the very mortal abilities of a regular caravan, it is a Scotland-proof survival wagon. So what's it doing here? Well, I have a plan: to watch sunset on the longest day of the year, from the place on the British mainland where it sets last. That's Cape Wrath, the extreme northwest corner of Scotland. The name is derived not from the furious seas hereabouts, but a translation from the Old Norse for 'turning point'. Tonight the sun won't plonk into the sea until 10.33pm. And not so much plonk, as kiss the horizon and slip elegantly into the embrace of the North Atlantic. But there are two main looming issues: it's a military bombardment range and there's no road there.
Advertisement - Page continues below
The former we've sorted. Permissions have been sought and granted. The latter is more troublesome. There is a road across the range to the cape, it's 12 miles long, but connected to nothing. At the northwest end, the Cape Wrath lighthouse, at the southeast terminus, water. Now the road is borderline irrelevant – Defender and Bruder would make a good fist of getting across 12 miles of peat bog and heather, but the mile-wide Kyle of Durness, no matter the Bruder's float characteristics (yes, it does), is more troublesome. There's a ferry to get the cagoule enthusiasts across, but since it's a dinghy with a piddling outboard, it would be like a duck piggybacking a hippo.
For such occasions as these, a local man has a transport pontoon. But he's currently being knocked sideways by COVID-19. Love the army though – there's always plan B. So at oh-nine-thirty hours this morning I have to meet the training centre range commander on the slipway at Keoldale.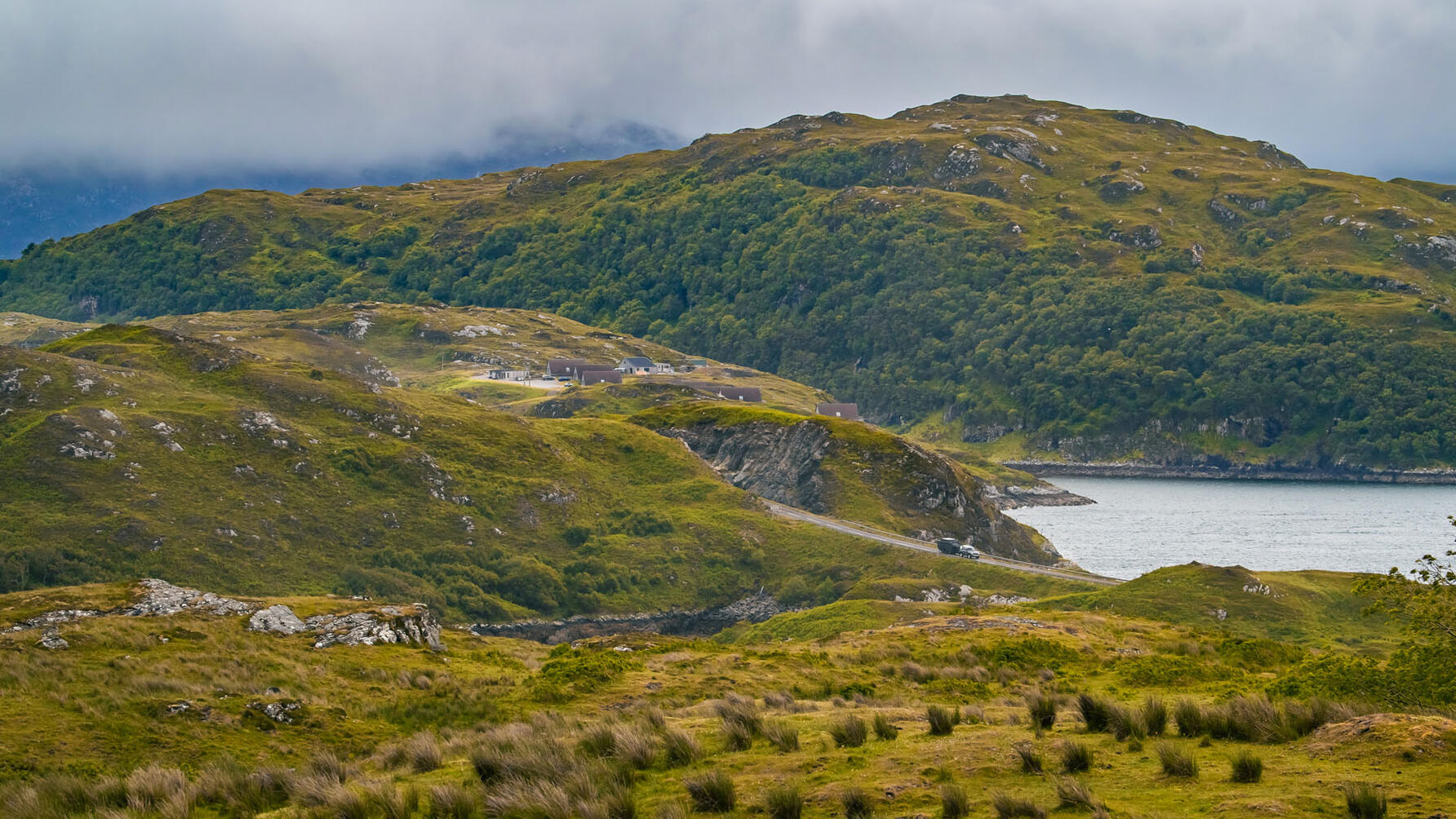 That's only 35 miles away, so let me tell you about the 650 miles I've already done getting up here. Towing isn't that painful – in fact 60mph can feel distressingly fast when the 2.3-tonne trailer weighs more than the tractor and starts to throw its weight around – but the Defender is a good tractor. My word this entry level D250 (our own long-termer) has some torque, 420lb ft at a mere 1,250rpm means it pulls gutsily, maintains speed easily, and over 1,450 miles returns 18.4mpg. And for once we have a Land Rover trip computer that's not telling huge porkies. Life onboard is a balm of CarPlay, resting elbows and relaxation. Only the slight seesaw motion, caused by the EXP-6's 165kg nose weight levering against the 90's short wheelbase, disturbs the peace.
Meanwhile all is well onboard Darth's camper. I know this because it comes with a Garmin wifi tablet so you can run everything from the car. Water levels, heating, lighting, solar charge, battery status, onboard cameras; I can even manually control the ride height either side and lean it into corners.
Its effect on other road users is dazzling. I don't think I've ever driven anything that's caused such a stir, that's pulled cashiers out onto forecourts, had children tugging sleeves, people asking me to "hang about for five while I go get me wife/mates/kids", and gasted the flabber of every caravanist. Movie references pour in: Mad Max, Jurassic Park, Star Wars, Armageddon, Batman. People ask if the awnings are missile tubes, and are so slack-jawed they accept it when I tell them they're right.
In my mirrors the awnings look like lances, so I pretend I'm jousting with oncoming traffic. Everyone gives way. I wasn't joking about the bulletproof thing. Atop the steel ladder frame chassis sits a monocoque sealed box made of 30mm thick polyurethane sandwich panels. It'll stop light munitions apparently, although I didn't bother asking what that actually meant. Arguably more relevant is the fact it's designed to cope with a temperature range from -20°C to 50°C and carries its water tanks inboard so they don't freeze.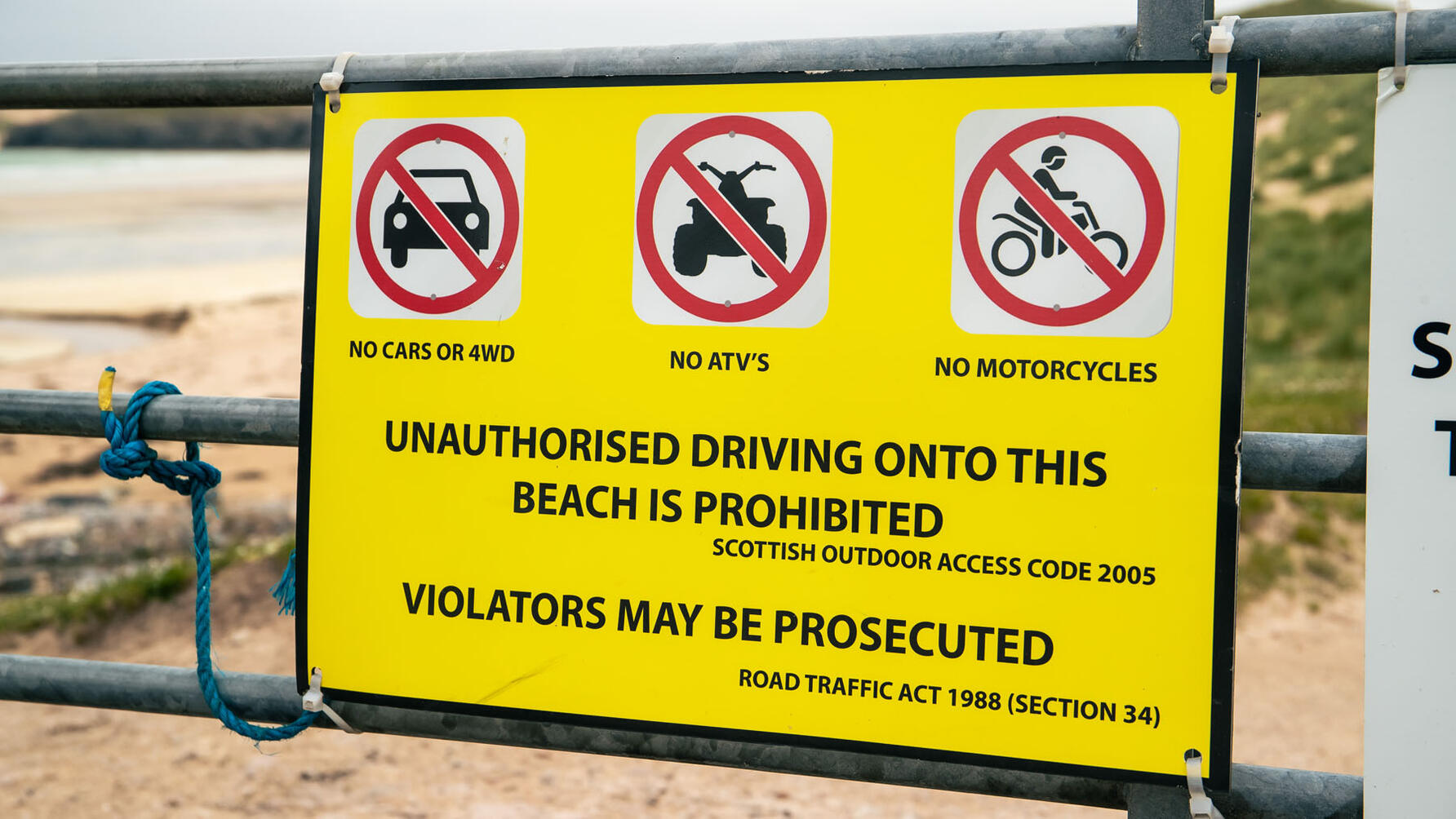 The outside is scratchy and tough, designed to scrape past branches without marking, but open up the full width rear cover and you reveal a softer core. A full width double bed with plush mattress up the far end, a sofa that converts into bunks, a wetroom with shower and bog, plus cooking facilities and a washing machine. The tank has a glamping heart. Further Australiana includes a serving hatch for indoor/outdoor kitchen vibes, plus a second pull- out kitchen in a drawer. And no, that's not the wrong way round.
So at Kylesku I make breakfast for photographer Jonny and videographer James – bacon fried in a saucepan since the hob's induction technology is beyond my frying pan. As it rains we down mugs of tea and realise we've been spoiled for any other shoot we'll ever do.
Top Gear
Newsletter
Thank you for subscribing to our newsletter. Look out for your regular round-up of news, reviews and offers in your inbox.
Get all the latest news, reviews and exclusives, direct to your inbox.
The drive up to Keoldale is casually spectacular. The landscape exudes permanence, as if time ticks more slowly while we flit through. It's hard, hard scenery, the vegetation stunted, the rock ancient and weary, the water dark, still and deep. The men we meet at Keoldale were clearly bred for this area. Small on talk, big on grip strength, the kind that usually have black strips painted across their eyes. They have bad news, delivered so implacably I know better than to ask questions. Their landing craft is out of action. The pontoon floats, but the boat that pushes it doesn't.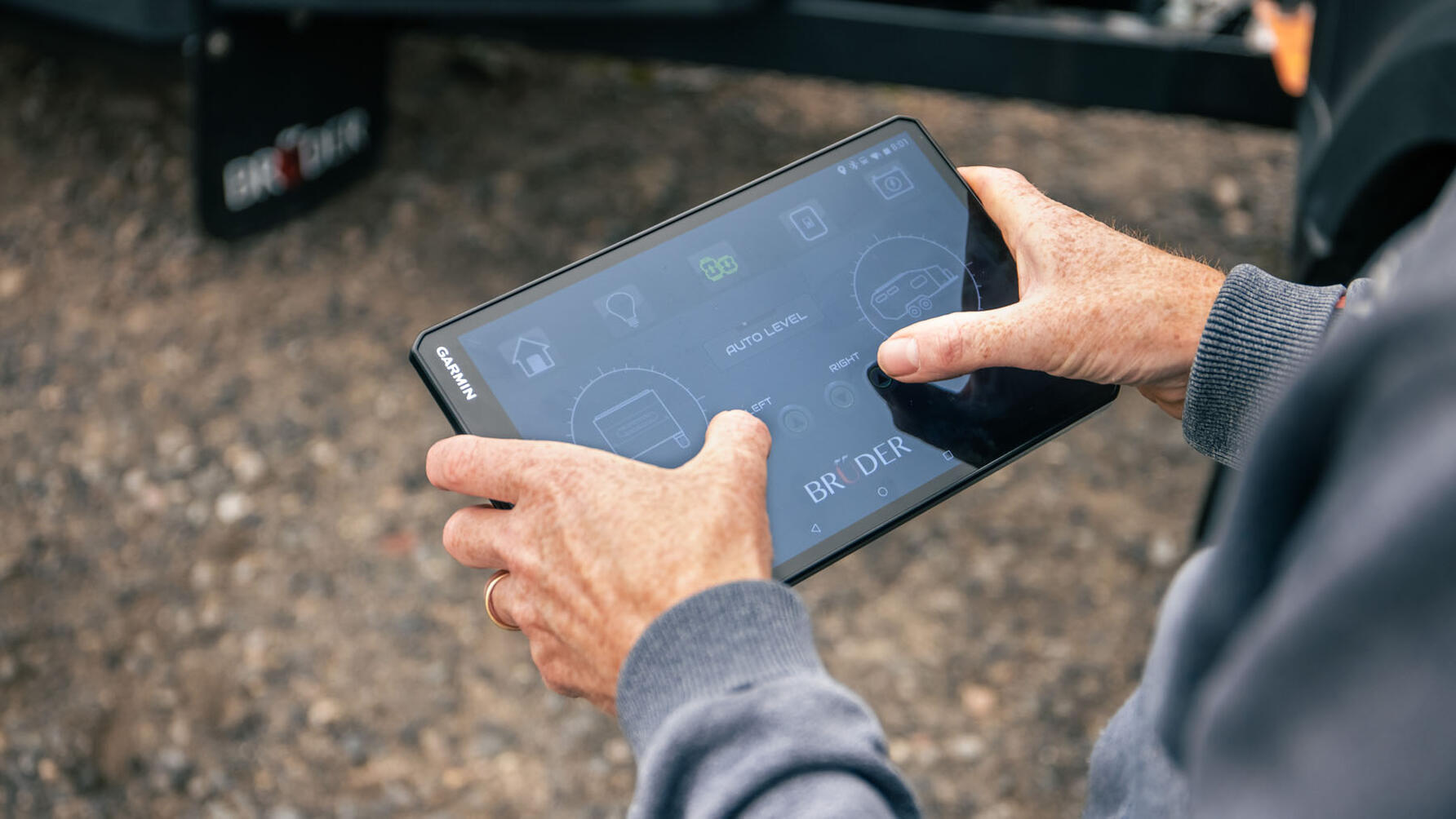 And that's that. We're not going to Cape Wrath. The range commander, the only one with a hint of softness in his jowls, apologises. We're standing around, dejected, unsure what to do next, kicking our heels with the military boys while they wait in the drizzle for a ride across. I occasionally catch one of them sneaking a curious glance at the rig, so decide a demo is in order.
Because of the shallow angle of the A-arm at the front (the two chassis members running back from the tow hitch), plus the 90's short wheelbase, the Bruder is amazingly manoeuvrable in tight spots. You can have it at more than 90° to the car. So in not much space at all, I reverse it down the slipway. About half way through I realise a) it's bloody steep, and b) likely to be very slippery. But I have provided some entertainment, and as reward we are thrown a lifeline.
"Are you in touch with the major?" I am. "Tell him we can't help today, but suggest you use the range station at Faraid Head." I will. I don't know where that is, but it sounds good. I make the call. Turns out Faraid Head is where the military looks through binoculars from, when stuff is being chucked around out on the Cape. It's ideal. Sunset there is just a single minute earlier. Just one issue, "You'll need permission from the landowner to drive across the beach to get there." But I know that beach, I once very rashly drove a McMerc SLR on it. That'll be a breeze...
And we've got time to kill. So we cruise back south to shoot the rig on roads. I'm not calling it a caravan. Technical trailer, survival wagon, outback rig, I'll take anything, just not caravan. There are people up here with caravans though. And motorhomes. This is the North Coast 500. I expected wall-to-wall sports cars whipping through the Highlands, but the reality is that snails pulling their homes with them dominate, then bikes, then cars.
We're being noticed, though. Each time we pull over someone will say "I saw you yesterday", "I heard you were in the area" or "I saw you parked in Lochinver". In this, the remotest, emptiest area of the British mainland, it turns out we're all funnelling down the same paths. It feels oddly communal. We find a quarry and I do sandwiches for everyone, crank up some tunes on the stereo.
I find signal and call the owner of Balnakeil beach, explain the situation. Not a breeze, more a chill gust directed at me. They've had problems there – too many walkers and wild campers littering the SSSI. It was fine a few years ago, but no... Balnakeil then, is a microcosm of what's happening across this area of Scotland, of the double-edged sword that is the NC500. In terms of visitor numbers it's been a huge success, but it's transient – people are just travelling through, not stopping, so little money is finding its way into local communities. Yet it's they who are suffering the extra traffic, the damage to roads and beaches, the environmental impact. I feel partially responsible, because in the wake of the story I did with that McMerc SLR a dozen years ago, I played a small part in setting the NC500 up.
We come to an agreement. We can have access for the car, but not the trailer. And I'll write about the issues. I unhook the Bruder, can practically sense the Defender shrug its shoulders with relief, and ease out across the white-gold beach. Quite glad I'm not towing seven metres of gnarly 'van across soft sand, if I'm honest. Darndest thing at the far end of the beach though – the tarmac reappears, laid mysteriously among sand dunes. It winds on for a mile or two, climbing past cliffs and grassy hillsides until we arrive at the compound. The gates are padlocked. Lights are on in the tower, but no one's answering our knock.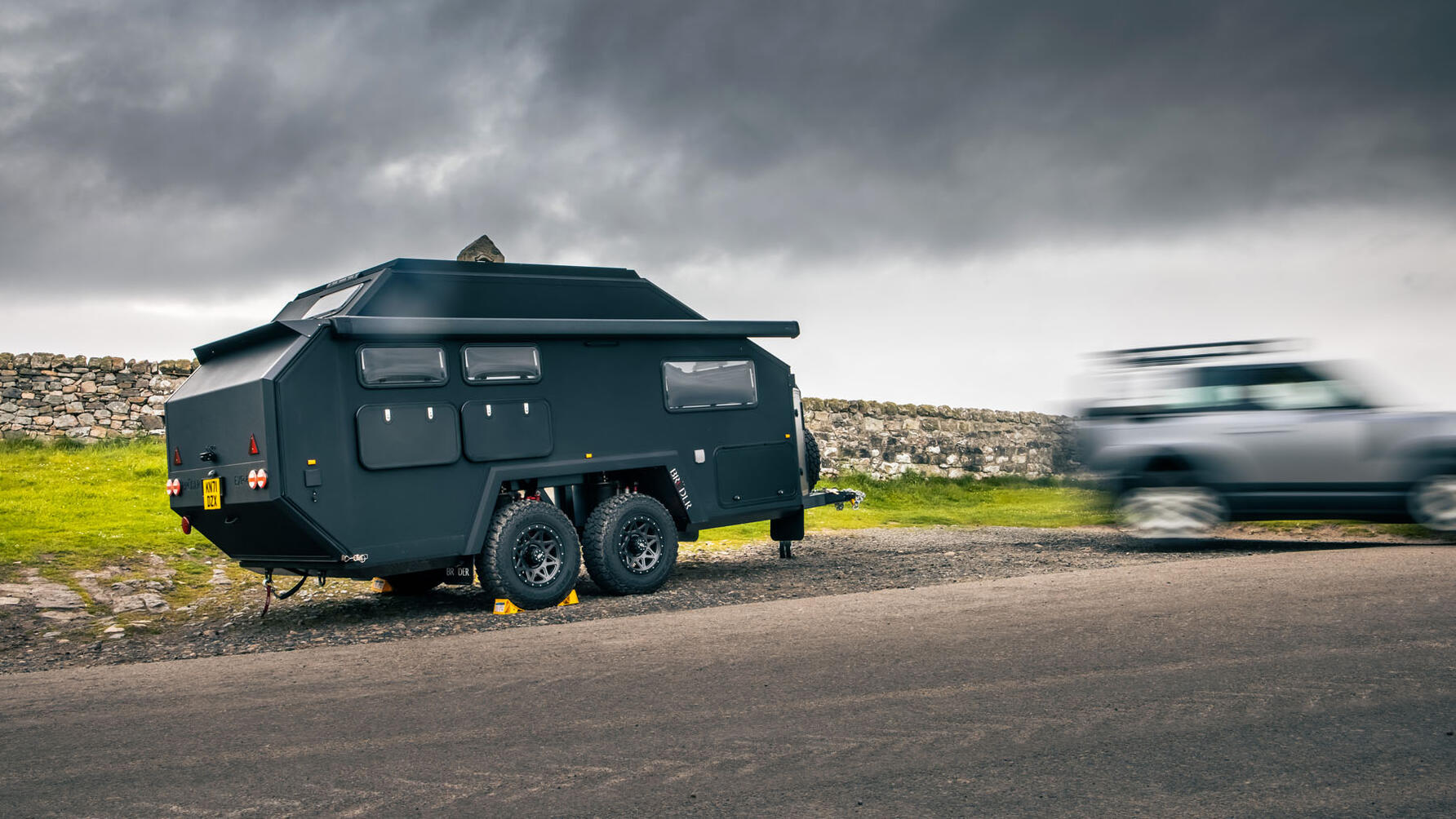 So I turn round and set up camp in the dunes. Not for the night, just to watch the sun set. We'd brought what we could with us, but the 90's limited load bay meant that was camera kit plus a campfire, chair and some logs. It's a useful, capable, desirable machine for the modern age, but it's not a genuine workhorse. The Bruder has a clearer mission statement. It's built as a survival pod for the harshest environments on earth, which means it's utter overkill everywhere else. That's what gives it authenticity, something the new Defender doesn't have. But don't they make a lovely couple? The whole rig, Defender and EXP-6 together, comes in at supercar money, about £200,000.
Of course we don't get a sunset. The cloud never for a moment parts to reveal a flirtatious glimpse of hot orange sunlight. Beside me the fire crackles, the light dims and James, Jonny and I toast marshmallows and each other with an alcohol free beer. The mission was right, the aim was slightly off. It's still light when I reattach the trailer and creep stealthily down to camp overlooking the Kyle of Durness. Once again I park ready for the dawn view. This time it's a blaze of light and sun in an orange sky. Too late, time has moved on.
The nights are drawing in.