Big Reads
Drifting Hyundai's Civic Type R rival
TG exclusively drives the i30 N, as Hyundai tests its hot hatch against rivals in Sweden
How lairy should a hot hatchback be? If you're a fan of the Ford Focus RS, which took humble hatches to a new, powersliding plane when it launched last year, you'll likely be mouthing 'very' at the screen.
It's a question Hyundai is currently pondering. Specifically, its stability control engineers, who are tucked up in Arjeplog in deepest, snowiest Sweden. We've joined them for a day of testing the new i30 N, the Korean company's first bona fide hot hatch.
Advertisement - Page continues below
Words: Stephen Dobie/Pictures: Alex Tapley
Hyundai's given us fast i30s before, but they've been a standard car with a mildly tuned engine. The car you see here – if your imagination is large enough to cast its heavy disguise aside – is proper. Still front-wheel drive, but with its suspension components refreshed, and new, big-boy brakes up front. Plus an ESC system that's undergoing very thoughtful development.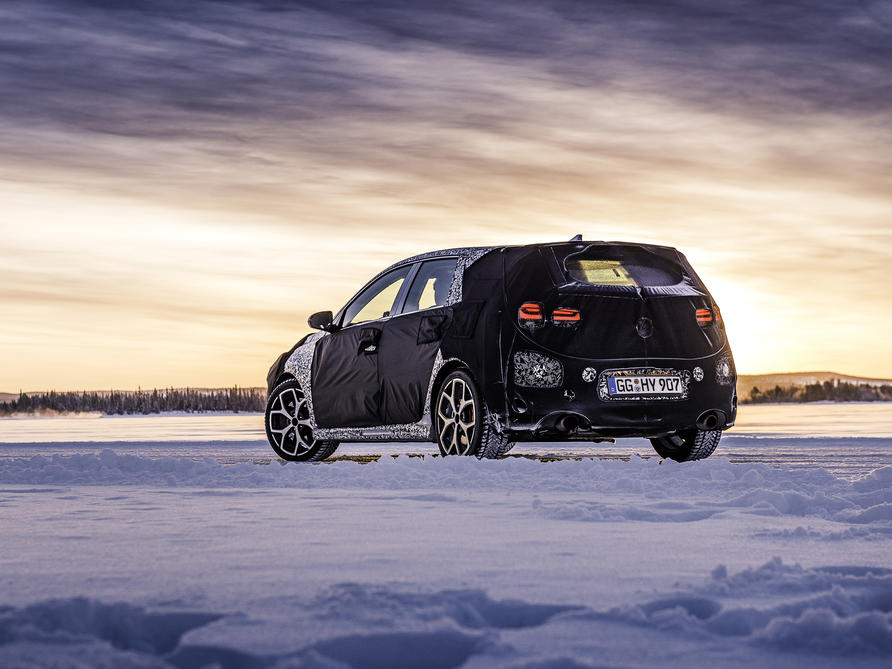 "Turn the system off and you can play as much as you like – the driver must catch it," says Alexander Eichler, head of Hyundai's fast car development. "It's important to have a real 'off' mode; many of our customers want that. For Hyundai it's the first time we have an 'off' mode that doesn't come back, and the first time we have these three steps, from 'on' to 'off' via a sport mode."
Advertisement - Page continues below
That's nothing new in the world of performance cars, or even hot hatches. But Eichler's past projects include working on the stability control systems of Mercedes AMG products, cars whose sport modes traditionally have a very good sense of humour.
In fact, everyone working on Hyundai's fast N brand – of which the i30 N is the first product – seems to have a Premier League performance car name on their CV. Albert Biermann, in charge of the whole thing, headed up BMW's M Division. Hyundai's taking this hot hatch thing very seriously.
"We can really be creative," says Eichler. "It's exciting to be starting something new." You sense there'll be colossal pride among the N's relatively small team if the i30 properly sticks it to the establishment.
The car's full reveal is still six months away, so Hyundai is very cagey on specs. But there'll be two models, a standard i30 N and a Performance Pack car. Both get a 2.0-litre four-cylinder turbo petrol engine, linked exclusively to a six-speed manual gearbox. The former should have around 270bhp, the latter around 290bhp and with an electronic differential setup on the front axle. Expect 0-62mph in the low 6s and a 155mph top speed for both.
Our heavily bin-bagged prototype is, naturally, a Performance Pack car. First impressions as you climb in are hugely positive for those who want their hot hatch to be fun. The steering wheel comes out close to your chest, while the hugging sports seat feels nice and low (take note, Ford). There are shift lights at the top of the dashboard, and orange-to-red illumination around the upper quarter of the rev counter. Both are suspiciously like touches in senior German performance cars. Namely, AMGs and Ms…
There's also a manual handbrake. A big 'N' button on the steering wheel, to instigate the car's fiercest engine, suspension and steering settings. And a rev-matching system for automatic blipping of downchanges – fairly rare in hot hatch circles – but one which turns on and off with a simple button, whichever of the car's modes you're in. Everywhere you look, there are clear signs that the people behind this i30 N like cars. And more importantly, love driving them.
Top Gear
Newsletter
Thank you for subscribing to our newsletter. Look out for your regular round-up of news, reviews and offers in your inbox.
Get all the latest news, reviews and exclusives, direct to your inbox.
Eichler tells us he doesn't want to discuss rivals. But the i30 N sits in the car park of the Arjeplog test facility between a Honda Civic Type R and a Volkswagen Golf GTI, while a Seat Leon Cupra lurks around a corner. They're all great cars, and strong benchmarks. "We don't always follow everything they do," says Eichler. "We just want to get an impression of how they do it, and in which range. Then we can define which way we want to go. And we want to make something new."
While the engineers don't want to badmouth rivals, they highlight interesting criticisms of the cars the i30 will challenge. They also cite the outgoing Renaultsport Megane as the high point of modern hot hatches. That bodes well for how their car will behave.
It's a car you really need to provoke into sliding, with aggressive braking into a turn
Better find out exactly how, then. The Mobis proving ground we're using is as joyous a playground as any other Swedish test facility, and with the dashboard reading minus 25.5degC, there's every excuse to stay in the car as much as possible.
There's free use of drift circles, a long ABS straight and a handling circuit to hurl the car around as we wish. Yeah, it's a tough job. What emerges is a picture of a car that's forgiving, rather than flamboyant. Keep the stability control firmly on and there's a small amount of slip, owing to just how icy things are underfoot, but the car quickly and sensibly reins things in to keep you pointing in the right direction.
It's mere seconds before I cycle into the intermediate ESC Sport mode, then. Keep your driving smooth and sensible and there's still very little slip: this is a car you really need to provoke into sliding, with aggressive braking into a turn or, better yet, a very dramatic lift off the throttle. Once a slide begins, just a small amount of corrective lock tidies it back up again.
Time to turn things off completely, then, the point Eichler expects the driver to be wholly in charge. Thankfully, there's heaps of run-off for this experiment. What transpires is an illumination of just how much freedom the Sport mode gives you. The car isn't significantly keener to slide, but does offer you the chance to hold the angle when it does. But understeer is far more prevalent without some subtle electronics keeping it in check.
Eichler admits it's a debate among the team about whether to allow some intervention to deal with this, even when the 'off' button is pressed. I suspect it's a problem exaggerated by today's conditions. And you might – rightfully – be wondering just how informative knobbing around on a frozen lake is in relation to how an i30 N will handle on your favourite B-road. My sense is that this will be a car that handles securely on dry tarmac, but will allow enthusiastic drivers to dictate its line with some clever use of the throttle pedal. Not unlike a Golf GTI then, really.
Only with its manual handbrake, there's a more immediate sense of fun in here. A point Thierry Neuville – Hyundai's lead World Rally driver – proves only too well when he takes me for a few laps of the handling circuit, his right hand never an inch away from the hero handle. He's here on filming duties for some promo clips, but a ten-minute break from that seems too much to resist.
He's entering corners at angles I'd have long since given up on, and driving the car far more expressively than I could. "For me, front-wheel drive is the best school a rally driver can get, because it makes you drive very cleanly and efficiently," Neuville says.
"When you have a rear-wheel-drive car you always drive sideways, and then you don't learn to be efficient. All the drivers in WRC who learned with front-wheel drive are the smoother and cleaner drivers. The ones who learned with rear-wheel drive go very sideways." Thierry, believe it or not, learned via a front-driven Nova.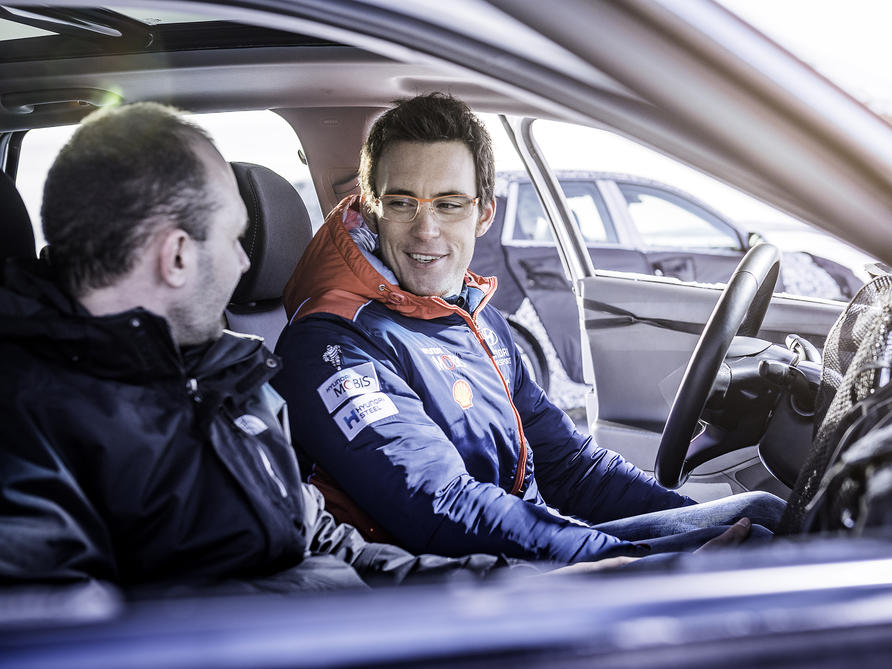 His current WRC car is four-wheel drive, and I ask the development team if that's something they've considered. The madcap Hyundai RN30 concept car drove both axles, after all. "Of course you have more possibilities with four-wheel drive, but it's also heavier and more expensive," says Eichler.
"And most of our competitors are front-wheel drive. On snow you'd always want four-wheel drive but on high grip surfaces, like the Nürburgring, I'd expect to not have much of an advantage." There's a chuckle underlying it all though. I bet they're trialling it.
When discussing fast cars nowadays, a namedrop for the Nürburgring always feels inevitable. It's what the N on the steering wheel stands for (even if Thierry insists it's 'Neuville'), and it's where lots of Hyundai's warmer development miles have taken place. Another of the stability control's developers, Sven Risch, is a regular there in his E28 BMW 5 Series. "I'm a real rear-wheel-drive person," he admits, "but on the Nürburgring I can see the appeal of front-wheel drive."
It's impossible to ignore lap times. Honda, VW and Seat – the makers of the benchmarking cars ominously in sight – have traded hot hatch lap records with each other in recent years. Hyundai, though, isn't interested. "Fun to drive has the same value as lap times," Risch says. For evidence the i30 N might provide nearly as many grins on tarmac as it has today on snow, it's a superb sentence to hear.