Electric
Driving Audi's monster RS Q e-tron... in *town*
Audi's RS Q e-tron was designed to monster the desert... time to venture outside its comfort zone
A tape measure. I knew I'd forgotten something. Budduso is like any other Mediterranean hill town, impossibly ancient and solid, tall houses crowding over narrow cobbled streets, leaning over to keep an eye on the world below. I might be able to get the shuttered windows to open a crack today, given what I'm bringing here in an hour or two. As long as it fits. Because tough though it is, it's going to come off second best in a scrap with Budduso. Hence the gap checking tape measure. Whoops.
I settle for stopping the Fiat Tipo renter between stone and concrete walls and getting out to guess if something over two feet wider will fit. All too often the answer is no. Oh well, should make for a challenge. And reversing is going to be such a doddle...
Advertisement - Page continues below
I drive the few miles back to Loelle. No need to navigate as rising above the cork trees and olive groves of Sardinia's lofty inland plateau is a billowing orange dust cloud. Its cause, its centre, is the car I've come here to drive: Audi's RS Q e-tron Dakar machine. It's not really a car is it? The high front makes it look like it's in a constant hover, a spaceship vibe that the gulping roof vent and central fin do nothing to diminish. And then there's the Star Trek noises. Frantic whining, squealing, wailing – it sounds like it's in pain. It probably is given how Carlos Sainz Sr is thrashing it around right now. At this distance it looks and sounds like a Tamiya RC car, a sensation only reinforced by the movements it's making – and the fact I'm standing next to a drone pilot with a remote control. Buffeted by the terrain, wheels slapping around, it appears airborne half the time and leaves the track to return to Audi's temporary tented service area on its front wheels alone, some unseen bump having kicked the rear high into the air.
Photography: Jonny Fleetwood
The dust settles and while the engineers interrogate the data, I go and have a chat with Carlos. Two-time world rally champion, three-time Dakar winner, now 60 years old, there's maybe a hint of lower back stiffness in his own movements, but he manages to embody two very separate facets: dashing and teak tough. He also has something I've found in all Dakar drivers, a faraway look, as if the desert is reflected in the back of their eyeballs.
Advertisement - Page continues below
I feel like a schoolboy, going up and asking him for any driving tips, but he's gracious: "The car is very easy to manage, super easy – the biggest advantage, especially in the dunes is that we don't have a gearbox, and torque is always instant." He tells me damping and comfort have improved hugely in the last few years with the extra travel permitted by the regulations, and hopes I will enjoy his car. Because this is his car. Audi's only built four, one for each driver, plus one backup. He also knows what I have planned, "I'm not sure why you want to take the car into the town, but I hope you get what you want. Be careful though, the obstacles are not the same as they are out here." I picture Budduso's ancient stone edifices and offer Carlos all the reassurances I can.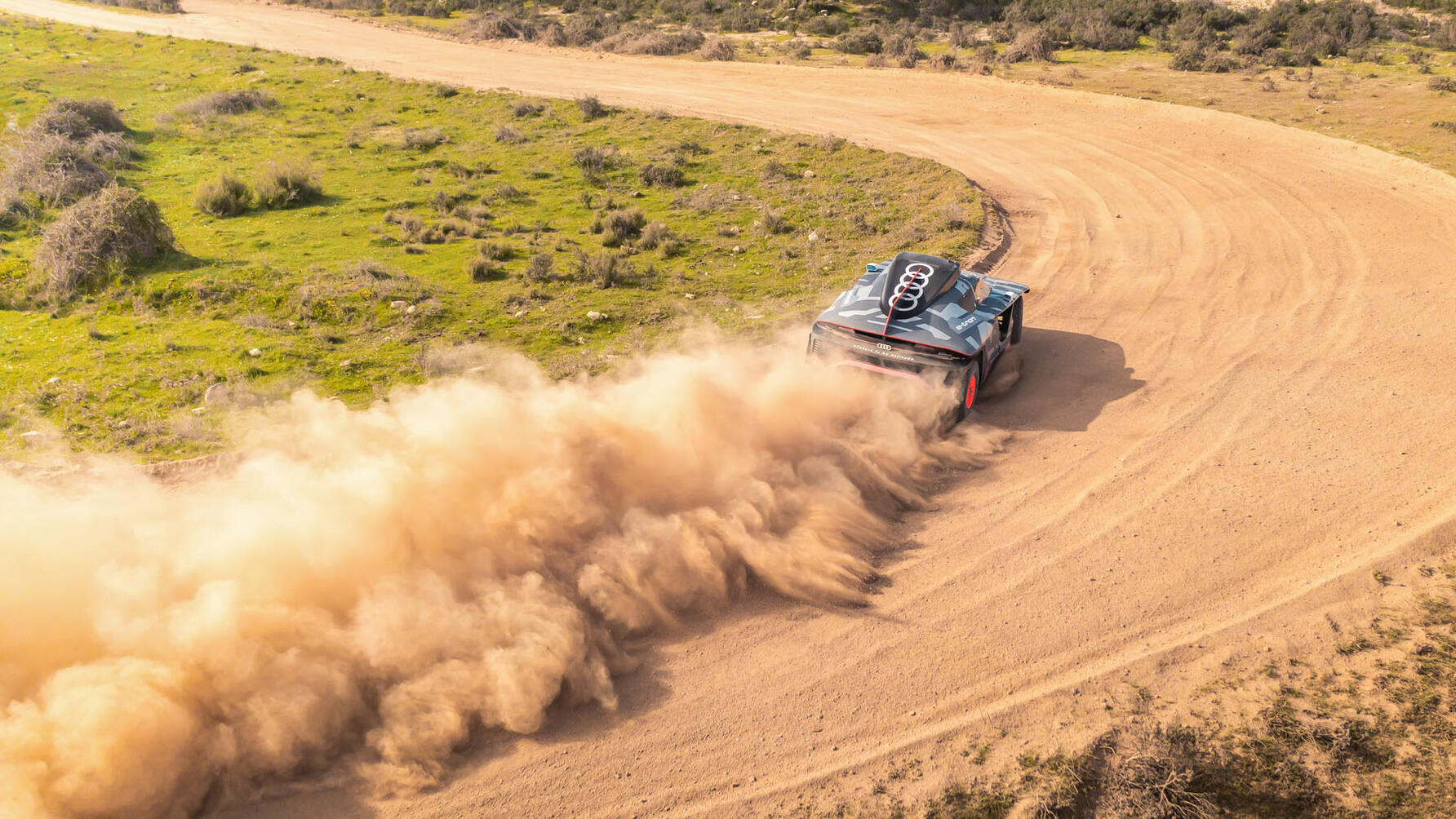 The RS Q is loaded into a trailer towed by a Q7. I've never seen a tighter squeeze. Our unload destination is an electric vehicle recharging point on the edge of town – I wanted to drive it there, but obtaining Sardinian official permits isn't exactly... straightforward. We've dealt with the mayor. He's planning an appearance.
Anyway, the EV link. The RS Q is purely electric driven, with an e-motor on each axle drawing power from a 50kWh battery. Obviously that's not remotely enough to cope with a Dakar stage hundreds of miles long, so instead of plugging in to recharge, it carries its own power station, a 2.0-litre DTM turbo engine. It's a range extender, powering a third identical e-motor that charges the battery when necessary. It's all repurposed motorsport tech (the motors are from Formula E), and when I speak to the mechanics and engineers later they tell me how nervous they were about taking track tech into the desert. You get the sense there were a lot of sleepless nights during the incredibly short 16-months-from-blank-paper development process, but to come away with four stage wins at the first attempt is a real achievement.
The 2.3-metre wide e-tron more than fills an electric parking bay. The team thinks it looks amusing here, and are very content that their hotel is right next door. Coffees appear, cigarettes are smoked, they relax on kerbstones and we're waved off to go and do what we want to do.
My turn. I've watched Carlos hop nimbly up and down, but the reality of climbing in is complex, the movements, positions and grabs have to be choreographed. Eventually, after a bit of "no, left foot here" and "that hand there", Twister is over and I collapse back into a wonderfully thick, deep, clamping seat.
In, sitting high and remote, but with a fabulous view downwards from the cockpit. Essential to see over dunes. It's tiny in here and despite what Carlos said about ease of driving, looks daunting. And why is there a padlock on the console? My co-driver, development engineer Arnau Niubó Bosch, puts me straight: "Because there's no ignition key and we can't lock the doors, we need some security during shipping and transport to make sure the car can't be taken. The padlock is to protect the main battery cut-off". A pair of bolt croppers would make mincemeat of it, I think, while temporarily daydreaming about what nefarious purposes the RS Q could turn its hand to.
Not stealth missions, that's for sure. Electric it may be, but even at low speeds the transmission whine and motor squeal conspire to draw people to it. I set off to explore town. Carlos was right, it's very easy to manage: two pedals and a button on the steering wheel to shift between forward, neutral and reverse. The steering is very light (for low effort over long distances), but also accurate. Handy for swerving around randomly parked Pandas. The steering wheel is round and thickly padded (heads have been known to butt bosses despite harnesses), the instrumentation is clear and there's only one whopping great lever to worry about, and I'm not going to need it here. I've even got the aircon on. Happy days.
Cobbled sections are hardly perceptible. Kerbs barely penetrate – as I discovered early on, misjudging a junction. The width is the issue, the fact there's half a metre of further flank beyond each side window. It's an urban giant, and despite the slick steering its size undoes it here, picking between parked cars, bins and road furniture. Foolishly I decide to venture down an unscouted road. The forward visibility makes it relatively easy to nudge into the gap on Via Eleonora, but I need help to reverse out. The trouble is I can't open a door to attract attention, and even when I get noticed, no one can get past me to check the front as I reverse.
Top Gear
Newsletter
Thank you for subscribing to our newsletter. Look out for your regular round-up of news, reviews and offers in your inbox.
Get all the latest news, reviews and exclusives, direct to your inbox.
This temporary trap draws a small crowd, but Budduso is a quiet place on a warm day at siesta o'clock, and appears to have suffered the fate of so many rural hilltop towns, the younger generation heading elsewhere for work. Still, phones gather, an old lady on a balcony waves her towels at us, hobbling gentlemen appear from a bar and the ageing townsfolk joke and wave at this huge, clumsy rallying Humvee picking its way through their tiny streets.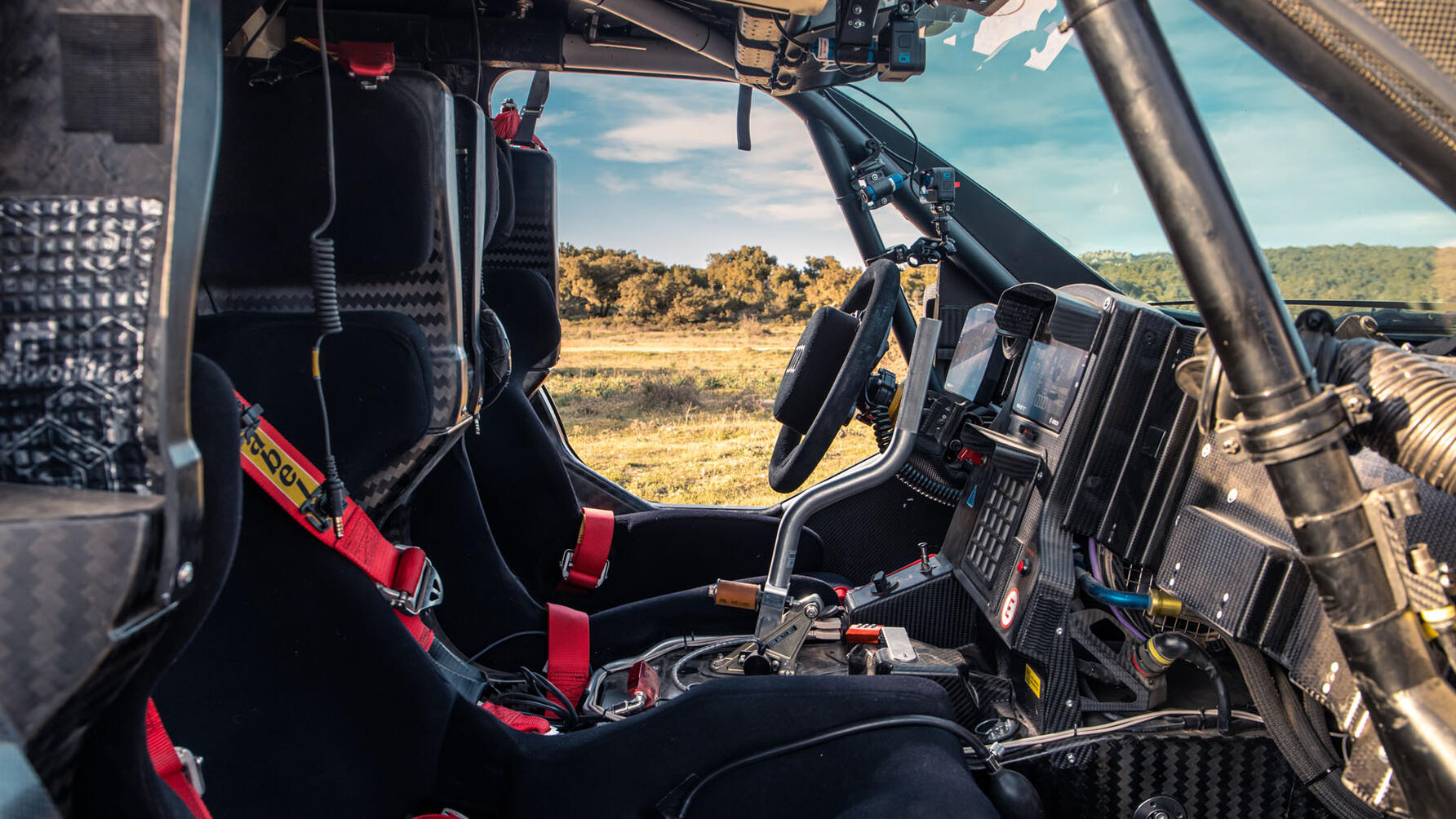 I move on. The turning circle is better than expected, the suspension even softer. It's reasonably easy to place on the road, at 20mph it starts to lean through corners and through the downhill chicane section on Via IV Novembre it feels peculiarly distant while descending on the brakes – mostly electric regen, not disc activity. The spaceship analogy comes back to me – it is an alien craft in this place. It makes weird noises, moves in interesting ways, an interplanetary visitor that doesn't fully understand the terrain that it has encountered.
Puzzled awe probably best describes not only people's reactions to the RS Q, but also the RS Q's reaction to Budduso. It coped, it crept curiously around, it emerged unscathed, I emerged relieved. Time for some home territory.
Kind of. The Loelle rally facility is a tight, compact track. Correct surface, approximately a million times tighter and twistier than your average Dakar stage. Still, a chance for the 2,150kg machine to stretch its legs. A word on the weight: the class minimum limit is 2,000kg, and talking to the engineers at Dakar back in January they were hopeful of reducing weight to make the RS Q more competitive. Now they seem sceptical they can achieve that, and may petition to be allowed more power. At the moment they're limited to 400bhp, but the two drive motors have 670bhp potential.
So the RS Q has a similar power-to-weight ratio to a Golf GTI and is limited to 112mph. Raw speed is not its forte. I only realise its true forte when I get carried away and start cutting corners and clipping edges. Including one that has a big rock tucked in the undergrowth. I only knew it was football-sized when I walked the track afterwards. In the cockpit there'd been a thump and kickback from the inside front wheel, but nothing particularly alarming. Curiosity inspired the track walk, shock that the RS Q could dismiss such a whacking great lump was the result. There's its forte: consuming terrain, soaking up hard punishment and generally making the impossible possible.
It doesn't need to dance like a WRC car, but although more ponderous it understands that rhythm and flow, Scandi flicks come naturally. However, its differentials and power distribution don't feel as uncannily intelligent as a WRC car's. When I drove Hyundai's i20 WRC it seemed to know where the exit of every corner was better than I did. With no physical connection between front and rear axles, and a set torque split, the RS Q is less intuitive to drive. It doesn't help that this is Carlos' set-up – the torque delivery, throttle response and so on can be programmed with extreme precision. I love the fact that when I throw it into corners the torque is instantly there kicking the back end wide, but I'm obviously not as confident as Carlos on the throttle, so mid-corner it begins to come back into line. When I see the exit and boot it again, the tail arcs wide and I get a scrappy exit.
Big, soft, friendly and comforting, the Audi dives heavily under braking, squats, rolls generously and slides benignly. The hydraulic steering is delicious out here, the hydraulic handbrake even better – how does it kick the back end so wide even when well within the grip limits? I don't know, I don't care, but I love that it does it. It's a one yank hero mode. I learn what the motors are doing by interpreting the electric noises and, dust billowing and churning, wheels skipping and pummelling the terrain into submission, I'm having a total, utter blast.
And then a wheel bearing goes. Or maybe it's the diff. I back off instantly, convinced the terrible drone means something's broken. "All the drivers reacted the same way at first," chuckles Arnau from across the cockpit. Of course, the petrol engine. It's so weird, this flat monotonous throb – it sounds like one of those refrigerator units on a big HGV. The team in the car have no control over it (one less thing to think about), a computer decides when it needs a battery top-up. As the driver, my instinct is to listen to the engine to know how hard it's working, what it's doing. But now this new strange-yet-familiar noise dominates, and whatever I do in the car, the sound remains the same. It's odd.
What it means is that although I went out on track with 47 per cent charge, I came off it, thanks to powerful brake regen as well as the range extender, at 83 per cent. Despite lamping around as hard as I dared, I actually gained energy. I completely get what electric does here, how predictable it is, how much more bandwidth you have with no gearbox to worry about. I drove Prodrive's direct rival to this last year, the BRX Hunter. That was undoubtedly a more emotive, connected, raw machine. But it can't do for Dakar what this does: show that the most gruelling motorsport event on earth can have an electric future. And an urban one, if it chooses.