Big Reads
Honda Civic Type R vs Hyundai i30N, VW Golf R, Toyota GR Yaris and BMW M240i
The new Honda Civic Type R won our Car of the Year crown last December – barely three months on, it's already time to defend it
Just lovely isn't it? Winter sun caressing Snowdonia hillsides, a soft relief of highlights easing into shadow. Veils of mist in the valleys. Higher up, a crunchy dusting of snow, the foliage wearing a cutting iridescence of hoar frost. In short a perfect day to set off up a footpath, clear the mind and lift the spirits. Not so great for trying to tease out the dynamic differences between five brilliant cars whose abundant power meets slippy roads through the inadequate mediation of wide summer tyres. So for this morning we'll enjoy the scenery and let the photography happen. The proper driving is for this afternoon and tomorrow, at lower altitudes. I can barely wait to squeeze open the throttles.
Advertisement - Page continues below
Photography: Jonny Fleetwood
Reports of the hot hatch's death have been exaggerated. The departure of Ford and Renault could easily have struck the species a mortal blow, but the new Civic Type R absolutely sticks to the genre's rules: front-drive, manual, four-cylinder turbo. You always know that Honda's Type R badge means a lot more than just a hatch given the once-over with little more than extra power and harder suspension. (Oh and red seatbelts, which we all know are worth a second a mile.) To list completely the depth and detail of engineering changes in an R versus a standard Civic would take until we'd all grown old. Let's just call it honourably obsessive.
So any Type R arrives to near-bursting anticipation. Whereas when Hyundai said it was working on a hot hatch version of the i30, most of us smiled patronisingly, turned away and muttered "yeah right". There was no history. Yet it was just bang on, first time out. Again, it had gone through its basic hatch's engineering end to end, and was so confident that it even gave it a five-year warranty that covers track driving. Now it's facelifted, and adds a performance biased eight-speed DCT option, fitted here, plus usefully more torque, and some extremely light forged wheels. Oh and it's a Hunnnn-day now, if you please.
The other cars lined up in our Welsh convoy don't quite fit the hot hatch template. VW will still sell you a 245bhp Golf GTI, but the 329bhp Honda costs a slightly scary £47,000. So we stepped up to four-wheel-driven Golf R. This is a special low-numbers 20th anniversary limited edition, which lifts power to 333bhp, and adds real carbon fibre on the dash as if to emphasise how fake the carbon fibre is elsewhere in the cabin. The 20th edition has the Performance Pack too. That derestricts top speed to 168mph, and adds drift mode software to the torque-vectoring rear halfshaft clutches. Mind you we once had a Golf R with the pack as a long-term test car, at the same time as a Cupra Leon 4Drive estate (longer wheelbase, no vectoring) and I have to say that back to back on the road, the difference was mighty hard to discern.
Advertisement - Page continues below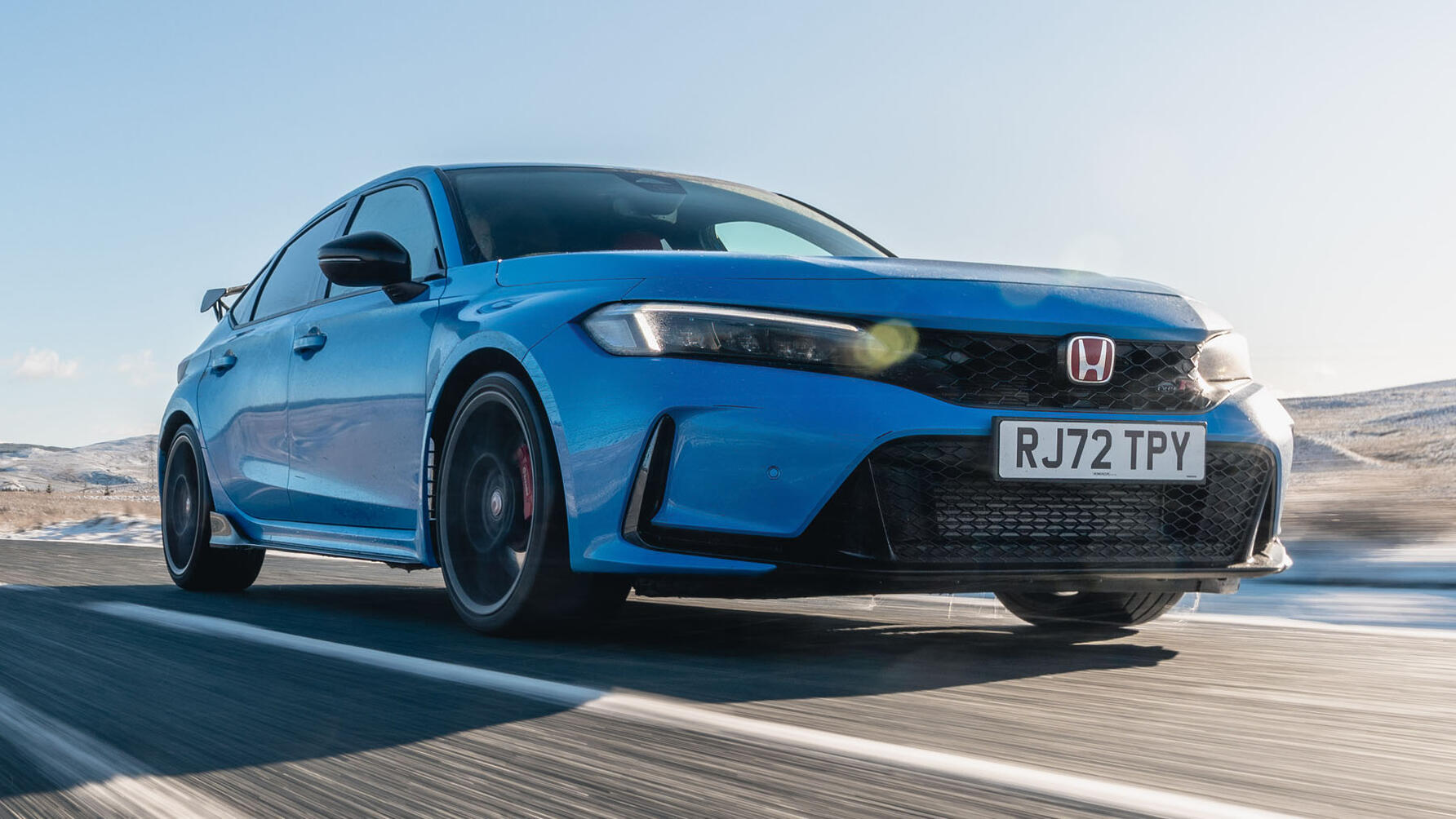 The GR Yaris, cheapest car here, is even more special than the Honda. For that reason its £36k looks a bargain, once you can look past the dash and back seat – low rent even for a supermini. The GR attracted a cult reputation, and you soon see why. It's a Yaris only in name and dashboard. The bodyshell is basically bespoke: lightweight metals, carbon-fibre roof, muscly arches and aerodynamically hunched silhouette. The engine, a rather exotically specified ultra-lightweight 1.6 three-cylinder turbo, is wholly unique. Even the platform isn't what it seems. The GR is about as much Yaris as a Cosworth was Escort.
What's it doing beside a sophisticated six-cylinder BMW coupe? Most people would be staggered that the M240i xDrive's base price is £3,000 less than a Civic's. Even as tested – with a grippier wheelset, adaptive dampers, HUD, full driver assist, high-end sound and more – it still scrapes under the big five-oh. Beyond the Civic Type R it bestows you another litre of engine, two more cylinders and two more driven wheels. But it's a not-hatch, and lacks that do-it-all basket of talents that have made hot hatches a thing for knocking on 50 years. 
Still if you don't need to put a wardrobe in the boot, it's an amazingly refined quick car. Especially if you've got out of the Toyota. It's a shortened 440, not an overheated Yaris. You feel its engineering in the thud of the closing door, the leathery soft wrapping of the steely firm interior, the brilliant infotainment. 
Start the six-cylinder and it hums like a Welsh male voice choir warming up in the distance. Give it the goading and its note hardens as it sings and zings. It's a gorgeous mechanism, and its performance figures beat the rest. You're never caught out because the strength is so evenly spread across the rev range and the auto box so attentive. But because the torque is seldom absent, you feel its presence the less. The performance is ridiculously easy to come by, yet strangely uninvolving. Should I be saying this? It's not it, it's me. 
The BMW's steering is autobahn-proof, responding quite slowly around the straight ahead. Then it ramps up its action some degrees off centre. You soon calibrate yourself, but against the perma-sharper action of some of the hatches, it slightly muffles the excitement. The steering is heavily damped too, masking your feel for the front tyres. Which isn't what I wanted when pushing it into the salty corners. Sport mode sends extra torque to the rear tyres, and if you're too soon on the throttle out of a greasy bend they'll spike outward. In that same setting, the traction control sits back and lets it happen, so you're kept busy with the steering. This is xDrive pretending it's RWD. On these greasy roads most of us thought the Sport mode was for advanced students only, and dialled that switch back.
The Golf is another piece of sensible German engineering. VW's two-litre sends it to 62mph like the clappers, taking advantage of all-wheel traction and the uninterrupted shifts of its DSG auto transmission. The Honda, which has similar power, feels faster beyond say 40mph, but from rest and out of slow corners the VW fusslessly scoots ahead. The Golf shows no torque steer, and until you yobbishly lob it around a tight bend while Drift mode is engaged, its attitude is neutral. The engine note is a little ordinary, unless it's in the sporty modes, in which case it's augmented – though not too cartoonishly. Some of our testers called the Golf boring. I'm not so sure; the more I drove it the more it opened up to me its subtle lines of communication. Managing to do that, while being so resistant to other unruliness, is quite a feat, and it makes this a rather wonderful bad weather machine. It's also, as you'd predict, the car for the long trip home, with its comfy seats and subdued road noise and fabulous headlights. That wellbeing lasts precisely until you accidentally brush your hand against those confounding steering wheel touch sensors. (Don't tell me to get used to them: I've just finished big mileage in a long-term test ID.4 so equipped and they still drive me bloody bananas.)
So to the very opposite among four-wheel-drive hatches, the Yaris. Let's get its drawbacks out there shall we. A cramped rear seat, hilariously tiny boot, too small fuel tank, hard plastic trim, loud in all things except the tinny stereo. Still, what a thing. It absolutely bursts with fitness for purpose, which purpose being to rattle down tricky tight roads like a hungry ferret. It changes direction as soon as you think it, and as determinedly as you can imagine. The grip and traction it finds, even in the wet and mud, is amazing. These are the benefits of its lightness – notably less than the 2WD Hyundai and Honda, and 400kg under the BMW. The thrummy, chattery engine is a bit meek til the turbo wakes up at 3,000-odd, and then the noise and the shove slam you like the seventh wave. The ride's mighty firm at low speed, though once you get moving it breathes a bit, like rally cars do. 
Top Gear
Newsletter
Thank you for subscribing to our newsletter. Look out for your regular round-up of news, reviews and offers in your inbox.
Get all the latest news, reviews and exclusives, direct to your inbox.
Even so, it's short and you sit high, so there's lots of sensation of pitch and rock. You're manically working the gears to keep the engine on song. But despite all the noise and frantic action, it's faithful. There's none of the front-drivers' torque steer, and the brakes are fantastic. Stick it in Sport mode and it has more of a rear torque bias, so you can send the back out, but it does it more gracefully than the BMW. Mostly though, it just grips. This car is all about a rocket thrust exit to bends.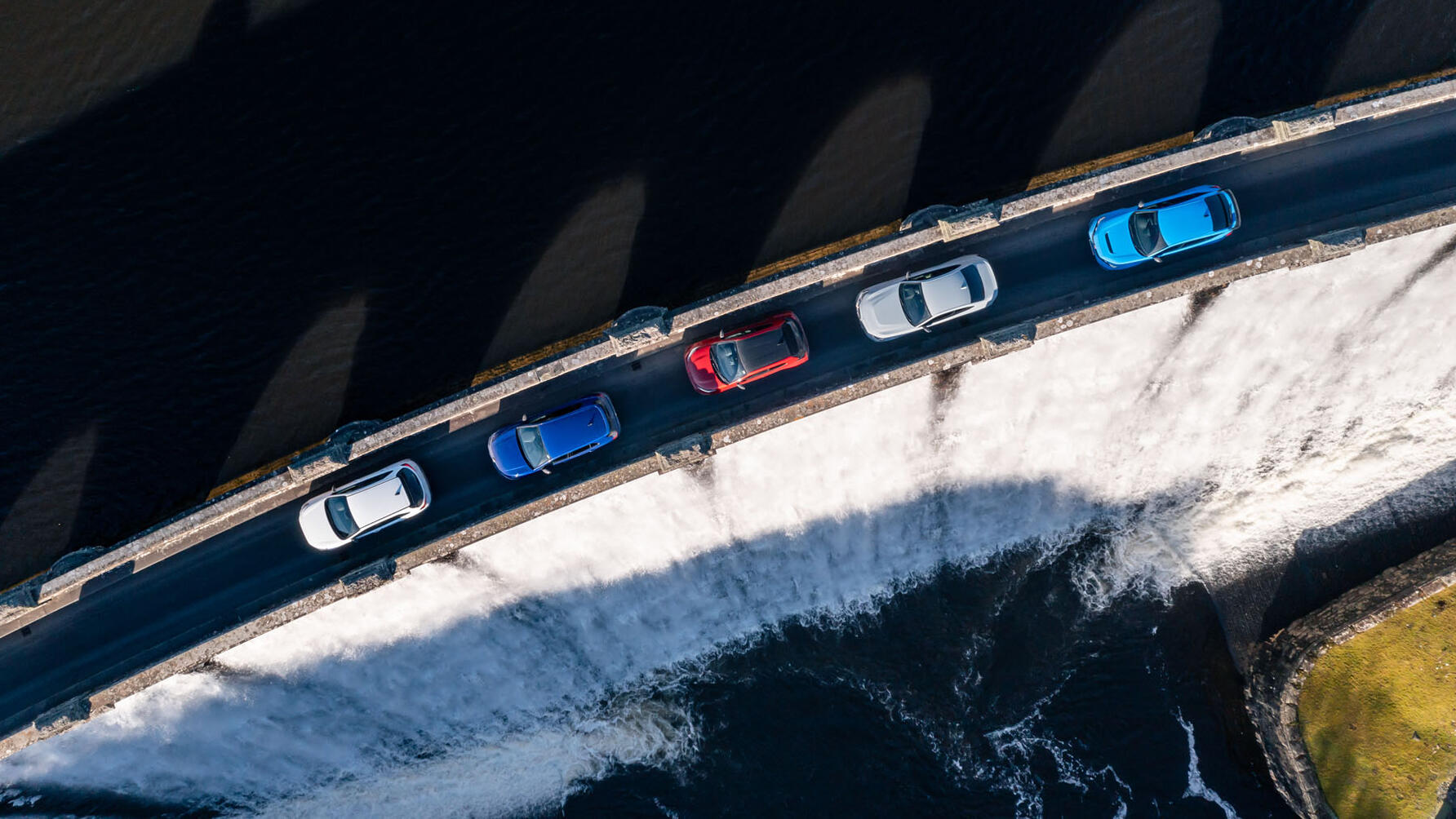 The Honda is a different proposition, even in the first few yards. At last a Civic's cabin has a properly orderly set of instruments and infotainment, and a decent air of quality. It's roomy too. You're sitting down low, the seats locking you into the heart of the machine. As soon as you move your fingertips the sharpness of its steering strikes you, yet without pointless nervousness at big speed.
Compared with the Yaris, on bucking back roads the Civic's wide track, long wheelbase and low seat give you a surprisingly calm platform to work from. And on any kind of smooth road you can aim it just-so. Through open bends the chassis is just peachy, moving progressively beneath as you guide it around. That said, there's only so much even the bespoke front suspension linkages can do with all that power via the front wheels. When you're tracing cambers, longitudinal ridges and uneven grip it does fight you more than the 4WD cars, even when you soften off the adaptive damper setting. So you might have to ease the throttle coming out of those bends.
Anyway, throttle control is another high point. This is a Honda don't forget. You get strong surge right around the dial, from a prompt pick-up in the twos so you're never stranded, to a caffeinated rush to seven with a sound pitched to match. The short-throw gearshift is a legend, and the brakes endlessly solid and exact. It makes the Civic a joy whether you're just stroking it along briskly or have the space, a track likely, to really go for it.
At £10k cheaper even with the DCT, the Hyundai would need a miracle to be anything other than a pale imitation of the Honda. While it doesn't quite walk on water, it gets close. It's definitely scrappier when the surface is bumpy, fighting the torque left and right. There's a little more squidge in its steering and brakes, and a little less acceleration. A little. Honestly if you value correct this car, it's a standout, because it still has character. It has a more rough hewn bumptious character than the Honda, but it's still a life affirming driving tool. On day two it was the i30N that was under me as we curled southward on the big wide roads that run southward from Dolgellau across the heart of Wales. The eloquence and reassurance coming up from its front tyres on those damp salted surfaces was just the business.
Point proved. We have a magical group of cars here, but the Hyundai cruelly has to fall first because it's the only one that does what another does, just not quite as well. The rest are unique.
Some people, on finding they can afford the BMW instead of a hot hatch, are going to be over the moon. The rest of the hot hatch brigade will find the M240i xDrive a bit too subtle and aloof. BMW has underbaked the frisky engagement. It feels too much like the bigger BMWs. Want an 8 Series at 40 per cent off? This'll delight you. But if it were me I'd just get a very lightly preloved M340i xDrive Touring and really have a car for all the days.
If the M240i's problem is BMW's dearer cars, the Golf R's is VW's cheaper one: the GTI. Yet even the MkVIII GTI, with the same annoying interface you see here in the R, is proof that we reached peak Golf with the last-gen GTI. It was more involving, had more satisfying controls and was absolutely adorable. Today's generation of R is faster but less lovable.
The Yaris is mad and wonderful but it's effectively a two-seater, and a noisy tiring one. It's a car for Sunday mornings (even wintry ones), not the all-rounder that the hot hatch rules dictate. 
Even so, I was all set to give the Yaris my win until I abandoned the rest of the crew in a windswept lay-by with nothing but a few packets of crisps and went for a last strop down the same road in the Civic. I'd been unsure of whether it could be as exhilarating as the Yaris. It could.
But also hanging was the question whether this FL5 had quite the engagement of the old FK8. It's more refined, and it's a massive step ahead in its cabin design. But have the edges been rounded off a little? Not when you show it the right road they haven't. The magic is all there. Most of all, the change is there on the outside. The old one didn't actually need to look so aggressive; many of the vents were false. The new one is just as aero-effective but I'm not embarrassed driving it. The FK8 looked frankly juvenile and made me think I was too old for hot hatches. Not the FL5. The hot hatch is alive, and so's my relationship with it.