Review
Hot hatch fight: Hyundai i20N vs Ford Fiesta ST vs Mini JCW
The mesmerising Ford Fiesta ST seems unbeatable. Can an all-new super-Hyundai - or tweaked Mini – topple the champ?
We might owe Hyundai a thank-you here, for halting the small hot hatch implosion. Bitesize history recap: when the old Fiesta ST arrived, it went to war against the new Peugeot 208 GTI and a rethought Clio RS, among other established talent. The latest version has had life easy thanks to its dad killing off all foreign claims to the kingdom. 
Neither the quick Clio nor 208 have been replaced. The French – who've owned this scene since the Eighties – shrug and mumble about maybe doing an electonique one soon. Citroen hasn't bothered with a hot hatch for a decade. Vauxhall – which once upon a time was busily applying VXR badges to Corsas, MPVs and the office sandwich trolley – has left the building.
Advertisement - Page continues below
Oh, it gets worse. Seat's erected an entire Cupra sub-brand but stubbornly populates the showroom with SUVs instead of a lairy Ibiza. Remember the interesting days when Skoda would sell you a turbodiesel Fabia vRS and Audi flogged a quattro-drive S1? RIP. 
So, cheers for taking a punt, Hyundai. At last, the mighty Fiesta has a challenger: a lowered, stiffened i20 from the Korean-German dream team who gave you the spectacular i30N. And we could have simply left it as a two-way showdown.
However, small hot hatches are no longer what you'd call 'cheap'. Having a monopoly will do that. A Fiesta ST starts at £22k, but in this range topping 'ST3' trim with the Performance Pack lobbed in, it's twenty-four-and-a-half grand (plus £400 more if you'd like back doors), or about £300 a month. The fully kitted Hyundai – a five-door only – starts at a fiver under £25k. 
Advertisement - Page continues below
For not far north of that, you can try something with a Taste The Difference badge. The Mini John Cooper Works has seen more dodgy facelifts than a Hollywood therapist, but old JCWs mixed grown-up quality with cheeky manners into a satisfying brew. This one's been absurdly optioned beyond GR Yaris money, but it's the quickest car you can buy for under thirty grand.
Perhaps because the Mini is such a familiar toytown shape, we've stopped noticing it's long given up being cute. Now festooned with more blanked-off chickenwire and clip-on muscle, it's a bit of a gargoyle. Boxy implants hang awkwardly from the car's bulbous fuselage. The JCW hatch sits a rung below the disappointing wing-shod GP in the Mini ranks, and lacks the flagship's sat-down, squat stance. 
Things improve as you drop past the frameless door into the snug seat. There's much BMW-ness in the lowest, most straight-legged driving position of the three, and plenty of over-stuffed BMW steering wheel thickness too. On the whole the Mini's cabin wears its eight years gracefully, and though the oblong screen/round hole centrepiece still jars, the toggle switches and upright pillars maintain a unique sense of kitsch occasion.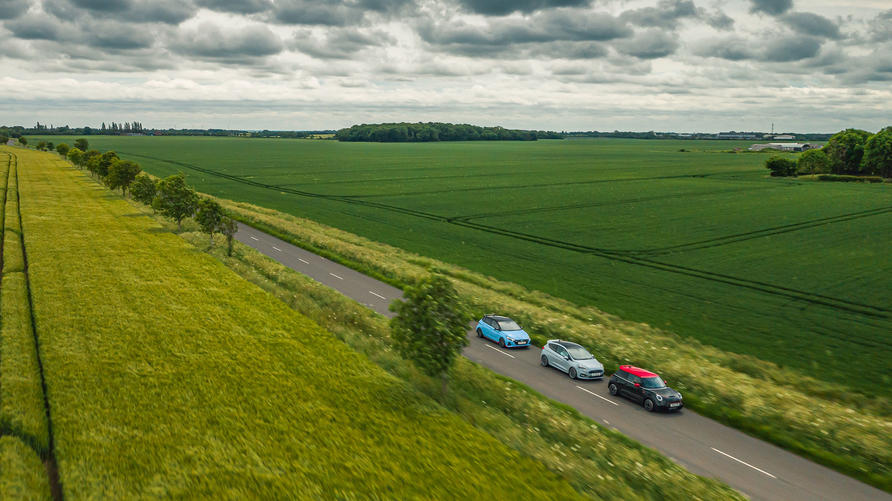 New this time is the digital speedo, updated screen graphics, and erm, oh. That's your lot. Has Mini mentally checked out, confident that simply applying more horsepower than anyone else is a job well done? 
The 2.0-litre turbo engine – as found in the brilliant BMW 128ti and meh Toyota Supra – develops 228bhp and 236lb ft, which is loads for a clutch bag, but you sense where it's been electronically detuned from its other duties. 
It tightens up above 5,000rpm like a runner suffering from stitch. No longer allowed to punctuate the overrun with crackles from a flatulent exhaust, the Mini's autotuned growl sounds reedy.
I'd forgive some of that lack of enthusiasm if the JCW set hot hatch land speed records, but the chassis can't apply its power advantage to the road. The traction control light blinks gayly through first and second gears as the front axle hunts and scrabbles for purchase.
Top Gear
Newsletter
Thank you for subscribing to our newsletter. Look out for your regular round-up of news, reviews and offers in your inbox.
Get all the latest news, reviews and exclusives, direct to your inbox.
Sure, Mini likes the idea its cars are rambunctious ickle tearaways: Scrappy-Doo with Union Jack bumcheeks. But for this money, you'd expect it to have 'settling down and actually behaving' in the locker. At pace, the JCW is always a cartoon. The ride is loose, pitching and heaving about as though the suspension topmounts are made of elastic. It feels a mite top-heavy and cumbersome on the sort of classic rollercoaster British B-road it should pick apart for breakfast. 
The optional eight-speed automatic purrs through town, but slurs its lines when you want to grab it by the scruff. Do so anyway and its heft dampens the fizz. Mini has made attempts to disguise the JCW's bulk with a quick roll-of-the-wrists steering response and a lively rear under braking, yet it always feels 100kg heavier than the livewire Fiesta.
Someone might accidentally buy it. Decide they want something Mini-shaped and Cooper S-priced, then discover they can get into the JCW for not-many-more pounds per month. Whereas you're going to make a conscious decision to buy a [checks notes] Hyundai i20N. This isn't a household name – yet. 
Looks-wise, the Hyundai nails the pugnacious menace schtick. It sits squat and foursquare on cambered 18-inch rims. The bodywork seems to have been sketched by Zorro in his Japanese anime phase. That red pinstriping and quad-support wing are unashamedly in yer face. One of our team notes that – unlike the unusually subtle Ford – you'll instantly presume the slashed, slammed i20N will be driven yobbishly. People will judge you. 
Actually, whoever's driving will be far too busy with their set-up. The i20N may be mechanically bread-and-butter - a 201bhp 1.6-litre turbo four-cylinder engine drives front wheels via six-speed manual gearbox and limited-slip differential - but lordy-lord, this is a phenomenally nerdy bit of kit. 
Allow me to walk you through the matrix, and do bear in mind we're talking here about a Hyundai supermini, not some sort of limited-edition Nissan GT-R or McLaren. 
Between the standard heated seat buttons, a toggle marked 'Drive Mode' switches you from Normal to Eco (no, ta) and Sport modes, projecting appropriate fonts onto the digi-dash. 
You'll immediately notice two 'N' toggles on the steering wheel, plus an inviting red button marked 'Rev'. This switches on the engine-blipper to smooth downchanges if you can't be arsed to heel'n'toe. That's geeky – a feature the Ford doesn't offer – but not exactly anorak-worthy. 
To go full cagoule-and-long-johns, delve into the 10.2-inch touchscreen's 'N' menu. Here, among temperature gauges, gearshift maps and pedal pressure readouts live the menus for your N Custom modes. Choose three stages of throttle response, exhaust bark, rev-match aggression, and how 'on' you want the stability control. 
You can even select how many revs you'd like the launch control system to dial in for a perfect getaway, or when you want the shift-up beeper to sound. Satisfied? Your preferences are stored and ready to deploy with just a tap of the baby blue N earlobes. 
In fact, you don't even have to press them. Like most modern cars, the i20N packs a camera that reads road signs to register speed limits or a school zone ahead. However, it also spots the 'S-bends' warning sign and up pops a prompt on the dash: "Twisty roads ahead. Would you like N mode?" 
Wow. We've had cars before with burnout-o-matic and under-the-counter drift modes, but here's a machine that digests the warning about imminent corners and politely suggests driving like a bit of a cock. It's fantastic. What else would you expect from a car with 12 new welds and brackets amid its chassis to make the hot version stiffer? The engineers have gone to town and had an all-nighter.
So the i20N is the hatchback equivalent of those ten-grand carbon fibre bicycles with electric gearshifting, or a water-cooled gaming computer. It's for Mr & Mrs Serious-Trousers. The Fiesta ST is more like pick-up'n'play Mario Kart. And the Mini? A fairground coconut shy. Fun once in a while, but you sense you're probably being ripped off. 
In its default Normal mode the Hyundai is an agreeable daily. It's the most spacious, it has the biggest boot, and although it has a cylinder more than the Ford and can't deactivate any of them when cruising (unlike the freakishly economical Fiesta) it's still good for 45mpg on a long run, where it's a touch noisier than the other two but far from wearying. 
The ride is firmer than the Ford, and is the only part of the car's personality that can't be adjusted, but chances are if you buy into the aggression and attitude of the looks and the handling, you'll tolerate the tautness.
The seats don't pinch as intimately as the Fiesta's bear-hug Recaros, but are easier to clamber out of. Pity Hyundai didn't splash nearly as much colour and verve on the dreary shiny-grey dash as they did the exterior. The budget was blown on those sharply animated screens. 
The Fiesta is a riot, a masterpiece of excitement at reasonable, 'let you off with a warning' speeds.
And, indeed, on the bits under the skin. The i20N is a fantastic, engaging, tenacious drive… but it's not the character I expected. Hyundai's second hot hatch is actually more mature than its bigger i30N brother. There's less interference from the road, less buffeting, less torque-steer. It's a pointy, accurate, ruthlessly effective device to dissect your favourite road in. 
Traction is mighty – nothing like as wasteful as the Mini's front tyres. The limited-slip diff's hookup isn't as obvious as the Fiesta's, and the steering isn't as quick, but that makes the i20N a little easier to acclimatise too, and less edgy. You pour it through a corner wearing a serious racing driver face.
The Fiesta attacks a bend on the entry with its tongue out and tail wagging, lifts its inside rear wheel at the apex, and slides out onto the straight in pure old-school delight. It's a riot, a masterpiece of excitement at reasonable, 'let you off with a warning' speeds. Mini-roundabouts in this are as exciting as an entire lap of the Nürburgring in a GT2 RS. 
The Hyundai goes a different way – less tail-happy, more focused on pace and intent. It can still misbehave, but it snaps back onto a straight course like it's being magnetised back onto the fastest line. 
Frankly, the i20N should be a better car than the ST. Hyundai has had three years to rip apart, reverse-engineer and benchmark its key rival. There's no doubt the donor supermini is roomier and better equipped. And for these warm-to-the-touch flagships, both companies have done mega work.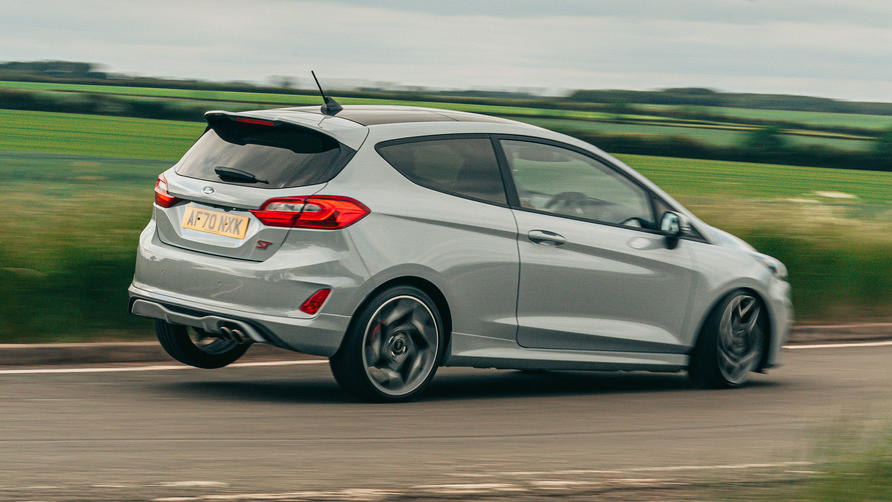 Both are spectacular tonics. Both deserve to win. So, how shall we split them?
The killer ace the Ford lauds over the newcomer is its splendid 197bhp three-cylinder engine. Throttle inputs are crisper than the Hyundai's lazier four-pot, which lags below 3,000rpm and responds lethargically to throttle blips if you choose to DIY. The ST also makes a fruitier, more exotic offbeat thrum, like a BMW M3 that's swallowed a balloonful of helium in a drinking game dare. 
Tiny margins, but important ones. The Fiesta is sillier. For me, that's enough to give the Fiesta the narrowest victory of its life, but it's as close as these tests get. I just happen to prefer the Ford's less fussy looks, its more mobile rear end, and its gearshift, though that might be purely because the gearknob itself feels more expensive than the Hyundai's. And that engine is the topper the Ford needs to stay ahead. Just.
And if that sounds fickle, then it's because these two cars mostly can't be split on merit, only on preference. You can't go wrong.
Drive both. Buy either. And be thankful that, for a little while longer, they're still here at all.  
Photography: Mark Riccioni
Ford Fiesta ST3 - 9/10
1,497cc 3cyl turbo, 197bhp, 214lb ft
0-62mph in 6.5secs, 143mph
42.8mpg, 150g/km CO2
1,262kg
6spd manual, FWD
Price on the road/as tested: £24,580/£27,750
Hyundai i20N - 9/10
1,598cc 4cyl turbo, 201bhp, 203lb ft
0-62mph in 6.2secs, 143mph
40.4mpg, 158g/km CO2
1,220kg
6spd manual, FWD
£24,995/£26,045
Mini JCW Sport Auto - 6/10
1,998cc 4cyl turbo, 228bhp, 236lb ft
0-62mph in 6.1secs, 153mph
40.9mpg, 153g/km CO2
1,330kg
8spd auto, FWD
£25,980/£34,535