Big Reads
How drones are making rallying more exciting
WRC isn't perfect, but quadcopters make it look better than ever
On paper, WRC has everything it needs. It's got recognisable yet beguiling half-a-million-quid hot hatches, all brimmed with technology to decimate any terrain the planet cares to lay out in front of them.
Advertisement - Page continues below
The 13-round racing calendar, meanwhile, spans the whole of the globe, choosing its most enthralling and most inhospitable locations. The result is some of the best action and biggest crashes you can hope to find on YouTube.
Yet, even with all these killer apps, rallying has fallen from the consciousness of the wider audience. Sure, everyone bangs on about Group B being the 'Golden Years' of rallying. That's because it was. Going fast off-road has never looked better. 
Words and Photography: Rowan Horncastle
Additional Photography and Video: DJI
Advertisement - Page continues below
When Group B's potty regulations were introduced, manufacturers had carte blanche to be as mad as they liked so long as their creations were based on a road car of which 200 or more were made. The results turned out to be completely, utterly, awesomely mental.
It captivated a massive audience, too. Cars would catapult themselves into literal seas of spectators filling the road, who only moved when the front bumper was skimming their shins. It was very fast and very dangerous.
Too dangerous. It came to a premature end in 1986 – just four years after its introduction – when Henri Toivonen and his co-driver Sergio Cresto died at Rally Corsica. It was a fatal crash that not only killed the two competitors, but the de-regulated sport as well. Over the last 30 years it's never recovered to its pomp. Instead, it's been on a steady decline. A mixture of factors – not least the difficulty of accessing footage – led to TV viewers turning off.
Yet no matter the era, rallying has always been a down and dirty sport with huge visual appeal. It's hard for your senses to argue against it. Loud, fast, fire-spitting cars smashing around on far-flung parts of the world covered in slippery stuff like ice, mud and sand. What's not to love?
Yet the way it's been captured has always remained quite traditional. It's always been a bloke on the side of the road – camera on tripod – waiting for the cars to whizz past. Or crash. Then, that footage is chopped together with a bit of onboard as well as a sprinkling of helicopter shots.
But now, drones are plugging the gap between ground and air in a beautiful way. Just check out the videos throughout this page to see what we mean.
Top Gear
Newsletter
Thank you for subscribing to our newsletter. Look out for your regular round-up of news, reviews and offers in your inbox.
Get all the latest news, reviews and exclusives, direct to your inbox.
That's thanks to Chinese company DJI, who now sponsors the World Rally Championship. It's providing incredible new angles and footage thanks to a couple of quadcopter drones and some blokes who are good at twizzling joysticks.
Now, it's safe to say drones have had a bit of a bad reputation in the past. Up until a few years ago, the 'D-word' was associated with Wikileaks, military applications that were either too dull, dirty or dangerous for puny humans to do and general surveillance mischief. But unmanned aircraft have had quite the rebranding of late. They're now grabbing headlines for being able to drop a pizza to your door, being this year's hobbyist must-have and even becoming a form of racing in themselves.
You have DJI to thank for that. The Chinese firm has a 70 per cent market share on the consumer drone market. That's largely thanks to making the once incredibly specialist and dexterous job of flying a quadcopter easy enough your gran can pick one up and immediately snap a 'dronie'. That's a drone selfie, if you have to ask...
And jeez, the footage they produce can be beautiful. Being able to fly on a completely different parallax, easily adjusting height and speed, all gives an intensely visually stimulating image. So when this is paired with chasing a mud-slinging rally car, drones give depth and a rawness that a man in the helicopter or the muddy guy with the tripod just can't.
Intrigued with how they do it, I flew to Rally Finland to see them in action with my own dust-filled eyes.
Traditionally, a standard rally camera crew requires a big outside broadcast truck, millions of wires and a lorry's worth of equipment. That's why I was quite surprised when I met DJI's World Rally Championship drone crew. The pilot - Ferdinand 'Ferdy' Wolf - and gimbal operator André Becker both rocked up in a lowly hatchback. (A gimbal is a stabilised, pivoted support for the camera).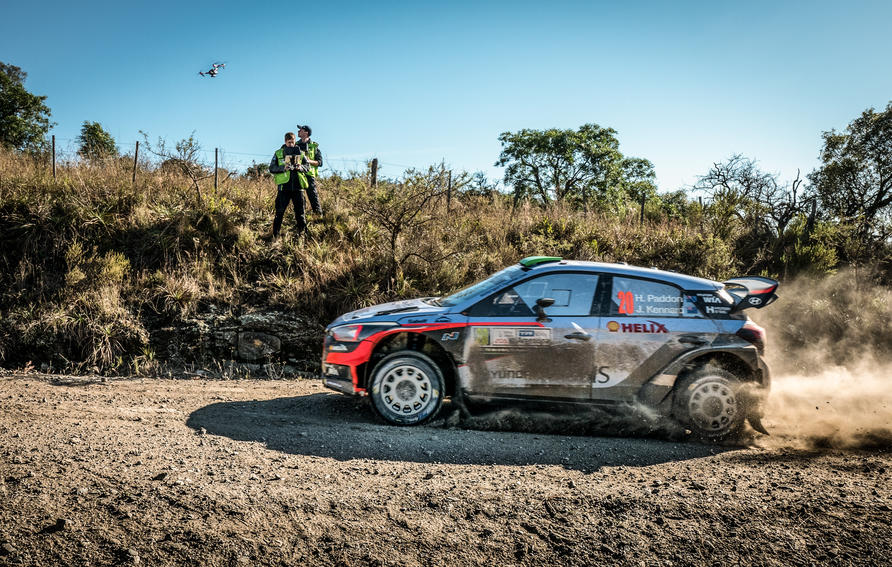 "Where's the gear?", I asked. Ferdy pointed to the boot. It was just two small carry cases filled with two drones and enough batteries and memory cards to capture two stages. If they really wanted to, they can strip it back to all fit in a single backpack.
Once we got to the stage, we walked into the forest to find the best spot for filming the action. This required more rationality than I first thought. It turns out 300bhp WRC cars are very fast. And even though the favoured Inspire 1 drone can do 50mph, trying to keep up with Sebastian Ogier et al can be tough – especially when they're flick-flacking around unpredictably.
That's why it's key to find a space with a foreground that's visually interesting for the camera, interesting for the drone to fly through or around, but will also get the excitement of the car across. We settled for a dusty, tight tree-lined forest that sprouted a set of massive jumps halfway through.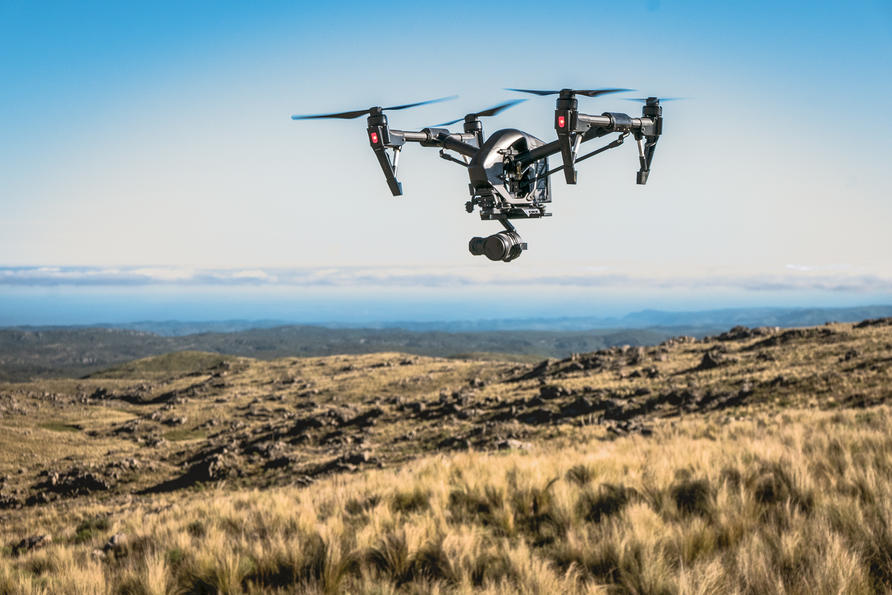 But there was no time for practice. As the fan-favourite and fastest cars go first in the WRC, both André and Ferdy have to nail the shot first time. Every time. No wonder you need a minimum of 15 years of twiddling joysticks to get yourself this gig.
When the cars do come, the way André and Ferdy operate is telepathic. With one flying the drone while the other swizzles the camera, it's all about immaculate timing. The pilot needs to set the drone off at the perfect time to pick up the car and stay with it, while the gimbal operator locks in the framing, and is super smooth with his actions to get buttery, seamless shots. All while trying to avoid hitting spectators, trees and power lines. Oh, and the cars. As you can see from the videos, they like to get quite close to those cars.
I expected the drone to be up, film a car, then down again. But over monster stages, you never know when the car is coming, so the drone stays in the air all the time. As soon as the team's ears hear the sound of engine revs, they begin a move and repeat the process with different angles until all the interesting cars have gone through.
With a maximum flight time of 15 minutes, when the Inspire 1 does run out of juice, Ferdy calls it home from his iPad, swats it out the air, fires in a new round of batteries, then throws the bird back in the sky for another take. If I was to try it, I'd end up with fingers like Tommi Iommi's.
But a cool feature that drones bring to the party is aerial analysis. Using DJI's smaller and slightly more toyish-looking Phantom 4 drone, the boys fire it above a corner, lock the GPS point and let it chill. The quadcopter sits happily 30ft in the air for 30 mins, stuck to that GPS coordinate while the 4K camera is running and completely stabilised.
This allows for three or four cars to run underneath it, the recorded footage to then be zapped straight to the operator's phone (while in flight), which is then spliced together to see which driver clipped the apex best.
It's cool technology and provides for some awesome action. But is it enough to spice up the WRC as a whole? No. That's a bigger issue, which new regulations next year hope to fix. But thanks to drones, the sport is looking better than ever.