Adventures
Range Rover Velar versus Norway
It will pad around Notting Hill just fine. But we wanted to let the Velar off the leash
At the unveiling of the Range Rover Velar, some of the mutterings weren't dissimilar. People were upset that while Land Rover was plucking a name from history (the prototype Range Rovers in 1969 were called Velar), it was hardly mentioning the traditional strengths. Would the Velar actually be any good as a 4x4?
At the celeb-packed London launch party, the words "unstoppable", "useful" and "off-road" were hardly uttered by the Land Rover people, who spoke instead mostly about style (although they preferred "design") and the new interface: a series of mysterious, ultra-glossy, black-'til-lit screens. Lots of wow factor for an indoor party at the Design Museum, yes, but how would it play in the wild?
Advertisement - Page continues below
Words: Paul Horrell/Images: Mark Riccioni
Except Range Rover isn't about tradition above all else. It's actually been quite light on its feet. The previous Range Rover was the first all-aluminium SUV, and also had an early set of TFT instruments (years ahead of Audi). Range Rover has also brought us any number of chassis innovations for reconciliation of the grinding conflict between off-road capacity and on-road smarts.
And… and now this. The Velar's controls and instruments are glassier than an Airbus's cockpit. They consist of a TFT in the place of the instrument pack, a big head-up display, plus two big edgeless touchscreens in the car's centre, the lower of which carries a pair of knurled twist-and-push knobs whose markings magically change with their context-dependent function.
Advertisement - Page continues below
Even the steering wheel's buttons are touch-sensitive and stroke-responsive, and their backlit typography and pictograms come and go with the situation and disappear to black when irrelevant. The system has fast data, serves as wi-fi, does fancy mapping and has a bunch of apps for remote control and travel and commerce.
Little more than a year ago, Jaguar Land Rover's mightiest infotainment screen had the graphics and operability of a decade-old Skoda's or a 20-year-old BMW's. With almost alarming suddenness, it now leads the world. Or so it seems.
I have an epic drive through Norway ahead of me, so I'll have plenty of time to determine whether it's a real step forward or just a maddening gimmick. You can be sure it can find a signal in Oslo. It turns out too that in pretty well all of Norway, however remote and bleak, five bars of mobile broadband are vouchsafed.
No surprise really. The Scandiwegians have long been big into the web. Norway's seismological station NORSAR was the first entity outside the US to be connected to ARPANET – the proto-internet. The people never dropped their early lead in connectedness.
Across the dock from Oslo's striking Barcode buildings is an even more striking new Opera House. Not very inclusive, opera, but as with many bastions of the cultural elite, everyone else just enjoys this place for its cafes and to go up on the open sloping roof to admire the skyline. 
Stood before this most excellent architecture, the Velar holds its own. Its silhouette is quite fast, marked by a rising belt, falling roof, pinched tail and a lot of screen rake. Yet it doesn't topple into the idiotic terrain of the "SUV-coupe". The surfaces are pure as snow.
Especially around the nose, it's naked of step-lines: the grille, lamps and bumper are meticulously flush. Which makes the number-plate plinth stand out like a flesh wound. "A visually reductive approach," they say – except they neglected to shave off the false vents on the bonnet and below the door mirrors.
Top Gear
Newsletter
Thank you for subscribing to our newsletter. Look out for your regular round-up of news, reviews and offers in your inbox.
Get all the latest news, reviews and exclusives, direct to your inbox.
But in all it's a very well-worked shape, and if you see it alongside a Range Rover Sport – or, more so, a Discovery – you instantly get how the skin has been pulled tight, the roof dropped and the details finely slimmed.
Inside, it's all very cool Britannia. The shapes are clean, sparsely ornamented but wrapped in subtle, plush texture. The doors carry big planks of wood, but a reserved, monochrome grain. The perforations of the seat leather and speaker grilles quietly align themselves into Union flag motifs. The screens' frameless integration serves the minimalism.
You will know that the Velar runs, under it all, on Jaguar's aluminium platform, not the bulkier, more robustly suspended skeleton of the Range Rover and Range Rover Sport. But into and around Oslo, you wouldn't know it. The slightly deliberate progression of its motions doesn't feel like a Jaguar, but like a Range Rover.
The higher seats and lower glass line, versus the Jag, do the same. It turns out that nothing on the next two days of motorway, A-road, mountain hairpins and gravel tracks fundamentally alters that impression. Below – sometimes above – the headlines about its design and HMI, the initial discussion of the Velar often deemed it "Range Rover's Macan rival". Wrong: why ever would Range Rover build one of those and tread on the toes of sister company Jaguar's F-Pace? You know, JLR's Macan rival.
It swivels through corners dextrously. There isn't the agility of some of the rivals, but like a proper Range Rover, it feels utterly in command of the situation
Winding up Holmenkollen hill on Oslo's outskirts, the view over the city to the bays and mountains beyond is pretty sensational, but nothing compared with the eye-grabbing edifice at the top, the Holmenkollbakken ski jump. Never mind your snack-food gherkins and Pringles, or your fun-size reptile armadillos. This is some stupendous headless steel dragon swiping its tail into the sky.
Come the snowy season, skilled yet clearly unhinged folk hurl themselves down its vertiginous slope. By the time they land, the whole business has involved dropping about 60 vertical metres. You see this stuff on telly and gasp, but faced with the 1,000 tonnes of steel that makes up its reality, the rank lunacy hits home.
Leaving Oslo for Norway's interior, we first trace along valley floors. The main roads are fast, engineered like racetracks: smooth, often very open, gorgeous curvy single-carriageways. But the custom is to crawl along them, in thrall to speed limits surely set for slippery dark winters, not the endless days of the summers. No one overtakes. It's like everyone just stepped out of a speed-awareness course.
Anyway, the Velar is a good place to be. It's not as tall or regal as the cabin of the master Range Rover, but in comparison with most SUVs, it's plush, open-plan, and glassy. We roll along effortlessly, the big V6 diesel a background hum, the tyres muted, the steering holding faithfully around the straightahead. As usual when driving through countries where you've got a tin ear for the language, the first stop for coffee is a chance to snigger at the names of confectionery and foodstuffs. I particularly enjoyed Kylling Mojo. 
Onwards a couple more hours. "Where do you have to get to tonight?" enquires the lady at lunch. I tell her. "Well, let me think… You've got to go via Otta. That's the shortest. But it's still very far." I tell her we're going via Skjolden. "Where?" I have another go at pronouncing it. She screws up her face, pauses at length, then comes up with a pronunciation I couldn't master if I practised for a year: "Ah… Skjolden. That's very far. Why you go so far?" To take photographs. "Photographs of what?" Of your beautiful country. "You're crazy." 
Most Norwegians, though, do love their countryside. Everywhere in the valleys are campers and hikers and climbers and canoeists, and their cars loaded with associated clobber string along every road. The traffic thins as we start to climb onto the empty highlands. Vegetation struggles and succumbs, the rocky outcrops grow more foreboding, and finally, even in July, remnants of snow bulk up the landscape, chilled by the feet of glaciers. 
Climbing, the V6 diesel engine's 296bhp is plenty. It makes 516lb ft at well below 2,000rpm, but doesn't want to go above 4,000rpm, and the eight-speed automatic understands that sympathetically. The Velar, by the way, launches with no fewer than six engines: turbo four-cylinders, both petrol and diesel, each in two power levels, plus supercharged petrol and twin-turbo diesel V6s. Propelled at cruising speed by this diesel V6, the loudest noise is the air con fan. Give the engine some work to do, as I now am, and it clears its baritone throat.
It's just us on the roadway now as it narrows, wriggles more, and its urbane surface gives way to bumps and coarseness. It's luxe in the Velar but tough out there. It keeps its composure. All Velars have adaptively damped suspension, and this one, being a V6, has air suspension. There's no need to go for Sport mode yet. It swallows the disturbances with an endearing suppleness, especially at low speed.
Going faster, you feel mild tremors of substantial unsprung weight beneath, but the body always feels reassuringly solid. It swivels through corners dextrously, easefully. There isn't the agility of some of the rivals, but, as I say, there surely isn't meant to be. But like a proper Range Rover, it feels utterly in command of the situation.
On the next deep multi-hairpin drop and the climb that follows, I try the Sport mode. It tautens the damping, lowers the body and on the wet road it notably throws torque to the rear and reprogrammes that diff, so if you really let the turbos give the engine a lungful it'll edge the tail outward at the end of a corner. It doesn't really want to be driven that way, but it accepts it with a shrug.
That fact that it can do that is just one pole of its arm-span of ability. The other end comes when you stroke the control screen to invoke the off-road modes, raising it off the ground, changing the traction and diff thresholds. It's got wade sensing so it'll ford a flood, and doors that wrap down around the sills so you don't get mucky calves when you get in and out. When you are in those modes, the head-up display shows axle articulation and inclination angles and diff-lock status.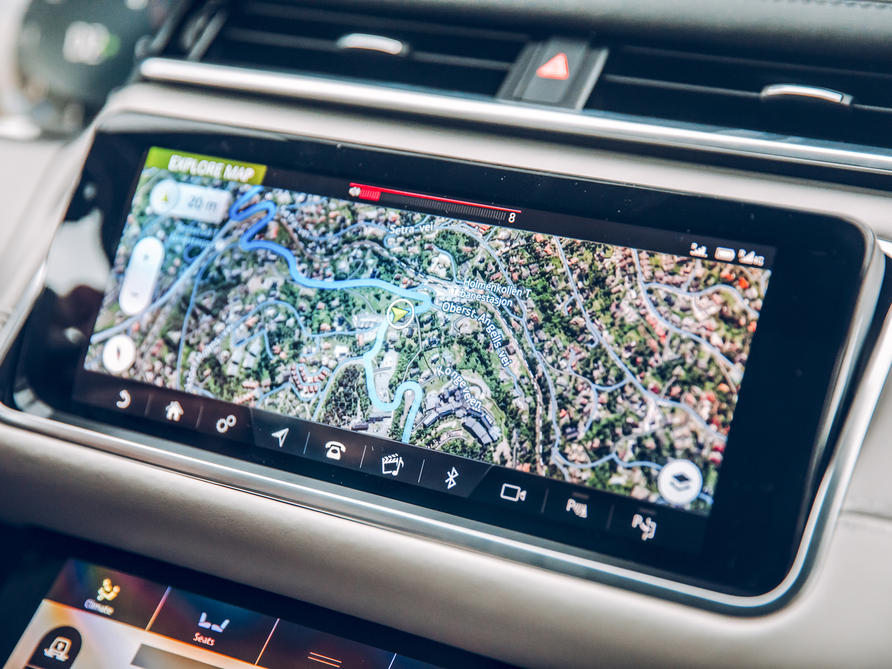 OK, so it doesn't have a low-ratio transfer 'box, and its wading depth is a mere thigh-deep 650mm, where a Range Rover Sport manages a waist-deep 850mm, and the Velar tows 2.5 tonnes not the RRS's 3.5 tonnes, but, c'mon, it's honestly not an unserious 4x4. We climb a few rocks in search of photos, splash in some mud, do a lengthy gravel track section. Far more off-roading than most people will; far less than it can.
So, two days on, does this fancy control and display system actually work? Oh yes. I speak as a firm non-fan of Tesla's and Volvo's do-it-all big screens, because road bumps wobble your finger and it's hard to jab at their screen buttons. The Velar's screens are smaller so you can rest the heel of your hand on the surround and jab more accurately. Plus the rotary knobs give you something to grasp, which is more accurate and is itself a tactile satisfaction.
Also you can swipe the info around between the screens to suit yourself. On long Norwegian road sections I didn't touch the air con or dynamic modes, so I hid them and used the lower screen for my music on shuffle, leaving the upper screen for a big north-up overview map, and to taste the 3D arrow or trip computer on the instruments. Land Rover clearly didn't cheap out on the processor power behind it, either: response was always smooth and zingy.
So the Velar does that new-era digital stuff well. Plus it looks, on long exposure, pretty darn special too, whether stood atop the grizzled and ancient mountainscapes that jag above Norway's fjords or resonating with buffed and glassy modern architecture.
Tick the boxes, then, on the characteristics its ritzy London launch was staged to big up. Beyond that ephemeral party moment, though, when it's out of captivity, the Velar acts calm and unyielding and luxurious; in short, a proper Range Rover.