British
Here is each generation of the amazing Rolls-Royce Phantom
The new, eighth-gen Phantom will arrive in July. Time for a stroll back through time...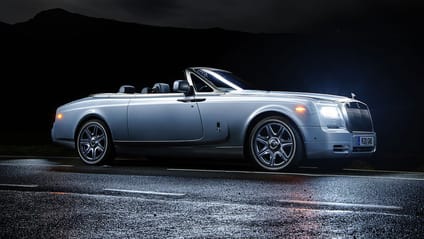 Earlier this year, Rolls-Royce announced that production of the seventh generation Phantom will come to an end in 2017. Sad news indeed.

It marks the end of a 14-year story that kicked off way back in 2003 with the launch of this Rolls-Royce Phantom. In fact, dig a little deeper and the story stretches all the way back to the turn of the century…

Rolls of course, is working on a successor, underpinned by a brand new aluminium architecture that will also see service in every single future Rolls-Royce model, including the much-anticipated SUV. This eighth-generation Phantom will be revealed at the tail end of July, alongside eight of the greatest Rolls-Royce Phantoms throughout history. 

And it's some history. So, before that next-generation Phantom arrives, we wanted to look back to where it all began, way back in 1925...

Advertisement - Page continues below

This is the 'New Phantom', a direct successor to the 1907 Silver Ghost. That Ghost don't forget, completed the 1913 Alpine Trial and earned the nickname 'The Best Car in the World'. It was phased out in 1925 and replaced by the above Phantom, which was built both in the UK and USA.

And how's this for individuality: customers would choose their chassis and running gear, before tasking their favourite coachbuilder with forming the body. This happened right up until the 1950s.

The launch of this Phantom in 1929 meant the previous one was referred to as Phantom I. The new car featured a new chassis, an improved 7.7 litre straight-six engine and, famously, appeared in Indiana Jones and the Last Crusade. That's some star power.

Advertisement - Page continues below

In the mid-1930s, Rolls-Royce produced the third generation of Phantom, having broken world records on land and sea. This new one was also the first ever Phantom to feature a V12 engine, and the only V12 up until 1998.

The chassis for the very last Phantom III was produced in 1941, but it wasn't until 1947 that it was delivered to the customer with the chosen bodywork.

One notable owner? Auric Goldfinger in the eponymous James Bond film of 1964, despite the car being nearly 25 years old at that point.

The most exclusive of all Rolls-Royce Phantoms ever built? You'd be hard pushed to disagree. Reportedly, only eighteen were sold, and they were only available to royalty or heads of state. 

Their Royal Highnesses Queen Elizabeth II and Prince Phillip commissioned one of the very first Phantom IVs, with a specially modified driver's seat as the Duke of Edinburgh liked to drive it himself. It was the first Rolls-Royce used at Buckingham Palace, and is still used for ceremonial occasions, such as the wedding of Prince William and Kate Middleton.

Another V8-powered star, this fifth-generation Phantom was built from the late 1950s through to the early '60s. It also counts the late John Lennon as a former owner. He was in a band, or something…

Driven by royalty and heads of state, this RR limousine featured a V8 in two guises, the latter a 6.75-litre unit good for around 220bhp. It was built from 1968 right through to 1990.

Advertisement - Page continues below

And then we come to the 2003 relaunch of the Phantom name. This one came with a 453bhp 6.75-litre V12; enough to propel it from 0-62mph in 5.9 seconds.

But that's kind of missing the point of a Rolls. "The best luxury car in the entire world. It's as simple as that", we say of the Phantom.

It's been Rolls' most successful Phantom by far, having sold more than 3,000 of the enormous land yachts.

Phantom VII Drophead Coupe

You won't see the Drophead Coupe again in the next-generation Phantom, so enjoy it while you still can. "The world's best luxury car in convertible form." According to us, anyway.

Advertisement - Page continues below

The Phantom VII, as is the way with luxury cars now, has boasted plentiful special editions. You could say that most Phantoms are special editions, given how bespoke owners can make them. But 2004's Centenary special edition was one of the first in-house specials, and the first of some we've cherry-picked here.

It was limited to 35 cars worldwide, and all of them featured special navy blue paint with red pinstriping. The 'Dark Curzon' paint added £24,000 to the list price, though that's like adding a couple of grand in options to a Fiesta.

Phantom Naples Winter Wine Festival

The Naples Winter Wine Festival (held in Florida, obviously) is ranked among the top ten arts and entertainment events for wealthy Americans, so say the festival organisers. In 2005, Rolls Royce showcased this unique special edition at the event, which came with the necessary burgundy paint, as well as cashmere headlining and "deep moccasin leather" upholstery.

It also came with a couple of very specific extras: a mini wine cellar in the boot floor - picnics aren't complete without a bottle of vintage Chateauneuf de Pape, after all - and a cigar humidor in the glove box. The car was sold in the charity auction for $800,000.

Not many cars are worthy enough for a special edition that celebrated the first one being sold, but the Phantom isn't a normal car. This Celestial version, released in 2013, commemorates the start of New Year's Day 2003, when the first owner received their spangly new Rolls.

The paint is supposed to look like a night sky, and to achieve this Rolls mixed it with super fine glass particles. Over a thousand fibre-optic lights were also interweaved into the headlining to show the constellations, a feature that has made its way onto other bespoke Phantoms since. Pick a date, and Rolls will mimic the sky that night.

Carbon fibre in a Rolls Royce? Surely not? This edition celebrated the rich history of Goodwood racing circuit by splashing carbon fibre on the veneers, stitching chequered flags into the seats and even adding a matt black bonnet, like an Abarth 124 Spider. Don't go expecting a stripped out, track-munching monster though; it's still a Roller through and through.

Phantom Drophead Coupe Waterspeed

Perhaps the classiest of all Rolls Royces in history, 2014's Waterspeed might have been a bit of a mouthful when it was referred to by its full name, but just look at it. Isn't it a beauty?

In honouring the Bluebird K3, Sir Malcolm Campbell's world record-breaking speedboat, Rolls Royce sprayed nine coats of Maggiore Blue paint onto 35 Phantoms, painting the 6.75 litre V12 the same colour. Inside was a sea of calming blue and tranquil, while wood veneers apparently mimicked the wake of a speeding boat.

Celebrating the fact that the world has cities, perhaps, the Metropolitan edition essentially shows off Rolls' expertise at chopping wood. There are 3D skylines of cities in the wooden dashboard bits and on the foldaway picnic tables in the back. Crafting these veneers took more than five hundred pieces of wood each, which kind of puts Top Gear's school woodworking projects to shame.

It might be a fairly plain white on the outside, but the inside is where the 2015 Serenity edition comes into its own. It's aimed at royalty, and there are rubies in the gauges and clock. We'll let you decide if it's nice or not.

If you need a Phantom, but also need lots of cupboard space, you'll need to track down one of 25 Limelight editions. It's geared towards celebrities and businesspeople, and it's got all the cubby holes famous people want for storing, er, things you need for fame.

That includes a bespoke fragrance holder. In addition, the rear seats were apparently designed with the help of medical professionals, for maximum comfort.

Just 50 Dropheads and Coupes are Zenith editions, and they're the final flourish for the Phantom VII. Highlights include a champagne fridge - the bottles won't keep themselves cool - and a picnic hamper with literally everything you might need to rock up in a layby on the side of the A40. Nicer cutlery than the TG office, certainly. The Zenith cars also come with the starlight headliner.

Stephen Hung's The 13 Hotel Phantom

You know you've made it when not only can you order THIRTY Phantoms, but have the paint, wheels and interior in a bespoke colour named after yourself. This Phantom isn't just red, it's Stephen Red. Ok, so this isn't technically a special edition, but it's worthy of inclusion. Stephen Hung, joint chairman of the group that owns The 13 Hotel in Macau, China, was given the first of his Phantoms at the 2016 Geneva Motor Show. 

Unsurprisingly, it's the biggest ever single commission in Rolls' history.