British
A (very British) weekend with Bentley's Bacalar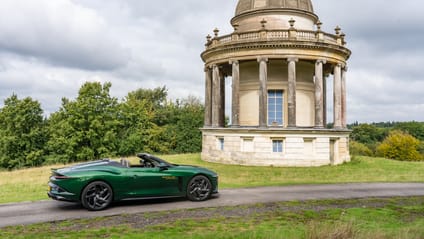 The car had been booked weeks earlier. "Would you like to have the Bacalar Engineering Prototype for a few days?" the email from Bentley said. Car 0 of the 12 that will be built, each £1.5 million plus tax. Well, yes, obviously. And then Queen Elizabeth passed away. So as a tribute to Her Majesty I decided to try and have the most British weekend possible in the most British of cars. Here's how it went.

Advertisement - Page continues below

Visit a National Trust property

I can do better than that. This, across the Capability Brown landscape, is Highclere Castle. You know it better as Downton Abbey. It's in Berkshire, not Yorkshire, and has a genuine royal connection. The seventh Earl of Carnarvon was the Queen's racehorse trainer. She came here often. It was always news when she did, or visited the nearby Newbury Races. No better place to start this Saturday.

Visit a National Trust property. In close up.

However, this was a close as we could get. We cruised up to the entrance. I'd put a flat cap on to blend in, hoping to be waved through. The steely-eyed veteran on the gate wasn't fooled for a second. I'd got the outfit wrong. "The castle is hosting a Magic of the Movies weekend," I'm informed, "it's £95 if you want to come in." I eye up the procession descending from buses and stepping out of Qashqais before picking their way gingerly through the dewy grass. As I crawl away I can see a line-up of vintage cars outside. I've brought the wrong Bentley, I think to myself, wondering what the reception would have been like if I'd arrived in a Blower.

Advertisement - Page continues below

I'm off to find a village fete. I'm wafting along country lanes. Although cloudy, it's bright and warm and I'm in no particular hurry. But of course I caught the bold red Routemaster. It was doing 18mph. Obviously these still ply roads the length and breadth of the British Isles, and are as strong a symbol of Britishness as the Monarchy itself. Only one of those statements is true. It's a wedding bus, ferrying guests at a rate that suggests it'll be a race to get to the church before the bride.

A pause for coffee at the Bell Inn, Aldworth. If they did anything as futuristic as coffee. Tea it is then. Much more appropriate. The Bell may not be thatched, but it is the epitome of an English country pub. It's not just the exterior that's Grade Two listed, the interior is as well. It's old. The Queen may have done 70 years on the throne, Bentley's been around for over 100 years, but the Bell has been here since the eighteenth century. Correction: it's been in the same family since the eighteenth century. A pub with a family lineage that predates America.

Not now for heaven's sake! Everyone knows a full roast is only served at 3pm on a Sunday. However, a text from my missus reminds me that we need the ingredients. Nothing more appropriate than a farm shop. I come out with carrots, leeks, potatoes and a leg of lamb, the animal reared just five miles away.

There it is, the sign for the village fete. But hang about, what's this? Greenfest? Someone's surely got their wires crossed – I was anticipating comedy vegetables, cakes and the judging of marmalade sandwiches (don't forget the Queen kept one about her person at all times).

Advertisement - Page continues below

It's a popular event, the Hampstead Norreys Greenfest. I park next to a Tesla and behind a Nissan Leaf. Again not convinced I've come in the correct Bentley. No hybrid for the Bacalar, just the small matter of a 6.0-litre twin turbo W12 with lashings of power and an even more generous helping of torque. It's a good event though – much more forward looking than your average village fete. Still some bunting about the place, but stands talking about recycling, offering advice on home heating and solar power, there are electric bike and car displays, wildlife groups, talks about the environment and…  

…fish and chips. Excellent news, means I haven't got to drive all the way to the coast for a picture. That would've made me feel considerably worse about my carbon footprint.

Advertisement - Page continues below

There we go. Thatch. It's important.

Big box to tick. A village cricket match. Chieveley are away at Chaddleworth this weekend. I can't get there, but my luck is in. My son's volleyball tournament is at a leisure centre next to a crown green bowls club. Bowls, for those who aren't aware, is like curling without the ice. A game made famous almost 500 years ago by Francis Drake. He was playing on Plymouth Hoe when the Spanish Armada was reported in the English Channel. Finished his game before heading out to sea to defend Her Majesty's realm. Elizabeth I not II, on that occasion.

There's a car café in Newbury. It's a popular hang out, so I take the Bacalar there, interested to gauge the people's reaction to what is really only a gussied up Conti GT convertible. People don't see it like that. "I think it's spectacular," I'm told, "way more sporting than any other Bentley." The paint, the wheels and the rear view come in for most praise, but overall people think this gives Bentley a more interesting, dynamic image – not bad for a run of 12 cars.

The Bacalar does have a boot. It's actually pretty big, but the access is tiny. Most people think the flap on the rear deck is a pop-up spoiler. Nope, that's the slot through which a picnic hamper will not fit. However, while there's no back seats, the fronts still tilt and there's a useful deck. The picnic hamper fits a treat.  

No better way to end a British day than a woodland picnic. The rain has held off bar a few droplets earlier, meaning I haven't had to dash for cover in order to protect the Bacalar's fabric trim. On that note…

… here is the interior. The Bacalar does look a bit daft with the windows up (the glass doesn't align with the rear humps). Go back up and you'll find an image which shows what I mean. Apart from that airflow is pretty well managed, so it's not too turbulent at speed, and comfort is aided by familiar Conti GT features such as heated seats and a warmed neck (vents in the seats sort that out). Naim audio overcomes everything.

The Bacalar in full flow. A symbol of Britishness familiar around the world. But this one combines that traditional aesthetic with a more modern aspect. Could be said that the same is true of the change in our Monarchy. In a similar vein it'll be interesting to see what happens to the State Limousine. Will Charles III use it? Perhaps he'll commission a replacement? Only if it's electric, I suspect.