Classic
Ford's muscle cars: Mustang GT vs Capri 280
American muscle takes on European muscle in the battle of Fast Fords new and old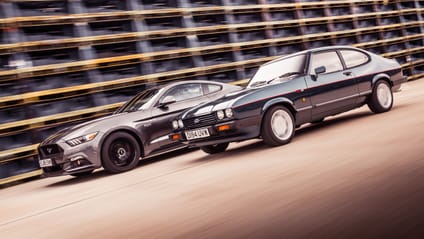 You'll have heard this factoid before, but we'll say it again – back in the mid-Sixties it took Ford less than two years to sell a million Mustangs. It wasn't especially advanced, but it was good-looking, fast, cheap and practical enough to capture middle America's imagination.

Ford quite rightly deduced that such a car would do well in across the pond too, so just a few months after the Mustang's April 1964 launch it greenlit Project Colt – kick-starting the development of a proper two-door coupe tailored to the most peculiar tastes of us Europeans. 

Images: Mark Fagelson

Advertisement - Page continues below

The finished article emerged in 1969, five years and £20million-odd later. Capri was its name, and it was "The car you always promised yourself," or so the ads claimed. On purpose it was (and remained until production of the MkIII ceased in the late Eighties) the closest thing to a Mustang that was readily and officially available in the UK.

Powertrain and trim options were many and varied, just like its Yankee cousin. And prices were low. The MkI began at £890 in 1969, with the 52bhp 4cyl pinched from the Escort (0–62mph in 23.0secs. Really). In today's money, that's around £13k. The Capri was even sold in the US and Canada (and Australia and New Zealand) for a few years through Lincoln/Mercury dealers. In all, Ford sold something like 1.9 million of them. 

Ford didn't offer a proper rear-drive, two-door blue-collar coupe in Europe for decades post-Capri (no, the GT doesn't count). The Probe and Cougar that succeeded it were front-wheel-drive and, if we're honest, a bit tragic, and the (admittedly brilliant) Puma was just a Fiesta in a fancy frock.

But with the announcement of the 2015 Mustang came the news that, for the first time ever, Ford would sell a right-hand-drive pony car in the UK – one specifically tailored for the UK's uniquely terrible roads. The news was met, predictably, with much fanfare, and the selling of many thousands of cars. Mostly V8s. 

Advertisement - Page continues below

For the first time since the demise of the Capri, Brits can walk into a Ford dealer wallet in hand, and drive out in a meaty, rear-drive coupe. And the Capri is indeed meaty. This one's a 280 Brooklands, the last of 1,038 built to tie up just shy of two decades' worth of Capri production. With only 160bhp from 2.8 litres, it's not the quickest thing by modern standards.

But the delivery is lusty, lazy, and the sound sonorous and reassuring. There's an inherent Eighties-ness to it that's hard to look past, however. The brakes don't really work, the gearlever's throw feels like a full foot and a half, and the interior – while improved by the well-set Recaros of the 280 – isn't all that.

To drive it feels… old-fashioned, in the best possible way. Slow, heavy-set steering discourages quick corner entry, but the whole experience is a satisfyingly compelling one. 

Today's Mustang is a sharper thing. By no means a dynamic tour de force, but for an ostensible muscle car, really quite good. Neutral, with decent steering and enough provocation from the 5.0-litre V8 to hurtle it along at whatever speed takes your fancy. It's good, and most importantly, relatively affordable. 

But above all it's a survivor. The Capri may have lasted for 18 years, but the Mustang, well that's still going strong after 52. Iconic barely covers it.