Classic
Gallery: the first-ever Porsche is up for sale
Porsche Type 64 from 1939 will go under the hammer in August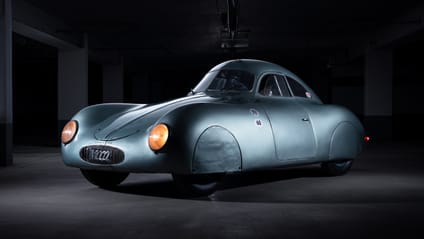 This, people of the Internet, is genesis. What's considered by many to be the very first and "most historically significant" Porsche - the third of three and sole surviving Type 64. It's going up for auction in August in Monterey, where it will sell for untold millions.

Its story begins in the 1930s, with a 1,500km race from Berlin to Rome that never took place. Set for September 1939, this race would be used to promote first Germany's then-new autobahn network and second, something called the 'KdF Wagen' or 'Strength Through Joy Car'.

Images: RM Sotheby's

Advertisement - Page continues below

Nowadays the KdF Wagen goes by a different name - the Beetle. VW, then owned and operated by the German government, commissioned Porsche to build three racing versions for the Berlin-Rome race. But Ferdinand Porsche and his team (the same engineers who would later develop the 356, Porsche's first road car) only had time to finish one before war was declared in 1939.

All of a sudden the government had more interesting things to worry about. Its interests turned to military vehicles, but Porsche persisted with the Type 64.

The second car was completed in December 1939. The third borrowed the chassis from the first, which was crashed and damaged by the Managing Director of Volkswagen - it was completed in June 1940.

Advertisement - Page continues below

Mechanically, the Type 64 shared much with the Type 1 VW. The drivetrain and suspension were the same, but the chassis and riveted alloy body were all new, and the engine was tuned from around 25 to 32bhp.

It was this third car that was kept and regularly used by Ferdinand and Ferry Porsche. The second was destroyed in the war. It's thought Ferry himself applied the 'Porsche' letting on the bonnet, once he'd had the car registered in Austria in the mid Forties.

In 1947 the Type 64's first restoration was undertaken by Battista "Pinin" Farina, then a year later the car was demonstrated alongside the first 356. Driver Otto Mathé liked it so much he bought it off Porsche, and kept it for 46 years until his death in 1995.

In 1997 the Type 64 was sold to Dr. Thomas Gruber, who took it to Goodwood and various other events. Now onto its fourth owner, the Type 64 will be auctioned in Monterey in August.

How much will it bring? Millions, no doubt. Andy Prill, a Porsche specialist who's inspected the Type 64, says "this is the most historically significant of all Porsche cars", while auctioneer RM says "without the Type 64, there would be no Porsche 356, no 550, no 911". The sky is quite literally the limit, we suspect...