Classic
Gallery: some of the greatest BMWs ever built
BMW celebrates 100 years. We trawl through the back catalogue for the best bits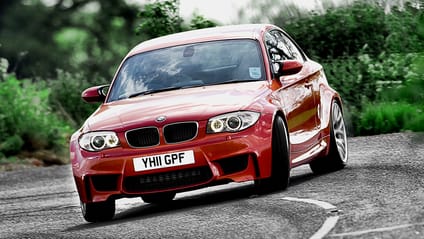 This year, Bayerische Motoren Werke AG (Bavarian Motor Works), celebrates its centenary. That's 100 years of abbreviation. One hundred years of producing both motorcycles and cars from its headquarters in Munich, a century of creating for itself not just a brand, but an icon of popular culture. 

These days, BMW makes bikes under the BMW Motorrad banner, eco-variants with the BMW i sub-brand, produces Minis of various flavours and owns the 'best cars in the world' in Rolls Royce. It's one of the most powerful industrial entities of the modern era, making over two million cars in 2014. It employs nearly 120,000 people, and manages equity of 3,839 (I)billion(I) Euro. It's a modern MegaCorporation.

It was not always thus. BMW actually started out as an engine builder, primarily for aircraft, and was formed from the bones of the Rapp Motorenwerke Aircraft. After the end of World War One in 1918, when forbidden to produce aircraft motivation by the terms of the Versailles Armistice Treaty, BMW turned to bike production in 1923 and cars some five years later. Indeed, BMW's adventures as a car manufacturer didn't begin until later with a car called the 3/15 Dixi in 1929, which was actually a licensed build of an Austin 7 from the UK, pulled from the designs of the Austin Motor Company from Birmingham. So this is more the centenary of BMW the company, than BMW cars.

Since, then? Well, the company has literally gone from strength to strength. Here's some of our favourites from BMW's back catalogue, including more than a few you might not be aware of if you think of BMW as a very modern company.

Happy 100th anniversary, BMW. Try not to set off the fire alarm with all those candles…

Advertisement - Page continues below

1927-29 BMW 3/15 DA-1

BMW's first car, also called the Dixi. A licensed Austin 7 with a 15bhp 747cc side valve straight four, and brakes that operated on the rear wheels only (four-wheel brakes were introduced on the 3/15 DA-2, dontcha know). Unlikely to have been considered the 'Ultimate Driving Machine'.

1933-34 BMW 303

Big one this: the first car to have a BMW six-cylinder engine (1.2-litre and a whacking great 28bhp, in case you were interested) and the first car to feature the double kidney grille that would become legend. There were high-po versions, too - the 315/1 and 319/1, later supplanted by the…

Advertisement - Page continues below

1936-40 BMW 328

Now we're getting somewhere. A sports roadster, powered by a 2.0-litre straight six with nearly a whole 80bhp. Mind you, it only weighed 830kg, so that was enough to bring it motorsport success winning – amongst other things – Le Mans and the Mille Miglia.

1937-41 BMW 327

Considered 'more progressive' than some contemporaries, the 327 was a handsome Tourer, first a convertible and later a fixed-head. Still had an M78 2.0-litre six-pot, looks exceptional today.

1949-53 BMW 340

In the forties, several BMW cars started being reproduced after the hiatus caused by World War II. The 340 was the new one, though underneath it was a 326 with a party frock. Guess what engine it had? Yep - M78 2.0-litre six, this time with 52bhp. Sometimes badged as 'EMW' thanks to a strange post-war legal wrangle over who owned the Eisenach manufacturing base. Also turned up as the estate 'Kombi'.

1952-62 BMW 501

The first car to be built and sold exclusively by BMW after the war, the 501 was a full-size saloon powered by the usual 2.0-litre M78, a slightly bored-out version of that engine and also a 2.6-litre V8.

Advertisement - Page continues below

1956-62 BMW Isetta

Mimicking the econocar success of former aircraft manufacturers like Heinkel and Messerschmitt, BMW bought the rights to the Iso Isetta and stuck a 13bhp 298cc BMW single 'bike engine in it. Also turned up as the longer, four-seat BMW 600 bubble car. Cute.

1956-59 BMW 503 Coupe/Convertible

A sports coupe with a 140bhp 3.2-litre V8, four-speed manual, and the first euro-convertible with an electric folding top, the 503 wasn't a hit for BMW. Despite being very pretty, it cost twice as much as the company projected and made for heavy financial losses. Sad face.  

Advertisement - Page continues below

1955-59 BMW 507

Achingly pretty BMW roadster, the 507 sat on a shortened 503 platform with an aluminium V8 up front, four-speed 'box in the middle and of course, drive at the back. Gorgeous.

1959- 1965 BMW 700

The rear-engined BMW with a 697cc flat twin? Oh yes. BMW's own crack at the economy car market. A sturdy little car that spawned the racing 700RS campaigned by Hans Stuck. The 700 was also raced by a certain Burkard Bovensiepen - the founder of what was to become BMW tuner extraordinaire, Alpina.

1962-65 BMW 3200 CS

A pretty Bertone-styled coupe, the 3200CS was – as the name suggested – a 3.2-litre, 160bhp pushrod V8-powered beauty. Last of BMW's postwar cars, it was the last of the pushrod-valved motors, and the last variant to have a solid rear axle. BMW was about to step up its engineering game to another level.

1962-67 BMW 2002

BMW's establisher. Possibly one of the most recognised 'classic' modern era designs, and still a desirable car today. It originally came with either 1.5 or 2.0-litre fours, and benefitted from the Quandt family's heavy investment in the BMW company in 1960. 

Monocoque, with fully independent suspension, it paved the way for the modern BMWs of today. Later, 1969 saw the introduction of the 2002Tii (Touring international, injected) with mechanical fuel injection, and (I)that(I) car spawned the 2002 Turbo with a KKK blower - the first production turbo car after the Americans gave up in the early Sixties. It also spawned the Karmann-bodied 2000C/CS E9 - possibly still one of the prettiest coupes of the time.

1972 BMW 3.0-litre CSL

Homologation special built to compete in European Touring cars, the CSL remains legend. The 'L' of the name meant 'leicht' (light) for the first time (in other Bee-Em designations it means 'Lang', long), and the car used thinner gauge steel as well as aluminium panels and perspex windows. The crazy ones are the versions homologated after '73 with the wing package - they became known as the Batmobiles.

1978-'81 BMW M1

Widely regarded as the first ever 'M' car, the Giugiaro-designed M1 was more realistically a road going racecar. It was the only mid-engined BMW ever produced until the i8 appeared, and had a 3.5-litre straight six that chucked out 270-sh bhp. It's also one of Top Gear's favourites… ever. The engine also spawned the first M5  - the M535i - and the 635CSi coupe. So this car is responsible for a lot of good things.

1981- '88 BMW E28

The E28 was a fairly humdrum saloon for BMW, coming in all sorts of engine configurations from a 1.8-litre four to various inline sixes and with over 700,000 built. But the big news was the 256bhp, 3.5-litre 'M88' M535i. Basically the first M5.

1989-'99 BMW 8 Series E31

Big 2+2 GT? Yep, BMW does that, too. The first car to feature CAN-bus multiplex wiring  - now an industry standard - a 4.0-litre V8 or a big 296bhp 5.0-litre V12. Which came with a six-speed manual. It also looked incredibly of its time - but still looks good in 2016. Trouble is, the performance never quite stood up to the brilliant styling…

1998- 2002 BMW M-Coupe

The famous 'BreadVan' was basically a Z3 Coupe/shooting brake. It came with 2.8, 3.0 and 3.2 (M) straight sixes, and for some reason was at least 34 times more desirable than the Z3 Roadster. Prices are currently shooting up, so people have started to realise just what a great little car this really is. It's also BMW showing it has a sense of adventure.

1999- 2003 BMW Z8

Retro-styled but not pastiche, the Z8 was BMW's homage to the past, but full of contemporary modern tech. A 4.9-litre M5 V8 from the E39, it developed 400bhp and 370 lb ft and could hit 62mph in well under five seconds. Better than that, the roadster looked absolutely fantastic, and harked back to the mid-fifties 507. And still does.

1995- 2003 BMW E39 M5

Manual, a 400bhp naturally-aspirated 4.9-litre V8 shared with the Z8, supercar-baiting performance and a properly subtle exterior - the E39 M5 is the one for the purists. Mainly because it's a proper wolf-in-sheep's-clothing.

1993 - 2000 BMW E36 3-series Compact

1986-89 BMW E30 M3

The first M3. And the beginning of a legendary series of cars. Originally a four-pot, the original M3 was powered by an S14 motorsport engine, and got a whole host of bespoke suspension and tuning upgrades. With a rear-wheel drive chassis and some BMW M-Sport magic, it became an icon very quickly.

1984-86 BMW 635 CSi

The 6-Series began production with the E24 in 1976, but it's the 3.5-litre 635CSi that really floats our boat. It basically uses the engine from the first 'M5' the M535i, and managed 215bhp and 224lb ft of torque in the mid-'80s. There was an 'M' version, but that's much more expensive these days, mainly thanks to a power-up to the tune of 282bhp and 246 lb ft. Remains a fantastic shape, with the long bonnet and stubby tail giving it classic GT proportions.

2003-04 BMW E46 M3 CSL

A special edition version of the E46, the CSL was a lightweight street racer identifiable by the slight ducktail rear, special lightweight wheels and big induction hole in the front bumper. It's also in the 'classic' BMW set up: rear-wheel drive, 355bhp 3.2-litre straight six with natural aspiration, and its proving very popular with speculators and collectors - with decent examples going for upwards of £60k and rising. As ever with classic BMW saloons and coupes, the CSL is fairly subtle - which makes it even more appealing.

2007 BMW M5 Touring (V10)

Some 500bhp from a 5.0-litre V10 that runs on nothing but natural aspiration, wrapped in a practical wagon body. It revs to 8,250rpm, and when really kicked, could manage 62mph from rest in around 4.5 seconds. Rumour also has it that if de-restricted - it was electronically managed to a 155mph top speed as per usual for fast BMWs - it was a 200mph load-lugger. It's a big deal, because this was effectively the last M5 Estate - the next generation hasn't featured a wagon in the range.

2011 BMW 1M Coupe

One of the more modern BMWs that nonetheless is keeping pace with the second-hand market, used 1Ms with 40-50k miles are making the same as they did when new (£40k), if not more. Launched in 2011, it's a lot of cash for a 1-series, but with a twin-turbo 3.0-litre straight six and 335bhp, it was not only the first of the M cars to make use of turbocharging, but a raucous drive thanks to a proper limited-slip diff and manual 'box. A modern classic, that lent itself to the recent...

2016- present BMW M2

Basically the same idea as the 1M Coupe but produced in unlimited numbers, the recent M2 follows the same recipe as the 1M: 370bhp, 343 lb ft from a turbo'd 3.0-litre straight six. Think of it as a 'baby' M3, and you won't be far wrong, though it's possibly a little more fun than big brother, because it's more accessible. But 0-62mph with a manual in 4.5 seconds (a smidge quicker with a DCT) is still nothing to be sniffed at.