Classic
Meet the one-off modified Mini called 'Orange Crush'
Chopped. Customised. Orange-d. This odd little Mini could be yours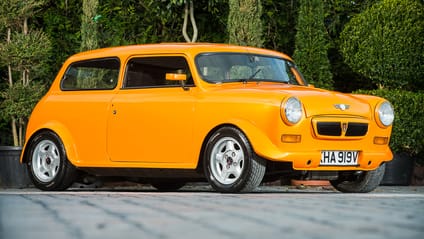 Is the ratio of that picture out?

Nope,. It's one of the oddest, most intriguing Minis ever built.

It has been nicknamed 'Orange Crush', because a) it's orange, and b) it features a chopped, lowered roofline. Crushed, you might say.

Advertisement - Page continues below

Ours is not to question, but to marvel. It is the work of a man called Paul Fisher, who in 1990, embarked on a six-year odyssey to transform an original 1979 Mini 1000 Saloon into the orange, neck-bracing Mini you see in front of your eyes.

He began by welding in a new floor, along with new inner and outer sills. We're told the underside was then etch-primed, seam-sealed and stone-chipped. Then, there's the roof.

Advertisement - Page continues below

We're simply told it was chopped, lowered and sculpted in "excruciating detail". Just marvel at it. Like a fat puppy that hasn't grown into its face yet. Strangely adorable.

Following this, a whopping 18 hours were invested into applying the paintwork. It's called VW Inca Gelb, if you're curious.

"I did it all properly," explains Fisher, "zinc priming, waxoyling and seam welding." Quite.

Surely there was more work done to it?

Absolutely. A significant amount of effort was deployed to "french in" the rear light double curvatures, the flush-fit petrol cap, number plate housing and Rover grille.

Gotcha. I'm guessing there's a crazy Rover V8 tucked up inside there somewhere?

Negative. It's a regular Rover Cooper 1.3-litre four-pot. Though Fisher did fit it with a custom exhaust, and more recently (in November 2016), skimmed the cylinder head and replaced the head gasket.

Because it hadn't been used in a while. Sad face.

Advertisement - Page continues below

There are Spax dampers and Hi-To adjusters, 12in Revolution RFX wheels clothed in Yokohama tyres, and, um, that's about it.

What, no crazy mods inside too?

Should you manage to fit inside, no. It's all standard Mini. Perhaps a bit tidier and fresher. And a bit more orange than most.

The intriguing bodyshape and the overall condition helped win this car 'Best Car in Show' and 'Best Paint Job' at the Mini Magazine meet in 1998. So it's got pedigree.

Advertisement - Page continues below

I need it immediately. How much do I pay?

It's being offered up by Silverstone Auctions' May Sale (kicks off this Saturday, 13 May), and does not have a reserve, nor expected auction price. So there is a chance you could grab a bargain.