Classic
Remember the SuperVan? ALL HAIL THE SUPERVAN
Ford announces classic Transit will appear in Forza Horizon 4. But we want these
Ford has announced that its classic 1965 Transit van will make a star appearance in Forza Horizon 4, which is good news for videogame and car enthusiasts. A Venn diagram it neatly surfs, what with it being a videogame about cars.
Indeed, you can download, modify and race the magnificently styled 75bhp van in the game to your heart's content. Lovely.
Advertisement - Page continues below
However, news of the classic Transit sent us spiralling down a wormhole which is even more lovely. Because whenever we think of a classic Transit, we pretty much think of the best Transit.
The SuperVan.
Three of them were built, and each is magnificent in its own right. We'll start with 1971's original SuperVan, because much like the original Superman, it is magnificent and without equal.
Terry Drury Racing built the thing specially for Ford, by matching up an actual Ford GT40's chassis and running gear – including a 400bhp V8 – to the body of that classic Transit. No more need be said about this because ACTUAL GT40 inside a van.
Advertisement - Page continues below
The philosophy was carried over to excellent effect in 1984's critically acclaimed (by us, just now) SuperVan 2, which used the chassis of a ruddy Ford C100 Group C racing car, and a Cosworth engine. Sure, the body was all second-generation Transit, but it featured a spoiler, air inlets and a front air dam. At the time it could reportedly do 174mph. Ah, the Eighties.
Then came SuperVan 3, in 1994. It was an evolution of SuperVan 2, using the same C100 racing chassis, but swapping out the engine in favour of a wild 650bhp 3.5-litre Ford-Cosworth one. Imagine. Just imagine.
Top Gear
Newsletter
Thank you for subscribing to our newsletter. Look out for your regular round-up of news, reviews and offers in your inbox.
Get all the latest news, reviews and exclusives, direct to your inbox.
A few years later Ford changed the engine again for a less powerful one. One that gave more people "the opportunity to drive this unique vehicle", the subtext there being, 'SuperVan Too Fast For Human'.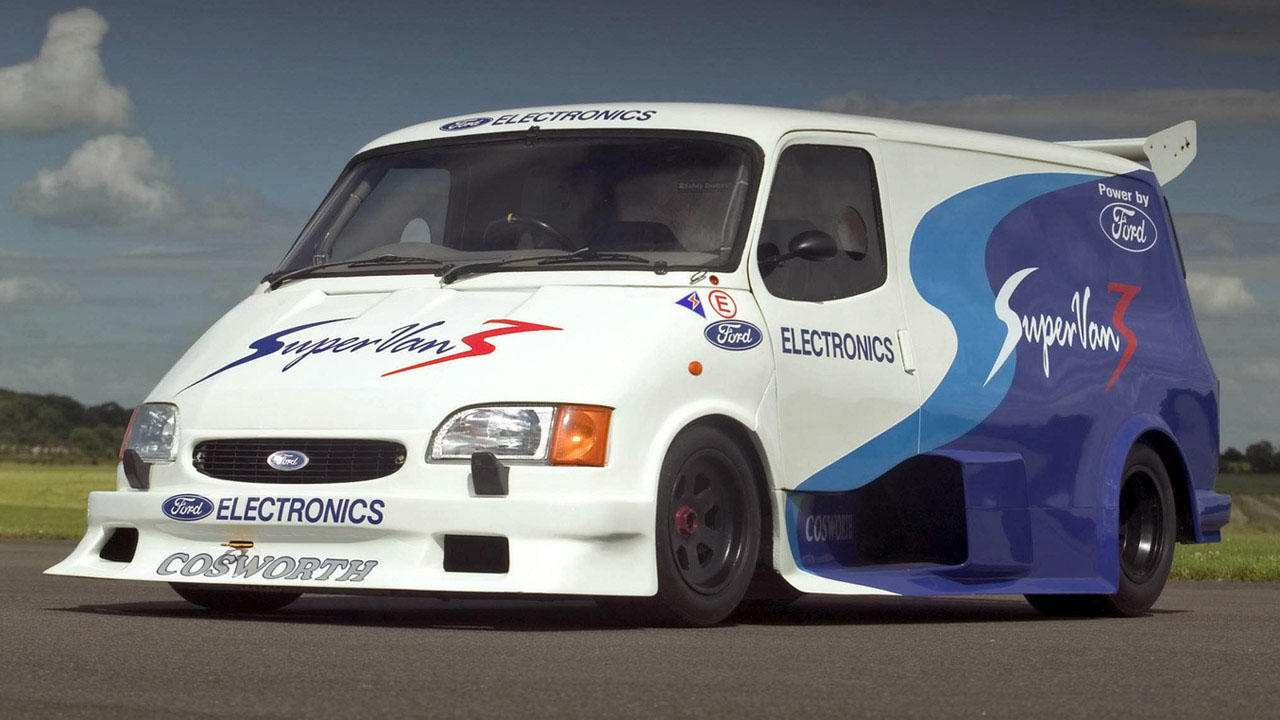 Indeed, former BTCC driver Anthony Reid once said of SuperVan 3: "Over the last 20 years of racing cars, Ford's SuperVan 3 is by far the craziest vehicle I have ever driven.
"It's ludicrously loud and incredibly quick."
More of this please, car and van makers of the world.