Concept
Ferrari P4/5 Competizione on track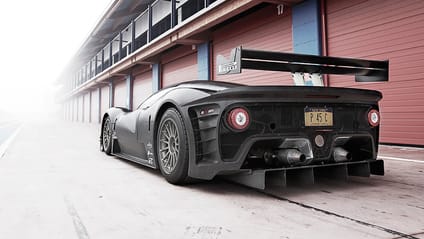 If you've ever wondered how professional racing drivers come down from the white-hot amphetamine kick of competition, in Mika Salo's case they don't. Salo, who deputised for the injured Michael Schumacher at Ferrari in 1999 and also raced in F1 for Arrows, Lotus, Sauber, Toyota and Tyrrell, owns an old Camaro powered by a 9.0-litre, 1002bhp engine. "It had a Toyota Le Mans GT1 unit in it at one point," he says, "but that was just too much, I couldn't use it."

Words: Jason Barlow
Photos: Lee Brimble

This feature was originally published in the March issue of Top Gear magazine

Advertisement - Page continues below

He rubs his hands together and exhales. We're standing in a garage at the Autodromo di Franciacorta, an hour west of Milan, and it's cold in that uniquely bone-chilling way that only a race track in winter can be. A small army of men is tending to a prone mechanical form, swapping wrenches for laptops and talking speedily in Italian. Salo will be out for his first taste in about 15 minutes.

He kicks his heels against the wall. "See this?" he says, pointing to a deep scratch in the middle of his temple, "I was shooting wild boar in a forest in Estonia last week. It was dark, and I had a night-light on my head. But as I was lining up a shot, I forgot I had it on, and the recoil from the gun caught me out and smashed the light."

Maybe Mika has a screw loose, but the car certainly doesn't. It looks stunning, its unadorned carbon-fibre body sculpted in a way that matches old-school curves with contemporary aero. As the driver eases himself into it, the team fires up its 4.0-litre V8 filling the garage with a familiar-sounding ripe roar. It's a Ferrari 430 GT2 engine, smaller in capacity but otherwise identical to the one Salo successfully raced in ALMS, the FIA GT championship and at Le Mans. It settles into an impressively even beat, sweet as a nut. 

Advertisement - Page continues below

As the driver's door arcs shut and Salo selects first gear, it's clear that the rest of it is Ferrari too. Well, sort of. It looks familiar yet unfamiliar at the same time, even to those in the know. This is the P4/5 Competizione, a car that channels the spirit of Ferrari's Sixties endurance racers, the P3/4 and 412P, cars that were as sensational to look at as their names were confusingly obtuse. This is the only P4/5C, in fact, a multi-million pound experiment, and the competition offspring of a celebrated 2006 one-off road car that reconnected Ferrari with its endurance-racing past while p*****g off Maranello mightily. Franciacorta is wreathed in fog, but as the revs swell, it's clear Salo isn't going to let a lack of forward vision hold him back.

To understand the car, you have to understand the man behind it. And Jim Glickenhaus is some man. Details first. He isn't measuring Salo's lap-times today with any old stopwatch, he's using the exact item Steve McQueen used in his irresistible cinematic folly, Le Mans. The watch on his wrist isn't a TAG or Breitling, it's the one Fidel Castro gave to Fangio as a sign of respect after his revolutionaries kidnapped the great man in a 1958 political protest.

The son of one of Wall Street's longest-surviving warriors, Seth Glickenhaus (now 97, still working), there's also a family art foundation which includes paintings by Picasso, Andy Warhol, and Edward Hopper. In his younger days, Jim worked as a film producer and director, specialising in violent B-movies that'll be familiar to anyone old enough to remember the explosion in video rental in the Eighties. He knew John Lennon. Now he's in the family finance firm.

And, boy, does he love his cars. As well as controversially reimagining that Enzo back in 2006, Glickenhaus also owns a 166 Spyder Corsa, the third Ferrari ever made and the oldest continually existing Ferrari. There's an ex-Mark Donohue/Roger Penske Can-Am-winning Lola T70 (road-legal, he's done about 40,000 miles in it), a Le Mans-contesting, ex-Donohue/Bruce McLaren 1967 Ford Mark IV, and lots of other absurdly precious, highly significant stuff.

"1967 was the magic year for me," he says. "It was the last year the cars had to be road legal, even the prototypes at Le Mans. Two seats, luggage space, headlights. They were relatable cars. Drive it to the track, tape up the lights, go racing. And then there were the battles. Ford vs Ferrari. The personalities... Vaccarella, Bandini, Surtees, Amon."

Advertisement - Page continues below

But Jim's big thing is for the Ferrari 330 P3 and P3/4, and it's here that the plot thickens. Not least because of the two original Ferrari 330 P cars he owns, one is the hotly disputed chassis no.0846, the Holy Grail among serious Ferrari dudes, and a car apparently destroyed after Chris Amon tried to nurse it back to the pits at Le Mans with a bent wheel. Cue an expensive conflagration. It's a long and complex tale, but Jim reckons that scrutineering marks on the engine and gearbox prove its provenance. It's a murky area, though. Old Ferraris were regularly crashed and rebuilt, and Enzo Ferrari himself was notoriously fickle about his own output. He either didn't realise or didn't care that the stuff he routinely scrapped would one day be priceless. Listening to Glickenhaus on the subject is like listening to an automotive Indiana Jones. 

"Ferrari said I shouldn't have tried to resurrect a car using scrap, but it's a glorious thing, and we're happy these pieces still exist. It was a very Italian response. Look, these cars were thrown around, they ended up in the mud at Le Mans, they were often wrecked. Chassis, engines, things get lost in the fog of history. But Vaccarella looked at my car and recognised a dent he'd put in it when he crashed it at the Targa Florio."

Advertisement - Page continues below

When Pininfarina decided to reactivate its bespoke business back in 2003, it approached Glickenhaus. That's how the epic Jason Castriota-designed P4/5 came about, though dismantling an Enzo to do it raised eyebrows. Jim picked up the donor car in the US and shipped it back to Italy, and the resulting vehicle not only further tested his relationship with Ferrari, it put Pininfarina's long-standing partnership with Maranello under some stress too. Now, in an effort to realise the other part of his dream, Glickenhaus is taking the P4/5 racing.

Paolo Garella, ex-Pininfarina (where he also oversaw the Stratos one-off) and project manager on the P4/5C, initially talked to Glickenhaus about Le Mans, but when that stalled, they turned their attention to the increasingly high-profile Nürburgring 24-hours race. Where Le Mans is governed by a labyrinthine set of rules, the 'Ring is a bit more flexible, not least because it has an experimental class (EXP1) for cars that don't fit anywhere else. They toyed with rebodying a Maserati MC12 (too wide), using Ferrari's carbon-tubbed 333 SP (too old), before deciding to use a 430 GT2 as the donor car.

"We thought: let's not reinvent the wheel," says Glickenhaus, "let's take a Ferrari GT2 and do our thing, we know that works, we know the body of our car works. People think it's a rebodied Enzo, but it has 400 unique engineering systems in it - it's lighter, it has much more downforce..." He trails off, but there's a glint in his eye.

The P4/5C uses a road-legal 430 Scuderia chassis matedto a GT2 engine and transmission, so that Jim can drive it on the roads of upstate New York when it's done racing. Its central section is from the same mould as the P4/5 road car, but it's wider at the front and narrower at the rear, and has new aero bits and a reprofiled lower section. It also has a different electronic architecture and engine management system to the 430 GT2. It uses ceramic brakes (380mm at the front, 330mm at the rear), and weighs around 1,230kg.

The car is being built by L.M. Gianetti and run by N.Technology, and along with Salo, the driver line-up includes Nicola Larini (second in a Ferrari at San Marino the weekend Senna was killed), Fabrizio Giovanardi, and Luca Cappellari. In other words, this is a long, long way from being the half-arsed whim of a rich playboy. Glickenhaus might have the money, but he also has the determination. 

"Jim is unique," says Garella. "Not all clients have the capability he has to visualise something that doesn't exist. The guys who commission one-offs have a strong visionand personality - they're prepared to take a risk and start something from a clean sheet of paper. The collectors often value what they have as much by what other people think."

As Salo and Larini pick their way round Franciacorta, the mood in the pit lane is very positive. Glickenhaus says he just wants to have fun, and give something back to a sport that he reckons has lost its way. Garella says his main job is to protect his client's investment. But the P4/5 looks quick and stable out of the box, clearly capable of handling more than the 'Ring-restricted 435bhp it's currently running. "I like these kinds of projects," Salo tells me after his run, "because you can see progress being made all the time. It should be quick. Problems? It needs more grip at the front, but the rear is just planted. I tried everything I could to get it sliding, but it wouldn't do it. Sliding is for fun, but you don't want it in the race - you have to make your tyres last. You just want to be fast. I think we will be."

We'll find out on 24 and 25 June. Right now, the man who made it happen is managing his expectations.

"Look, the truth of it is that it's competitive. The body and aero is very competitive. I think we'll have some fast laps but I also think we'll have some problems and spend time in the pits. After the 'Ring? I'm not planning anything. Is it eligible for Le Mans? No. Will they be looking at what we're up to? Yes. We're going to talk to them."

The P4/5 whips past on the straight and Glickenhaus smiles.

"All that matters is that you have a good time. Because it goes in a heartbeat."