Concept
Ford promised us this 2000 concept, gave us the Fusion instead
The 24-7 Wagon concept was a bold new vision of a future that never came to pass. Sad times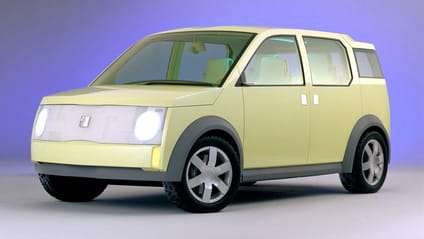 What's this generic looking vision of the future?

This is the 24-7 Wagon concept, which was unveiled at the North American International Auto Show in Detroit back in 2000. This golden example of Motor City's premiere show was rather production car sparse, with the highlights being debuts from the Hummer H2 and Lexus SC.

Advertisement - Page continues below

It does look a bit bland, doesn't it?

That was supposed to be the point, actually – Ford said at the time that one of the trends in the future would be an emphasis on the connectivity of a car and its tech performance, that the exterior would become less of a draw. Well, they got that massively wrong, at any rate. You still need to be able to find your car in a car park, at least until the things drive themselves and can find you. Anyway – the 24-7 Wagon is supposed to be a blend of estate and SUV, one of the original crossovers, if you will.

Wait, it's a Ford? I can't see a badge anywhere.

Strange, isn't it. Perhaps this was another little trick. There are 24-7 badges around the car, but nothing remotely blue or oval shaped. The 24-7 Wagon was unveiled as a matching set, with pickup and coupe versions of the concept car showing off different possibilities with a similar look based on the same platform. If we didn't know any better we'd think that this 24-7 business was a sub-brand waiting to happen. Those things are all the rage.

Advertisement - Page continues below

So what was the 24-7 Wagon like on the inside?

If the interior was where all the action was supposed to be then you'd expect a corker, right? It was actually fairly conventional as these things go, but the tech was the exciting part, like the "lipstick camera" side mirrors that are popping up everywhere 20 years later. The interior stuff – access to your emails, satnav, weather updates and suchlike – as well as many of the car's functions were also controlled by voice activation. Even the dashboard driving display could be changed with a simple bark of the voice.

Wait, I have a strong regional accent. Could I still operate this car of the future?

Divvint ye worry pet, Ford was very proud of its latest-generation voice recognition tech that could operate not just in English, German, French, Italian, Spanish and Japanese, but could manage those six languages in multiple dialects and accents with commands given in natural language rather than the strangely stilted instructions we're forced to use more often than not with such systems. 

Were there any nice concept car touches on the 24-7 Wagon?

You mean aside from the incredible voice recognition capability? Well, for practicality there was a wide-opening boot, rear-hinged back doors for maximum rear-seat accessibility and those same seats could be folded flush into the floor. What delightful fun. White and red LED lighting had practically just been invented when this concept was put together, so it features the technology everywhere, including on the amazing full-width dashboard display that even puts the current ginormo touchscreens at Mercedes to shame. And guess what? The displays could be changed using voice commands, to avoid driver distraction. Heaven forbid.

What's under the bonnet?

We almost want to say, it's so disappointing. Finding out the engine that was supposed to power the 24-7 Wagon concept is like watching the latest episode of The Masked Singer and finding your old maths teacher under a giant taffeta spouting fountain of giraffe costume, or some such nonsense. So don't say you weren't warned – instead of being powered by fairy dust (like a lot of 2000-era Fords are these days) or something equally exciting, the 24-7 Wagon concept featured a 2.0-litre Zetec inline four motor from the first-generation Focus. In fact, the car was based on a slightly stretched version of the Focus platform. 

Advertisement - Page continues below

Why didn't the 24-7 concept go into production?

Why, indeed. If only people had been a bit nicer, a little bit more visionary. Could it be a coincidence that a mere two years after the 24-7 Wagon was revealed that the Werthers Original-on-wheels Fusion went on sale? That car was never fitted with the 2.0-litre Zetec inline four motor from the Focus, it would have been too thrilling for a car whose acceleration figures were measured in sleeps. The Fusion was also a crossover, but mainly straddled that vague plain between life and death. But hey Ford, if you fancied making the 24-7 Wagon today, we might be interested, just lose the emails. We don't need any more access to those.