Concept
TG's guide to concepts: the Aston Martin Bulldog
A 700bhp supercar is pretty serious nowadays. Imagine building one in 1979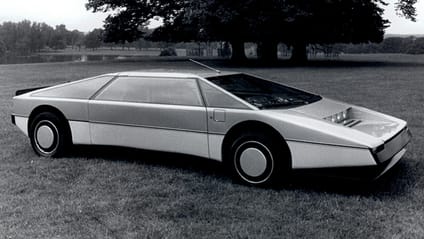 Angular, isn't it? The Aston Martin Bulldog might just be the wedgiest supercar of all time. It makes a Lotus Esprit look positively buxom. But the Bulldog is more than just a wedge of cheese on wheels. Despite hailing from 1979 – predating the invention of Microsoft Windows, the disposable contact lens and Kim Kardashian – the Bulldog has numbers to make modern supercars look underpowered.

Advertisement - Page continues below

Indeed, the Aston Bulldog's claimed power output is higher than not just a Lamborghini Huracan's, but a Ferrari 488 GTB's too. McLaren 675LT? Nope – the Bulldog is part of the seven hundred club. It's got 700bhp…allegedly. 

Somewhere in the middle of that enormous 15ft 6in body lives a 5.3-litre V8, boosted by a brace of turbochargers. Claimed output was 700bhp and 500lb ft, which, when mixed with the slippery drag coefficient, gave the car a theoretical top speed of 237mph, which would have made it by far and away the fastest street car on the planet back in the late Seventies. It'd also reach 60mph from rest in five seconds. Pulverising stuff. 

Advertisement - Page continues below

Aston was brave enough to test it at the MIRA handling circuit, where the car reached an indicated top speed of 192mph; still several miles per hour quicker than any road car on sale at the time. It'd be the best part of a decade before the Ferrari F40 brought 200mph performance to the road.

So why isn't the Bulldog a stalwart hall of famer in the world's fastest cars? Well, as you'll have guessed from it featuring in TG's guide to concepts, it was never actually sold. The prototype was intended to inspire a limited run of production for the most well-funded of Aston fans, but financial uncertainty kicked the idea into touch. The concept was flogged in 1980 for a then-steep £130k. Bit of a bargain by today's rates, then. How many cars do you know with electro-hydraulic gullwing doors?

A car that didn't have a financial case, a car that didn't achieve the heady numbers promised – it's easy to be cynical about the Bulldog. To snipe at it, to lump it with the general decline of the British car industry in the 1980s is easy. But look at it this way. It now has a spiritual successor, a radical, number-bending machine designed by Adrian Newey and carrying the Aston wings on its F1-like nose. Proper F1 performance, that anyone can legally drive.

The AM RB 001, pictured above, is arguably more astounding now than the Bulldog would've been in 1979. Which, given how spoiled we are with fast cars these days, is quite some feat.