Concept
TG's guide to concepts: the Saab PhoeniX
This gorgeous coupe was made to help Saab rise from the ashes. It didn't…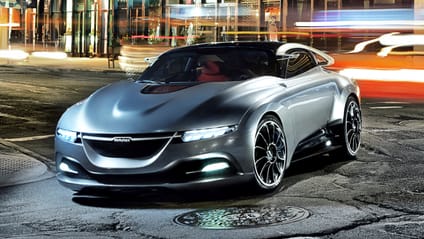 … But not for a lack of trying – this is one of the most striking and memorable concepts to ever emerge from Scandinavia. It's also the main reason we still think of all that could have been – if Saab had managed to pull itself out of the nosedive it took after the turn of the millennium.

Photos: Joe Windsor-Williams

Advertisement - Page continues below

But why do we have such love for a mostly front-drive two-door with the engine from a Mini and a badge preferred only by librarians and architects?

Well, for one, it was designed by ex-Pininfarina luminary, Jason Castriota, whose other credits include the gorgeous Maserati Birdcage, the astonishing P4/5 and the spectacularly speculative SSC Tuatara. 

Advertisement - Page continues below

For the PhoeniX, Castriota combined turbine-style wheels, flying buttresses (reminiscent of his work on the Ferrari 599), a glass cockpit and, in his own words, a "teardrop fuselage and canopy", highlighting Saab's aeronautical roots – as Saab was pretty fond of doing. 

 

Powering the PhoeniX is a 200bhp, all-aluminium 1.6-litre turbo, which was a healthy amount of power back then, even if it's pretty well outclassed these days. It's actually a BMW unit, and was used to power Minis of the day (albeit in lower tune) and it was a good thing. There's also 184lb ft on offer (199 on overboost), channelled through a six-speed manual. For a little extra get up and go, there's a 34bhp electric motor attached to the rear axle, which makes the PhoeniX all-wheel-drive.

The PhoeniX also ran an Android-based touchscreen entertainment system – years ahead of its time, and far ahead of the creation of Android Auto. There were other touches that screamed 'I'm a futurist and this is 2011' – rear-view cameras that replaced mirrors, exhaust-driven aero and scissor doors, to name a few. This was the avant-garde renaissance of Saab, a car to get investors and car buyers back on board and ensure the future of the Swedish marque.

But it wasn't to be – Saab couldn't sort out its financial turmoil, i.e. sell enough cars to pay for the parts and staff needed to make more, and went bankrupt.

Advertisement - Page continues below

This year, however, is when National Electric Vehicle Sweden (NEVS) has said it'll start building an all-electric version of the 9-3 – the road car that was to follow in the PhoeniX's footsteps (or is that wingspan?). So, while we wait (with appropriately low expectations) for electric-powered 9-3s to start rolling out of Sweden, let's remember what could have been, if we'd all just gone out and bought a Saab.