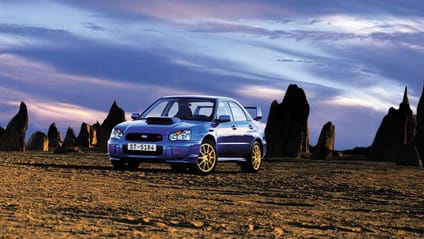 Building a car with proper duality is a tall order, but it's something Subaru has managed since 1998. A car that'll potter to shops then, when the red mist descends, weld you to a muddy b-road and spit you down it in a fit of wastegate-chattering, four-wheel-drive lunacy.

Needless to say, we like the Impreza STI (as do at least 42 of the audience members at every Top Gear filming, who all own one). It's not without its flaws though - cheap interior, woolly steering, and a slightly squidgy gearbox leap to mind - but if there was one in the office car park, getting your hands on the keys tended to involve the acquisition and distribution of slaps.

Worthy, then, of a Genesis-to-Revelation exploration of every car tuned by Subaru Tecnica International, champions of duality.

Advertisement - Page continues below

1998 Impreza 22B-STI

Beloved by men with woolly hats, and usually seen dump-valving around seaside towns, the 22B was the beginning of a Subaru revolution. The 22B-STI was the roadgoing equivalent of the 1997 Impreza World rally car, and emphatically wasn't a cynical marketing exercise. The engine grew to 2.2 litres, it got a close-ratio 'box, quick steering rack, swollen wheelarches, aluminium bonnet, and massive rear wing. Which, plainly, made it go faster. It was also finished in Sonic Blue Mica and fitted with gold BBS wheels. Which, you may notice, began a bit of a trend...

2000 Impreza S201 STI

The slipperier S201 got a power boost to 296bhp thanks to a tweaked ECU and modified exhaust and intake mods. Underneath, the suspension was reinforced, the anti-roll bars were swollen and it got a set of 16-inch forged alloys, developed by Japanese wheel kings, Rays.

Advertisement - Page continues below

2001 Forester STI II Type M

This was a brave move - take a high-top almost-SUV and make it into a flame-spitting STI. But with a power boost to 247bhp, special suspension struts, huge 16-inch front and 14-inch rear brakes and cooling ducts worked into the bodykit, the Japanese tuners nailed it.

2002 Legacy S401 STI

Based on the JDM Legacy saloon, the company threw everything it had at this. Each engine's pistons, con-rods and crankshaft were hand balanced, and STI fitted a lightning-fast 15:1 steering rack, a limited-slip differential, new exhaust, new intake setup, reprogrammed ECU, bigger anti-roll bars, beefed up cross member, meatier engine mounts, Brembo brakes, and big BBS rims. Shame it was Japan-only.

2002 Impreza S202 STI

Based on the competition Impreza, the 'bug-eye' model got a titanium back box, which reduced the system's weight by a huge 5.4kg. The unsprung mass was shaved down too - it got forged alloys and lightweight brake discs with a special alumite treatment. There was all the usual STI goodness on board, too - tweaked ECU, and heavier breathing air intake system.

2004 Impreza S203 STI

This was the Impreza with which Subaru planned to conquer Europe. So it made the STI version Christ-make-it-stop fast. The turbo grew, the exhaust was improved, the engine was balanced, it got a new wind tunnel-tuned aero kit, and there were bucket seats with a dry carbon shell. Weight was kept down to just 1445kg, and all the tunery resulted in 316bhp. Even a Petter Solberg-developed chassis couldn't stop it appearing in ditches across the country...

Advertisement - Page continues below

2005 Legacy Touring Wagon/B4 2.0 GT Spec B

These were effectively the same car, only one had a useful boot. Both were only lightly breathed on by STI, and modifications included 17-inch Brembo brakes, braided brake lines, 18-inch rims, lowered springs and some minor styling touches.

2004 Impreza WRX S204 STI

Tuned on UK roads, the S204 got performance dampers, lowered springs, bigger anti-roll bars, 18-inch BBS alloys,and special Brembo brakes. But the engine was, as ever, STI's focus. The pistons, con-rods and crankshaft were hand balanced, helping it make a useable 232bhp. Yeah, we'd go for the bat-poo crazy S203, too...

Advertisement - Page continues below

2006 Legacy Touring Wagon/B4 2.0 GT Spec B STI

Pretty much exactly the same as the last STI-tuned Legacy saloon/wagon, only with Bilstein dampers and a newly developed front suspension arm. Not strictly the turbonutter you'd expect from STI, but it made 276bhp before it arrived at the company's workshop, so we'll forgive it.

2006 Impreza WRX STI Spec C Type RA-R

Quite the memorable moniker, no? This one contributed to Group N and PWRC homologation requirements, and was a bit of a loon. It got a larger turbo, a bigger exhaust, lighter glass, thinner roof construction, reinforced strut tower braces, an aluminum boot lid and an air-cooled engine oil cooler, special Recaro seats, and production was limited to 300 units. It also made 316bhp, but the Japanese kept it for themselves - it was never officially available overseas.

2007 Legacy Touring Wagon/ B4 2.0 GT Spec B STI

The third incarnation of STI-tuned Legacys added a strut brace, larger 225/40R18 tyres, and lots of alcantara inside.

2008 Impreza WRX STI 20th Anniversary

Coilovers with tuned dampers were added, and outside it got a black front lip spoiler and rear wing, and 18-inch alloy wheels as standard. Inside, there were Recaro buckets with pink stitching to match the STI badge. Talking of which, the 'cherry blossom-red' logo was chosen because it's a masculine colour in the land of the rising sun.

2008 Legacy S402 STI

It got a twin-scroll turbo, funky straight-through exhaust system, 18-inch forged BBS rims, and wider front and rear bumpers with discreet aero advantages. But this was primarily a handling package - there were Bilstein dampers, upper and lower strut braces, bracing around the rear doors, and special STI 'pillow' ball joints.

2009 Exiga 2.0 GT STI

A seven-seat STI? Yep, this was another handling package from STI, and included upper and lower strut braces, a rear suspension brace, free-flow exhaust back box, a little roof spoiler, 17-inch STI wheels, and special alcantara seats. It made 222bhp and only weighed 1610kg. Shame it was Japan-only.

2010 Impreza WRX STI

This was a complete car from STI, and used lots of tech from its Nürburgring 24-hour race campaign. The R in the name signifies that this was developed for road use, which meant a healthy power boost to 316bhp and torque to 318lb ft. It got undertrays front and rear to improve aero, too.

2010 Legacy tS

The wagon and saloon got their handling tweaked so they were suitable for beginners, which meant strut braces, tuned dampers, and stiffer coil springs. Front and rear spoilers were added, as were tS logos, which stands for Tuned by STI.

2010 Forester tS

Another lightly tuned model, the Forester SUV got special front and rear lowering springs, which dropped it by 15mm, strut braces, and special bushings to stiffen up the wallow ride. As per protocol, there were also alloy wheels, a big back-box, and modified bumper-spoiler combo.

2010 WRX STI tS

Based on the four-door WRX STI, this was the ultimate WRX, and the last one we saw in Britain. It got a carbon roof, STI-tuned springs and dampers, strut braces front, rear, upper and lower, beefed up suspension linkages, stiffer bushings, an aluminium bonnet, front under tray, Recaro front seats, and the manual model got a ball-bearing turbo for added responsiveness. Only 400 were made, and sold strictly to the Japanese domestic market. Rubbish.