Dubai Motor Show
Dubai showed off some of its police cars at the motor show
Simple question, Internet: is this still the world's coolest police fleet?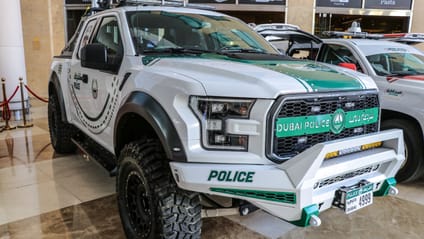 Audi SQ5

We know Dubai has an excellent fleet of police cars. We've shown you loads in the past. There are some 13 or so supercars and exotica liveried up in green and white, earning them a spot on any 'world's best police cars' list. A bit like this list.

At the 2019 Dubai Motor Show, a few of them were on display. And these aren't just show ponies – an actual Dubai police officer told TopGear.com that they properly use their amazing fleet for real.

So, this pair of SQ5s aren't the most outlandish, but as accomplished SUVs go they're bang up for the job.

Advertisement - Page continues below

Mercedes-AMG GT 4-door

Well, it certainly beats a battered old Vauxhall Astra, doesn't it? Biturbo V8s FTW.

Audi R8 V10

Even the police force of Dubai recognises the inherent brilliance of a naturally aspirated V10, and are keen to celebrate its prowess. Either that, or a liveried Audi supercar looks ace. Probs the latter.

Advertisement - Page continues below

Maserati GranTurismo

Well, if you're going to dress something up in police colours, why not do it with some style?

Bentley Bentayga

Chasing down crims is, one suspects, incredibly stressful. A very powerful, very fast, very luxurious and well damped, massive Bentley is, one also suspects, a fine tonic.

Ford Raptor

Oh god, don't look directly at it. DON'T LOOK! RUN AWAY! RUN!