News
Eight things you need to know: the new Porsche 911
Speed, turbos and… hybrids: the 992-generation 911 is nearly here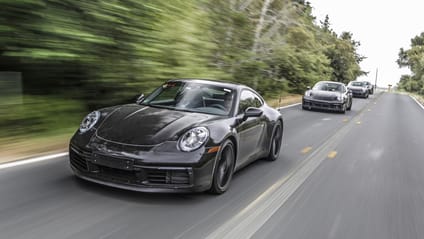 The engine has been heavily reworked

Thank emissions and consumption regulations for that. There's now piezo injection, an all-new intake system, an exhaust with a particulate filter, re-positioned intercooling, revised turbo housings, and more. It's all gathered around much the same 3.0-litre turbocharged flat-six block, which was introduced with the second-generation 991 that this car replaces.

They haven't moved it – that'd be a story in itself – but they have changed how it's attached to the body, making it stiffer. That'll be hugely beneficial when the drop-top arrives next year.

There have been some big changes in the chassis, too. The wheels have staggered sizes now; in the Carrera S that means 20-inch front and 21-inch rear wheels. The front track has been widened by 40mm and all Carreras will have the same wide booty of the GTS. Yes, no more narrow-bodied Carreras, all of them looking the same whether they're rear- or four-wheel drive.

Advertisement - Page continues below

Though even a car like the 911 isn't immune to ever-tightening regulations, the good news is that this Carrera S has 444bhp as standard, up 30bhp. That's the same as the outgoing GTS and will give it performance to equal the 997 Turbo just a couple of model generations back.

That means an easy sub-four second 0-62mph time, and a top speed in excess of 190mph. Plenty quick, then, and greener, too.

It gets an eight-speed gearbox from the Panamera… with a twist

Out goes the seven-speed PDK of the old 911, in comes an eight-speed version. Specifically, a re-engineered transmission from the Panamera.

It's not the extra ratio that's the big deal here, but the fact that the gearbox case has space in it for an electric motor. Which means – as we've explained here – it's hybrid ready.

Advertisement - Page continues below

The GT cars – GT3, RS – *might* get turbos

Naturally there'll be a 911 GT3, and an RS off-shoot, though everyone's keeping tight-lipped about those. Rumours persist that the GT department will switch to turbocharged engines, binning the glorious 4.0-litre naturally-aspirated flat-six, but we're not so sure.

If the idea of a hybrid Carrera is upsetting, a forced-induction GT3 might just send you into a meltdown. The GT department knows this, and is hopefully working on a solution.

There'll be lane-keep assist and adaptive cruise control as well as optional night vision, Achleitner being a big advocate of that having met a deer via his windscreen one night.

While those systems hint at a creep of autonomy in the 911, Achleitner's resolute that it's not, saying: "I think the 911 will be one of the last cars which will be offered with an autonomous system, because the 911 is still a driver's car, and we want to keep this character in the future for as long as possible." He adds that there's always an off switch, too.

The interior's a huge step forward

Sat inside, the engine feels pretty special – performance is mighty, the low-rev urgency forceful, though it revs happily to a 7,400rpm redline. There's a big analogue rev-counter ahead of the driver, framed by a pair of configurable screens, with a huge central touch-screen from the Cayenne.

There's the usual selection of drive modes, PASM suspension in the S, and a new 'Wet Mode'. It's now necessary, says Porsche, with such a light car on wide tyres. It joins the usual Normal, Sport, Sport+ and configurable Individual settings.

It feels as agile as its predecessor

There was no rain on our passenger ride along canyon roads around San Francisco, but what's obvious is that there's tonnes of grip in the dry, the 992 feeling every bit as agile (and more) than the 991 before it, at least as much as we can ascertain without actually steering it ourselves.

It rides with supple control, and there's more refinement too. Welcome when talking about the reduced sound of road roar from the tyres, but less so when sampling the EU car back to back with a US one, the latter sounding better as it does without the particulate filter on the exhaust.

Advertisement - Page continues below

You'll still be able to option it to high heaven

Being a 911, no two are likely to be the same, with Porsche offering all sorts of options. There'll be Sport Chrono with the active engine mounts, rear-wheel steering, the Sports Chassis sitting around 10mm lower, sports exhaust, the familiar optional PCCB ceramic carbon brakes as well as the choice of Porsche Surface Coated Brakes (PSCB). And that's before you've even started looking at wheels, seats, interior trim materials and driver assistance systems.