Electric
Jag I-Pace, Merc EQC, Tesla Model X and Audi e-tron: how do they compare?
The age of the long-range, posh, fast, electric SUV is here. Here's what we know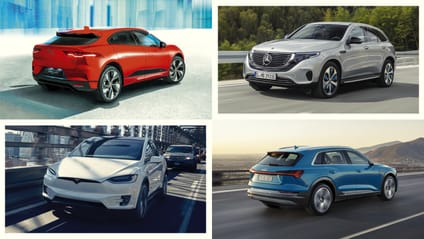 "When will those age-raddled dimwits in the century-old car industry get on and do what Tesla has been doing for years?" It's a question that's been rattling around planet automobile for years. At the Paris Motor Show we got an answer.

You wait years for a long-range, electric, posh, fast SUV to provide an alternative to the Tesla Model X, and then three come along at once. Side-by-side at the Paris show, Jaguar and Audi and Mercedes had their new entries. Jaguar is just beginning to deliver the i-Pace, Audi is taking orders for the e-tron and Mercedes will shortly follow with the production-ready EQC making its public debut here for sale next year.

BMW, having paused after launching the i3 and i8, had the concepts for its 2020 rear-drive electric iX3, and the 2021 all-singing iNext. Also don't forget that lower down the price scale, we had the Kia e-Niro and DS 3 Crossback e-Tense.

Advertisement - Page continues below

The field of four

I'm always chary of using the phrase 'Tesla rival', because Tesla ostensibly welcomes rather than resents other car makers rolling into its patch. In his now-famous 'secret masterplan' blog of 12 years ago, Elon Musk indicated Tesla was always meant to start a trend. He said: "The overarching purpose of Tesla Motors is to help expedite the move from a mine-and-burn hydrocarbon economy towards a solar electric economy."

So then, here are the Tesla not-rivals from Jaguar, Audi and Mercedes.

What took them so long?

Well Mercedes has been selling electric cars for a while. It made the B-Class electric, a perfectly useable car that no-one noticed, and three generations of electric Smart. Smart will be an all-electric brand by 2020.

Historical nugget: in 2009 Daimler bought ten per cent of a then-struggling Tesla and put its VP of future mobility onto Tesla's board. Musk himself said: "We were saved by Daimler." It sold out in 2014.

The VW Group, owner of Audi, has sold e-Golfs and e-Ups. Audi itself teetered on the verge of making an electric gen-1 R8. But Audi, like Mercedes, was unsure if there would be money in full-on mass-made purpose-made EVs.

Indeed there hasn't been, so far, as Tesla will attest. Share-price growth yes, actual profit, no.

Yet all three of these European companies realised about five years ago that they'd need to get into EVs if they were to meet corporate fuel efficiency targets. They figured that come the time the vehicles were on sale, the fast-charge infrastructure would be ready. Nearly, folks. Nearly.

Advertisement - Page continues below

Why SUVs?

It's one thing making cars the law demands you make. It's another getting the public to actually buy them. Jaguar, Mercedes and Audi were terrified of making EVs only to have the public turn up its nose. They decided to sugar the pill by building them in a shape that customers were giddily unable to resist. The SUV.

That's why we now have all these EVs, and why they're SUVs. So if the Jaguar, Audi and Mercedes come from similar thinking, how similar are they in the metal? And how close to the original, the Model X? Have a look at our handy comparison table.

How far will they go?

The vital question of range is extremely vexed. There's no common measurement standard. Mercedes, even though the EQC doesn't hit the roads for a year, is quoting the old, discredited NEDC cycle. Jaguar and Audi use the new WLTP standard. That's supposed to be more realistic but our drives in the Jaguar and Nissan Leaf show it's still a bit of a mirage. Probably the most realistic is the American EPA measure.

What's really frustrating is that there's no constant 'conversion factor' between all these. I've been looking at data crunched by Gordon Love of EV & Infrastructure Analytics. Nissan's new Leaf scores pretty similar results for WLTP and EPA (168 miles vs 151), but the Jaguar's 292 miles WLTP takes a big fall to 234 miles EPA. By the same token, you can't predict, from knowing a NEDC number, what the WLTP will be.

The Jaguar's EPA range is actually worse than the Tesla's even though it has a bigger battery. Yet the Audi's, on WLTP, is worse than the Jaguar's, even though it has a bigger battery than the Jaguar.

It's all a bit rock-paper-scissors. And the Mercedes, even though it uses what is the most lenient range measure of all, the NEDC, has a shorter range than the Jag's which is measured by WLTP.

It's possible the Mercedes suffers by being heavy. Mercedes' quoted weight is 300kg more than the aluminium Jaguar, and actually even more than the bulky Tesla. Hmmm: with so many months until the on-sale date, is Mercedes sandbagging with its range and weight claims? Anyway, Audi still hasn't come up with a weight figure. And the e-tron is the slowest-accelerating of the four, even in Audi's 'boost' mode.

Charging speed

Let's plug in. Audi fields the biggest battery at 95kWh, though Tesla will sell you a 100kWh for a £17k supplement over the 75 pack. The Jaguar follows at 90kWh. Mercedes makes do with a surprisingly tame 80kWh as the one-and-only choice for now.

All other things being equal, more battery means two things: more range, and longer charging. But they aren't equal.

The Jaguar, with the slowest AC charger and a big battery, will spend the longest tethered to a cable. Unless you are at a rapid DC charger. Even then though it loses out to the Audi, which is equipped to draw 150kW… when those posts become available. Right now the quickest DC chargers in the UK are 50kW, so we included a 0-80 per cent time for those.

Except of course the Tesla DC superchargers are 120kW, giving the Model X an advantage for now. It's also cheaper for Tesla owners to use superchargers – no longer free-for-life, but they give you 400kWh of free credits, about 1,500 miles' worth, to start off with. By the way, the Tesla's AC charge rate of 16kW only happens if you have three-phase.

Remember the blissful simplicity of arriving at a garage and filling any petrol car with the petrol from the same pump at the same rate?

Over-the-air

It wasn't only in being electric that Tesla made the rest of the world look flat-footed. There was that business of over-the-air upgrades. Overnight, the fairies would bring you a new car. So sure enough Jaguar and Audi are planning OTA upgrades. Audi is doing some pretty fancy stuff, allowing 'hobbled' hardware to be enabled for a fee. For instance, you will be able to pay a sub and get the standard LED headlights to go from passive to active-matrix.

Advertisement - Page continues below

Design

The Tesla is clearly the American-supersized one, over 5.0 metres long and able to seat up to seven. For closest price matching we've taken the base spec, with a 75kWh battery and standard power, not the P100d with its 100kWh pack and 3.0sec-to-62 performance.

The Tesla, by its sheer size, commands onlookers' attention. So do its 'falcon wing' doors, which, if you can wait for their painfully slow operation, reveal a fabulously big opening. But mostly it looks like a Model S – itself an unradical design – after a hall-of-mirrors height-distortion. The only electric giveaway is the absence of a grille.

The Jaguar fakes up a grille, but otherwise isn't afraid to display its new propulsion. It ditches the classic Jaaaaag long-bonnet look in favour of cab-forward proportions that show it's propelled not by a lengthy crankshaft but by compact permanent-magnet rotors.

The Audi and Mercedes go for a conventional SUV look. Remember the marketing logic that begat them: 'people want an SUV so an SUV is what we'll build.' The Mercedes uses smoother surfacing than the company's piston-driven GLE, but the proportions aren't much different. Same with the e-tron and the Q8.

The EQC and e-tron also use big blank plastic versions of their brand's trademark grilles. Like the fake timbers on a Morris Minor Traveller or a 1930s mock-Tudor semi.

Cabins

If the Jaguar is the most avant-garde on the outside, inside the cabin it's the Tesla that takes the future-shock prize. The windscreen that wraps over the top of the cabin pours light (too much sometimes) onto the vast central screen that takes care of almost all controls. The whole visual architecture feels non-automotive - a minimalist lounge with a vast telly. In truth a big screen can be hard to use when you're joggling down the road.

Which might be why Jaguar and Audi have spilt their central screens into two. The Mercedes doesn't have a lower screen, keeping actual buttons for its climate controls. Its upper screen uses Mercedes' new user interface, previewed on the A-Class, and it's pretty satisfying.

Otherwise the Mercedes and Audi are very like the other top-end petrol SUVs from their respective houses. Though the Audi does have extra screens for the optional lipstick-cam drag-reducing door mirrors.

Advertisement - Page continues below

Let battle commence

Yeah, there's still a lot to learn about the e-tron and EQC. We need more stats on range, and most of all we need to drive them. But at least after endless teasing we've now clapped eyes on the final production cars, and got a sense of how the four-way big-EV-SUV race is lining up.

Maybe Tesla still doesn't see them as rivals. Tesla shareholders probably do. After all, sales of Teslas in Europe are already falling as buyers swing towards the local teams. But whatever, for Jaguar, Audi and Mercedes it's basically all-out war.