You are here
Pininfarina's next hyper-EV will be a £250k+ GT-crossover
Between 600bhp to 1,000bhp for Pininfarina's 'Pura Vision', here in 2021
Having made a 1,900bhp splash with its Battista hypercar, Pininfarina isn't stopping. The next stage is a plan for at least two more fast and radically stylish luxury EVs on its own unique platform. This image teases the outline of the first one, an amazing GT-crossover-estate confection. What you can't see is its glass bubble cockpit.
Hang on. Aren't they running before they can walk? After all, the first Battista won't even be delivered until the end of 2020. And only about a third of the 150-off limited run have been bought.
Still, they're seeing 'expressions of interest' in the Battista turn into firm sales at a solid rate, by using a spectacular sales technique. Potential customers get track driver training one-to-one from their in-house test pilot Nick Heidfeld. Then they get to drive an actual gen-1 Mahindra Formula E car. Apparently it sort of throws chequebooks out of pockets.
The Mahindra connection is important, as the Indian conglomerate owns Pininfarina, so there's solid funding behind it. Automobili Pininfarina's CEO Michael Perschke tells Top Gear the investment plan is in place for 'up to €1 billion' (£850m) for the Battista, and the development of the new platform and two cars off it. I guess that's fair enough – it's not dissimilar to the amount McLaren spent on building its factory and getting the first couple of cars into production.
The first of those post-Battista cars will, in size and height and purpose, be something like Porsche's Mission-e Cross Turismo (which is confirmed for production as a Taycan offshoot). But nothing like the Porsche in looks.
Top Gear has seen a scale model of the concept car, called Pura Vision, that'll be shown at Pebble Beach in August 2020, to celebrate Pininfarina's 90th anniversary. The plan is to put the production car on sale in 2021. Design Director Luca Borgogno says it won't be so very different from the Pura Vision.
It's influenced, he says, by a fabulously futuristic glass-roofed 1953 Pininfarina concept called the Alfa Romeo Superflow 4 (below). That one never went further because being under glass on a sunny day felt like life in a rotisserie. The new one will have driver-variable electrochromic glass to cut light and heat. The glass takes in almost the entire roof. The pillars and door surrounds are the very minimum thickness for the strength needed, and they too lie underneath the smooth glazed bubble.
The bodywork below the glass is beautifully sculptural, with very few creases but lovely organic-looking intakes and outlets. The only embellishment are very sword-like chrome blades, themselves in places you wouldn't expect.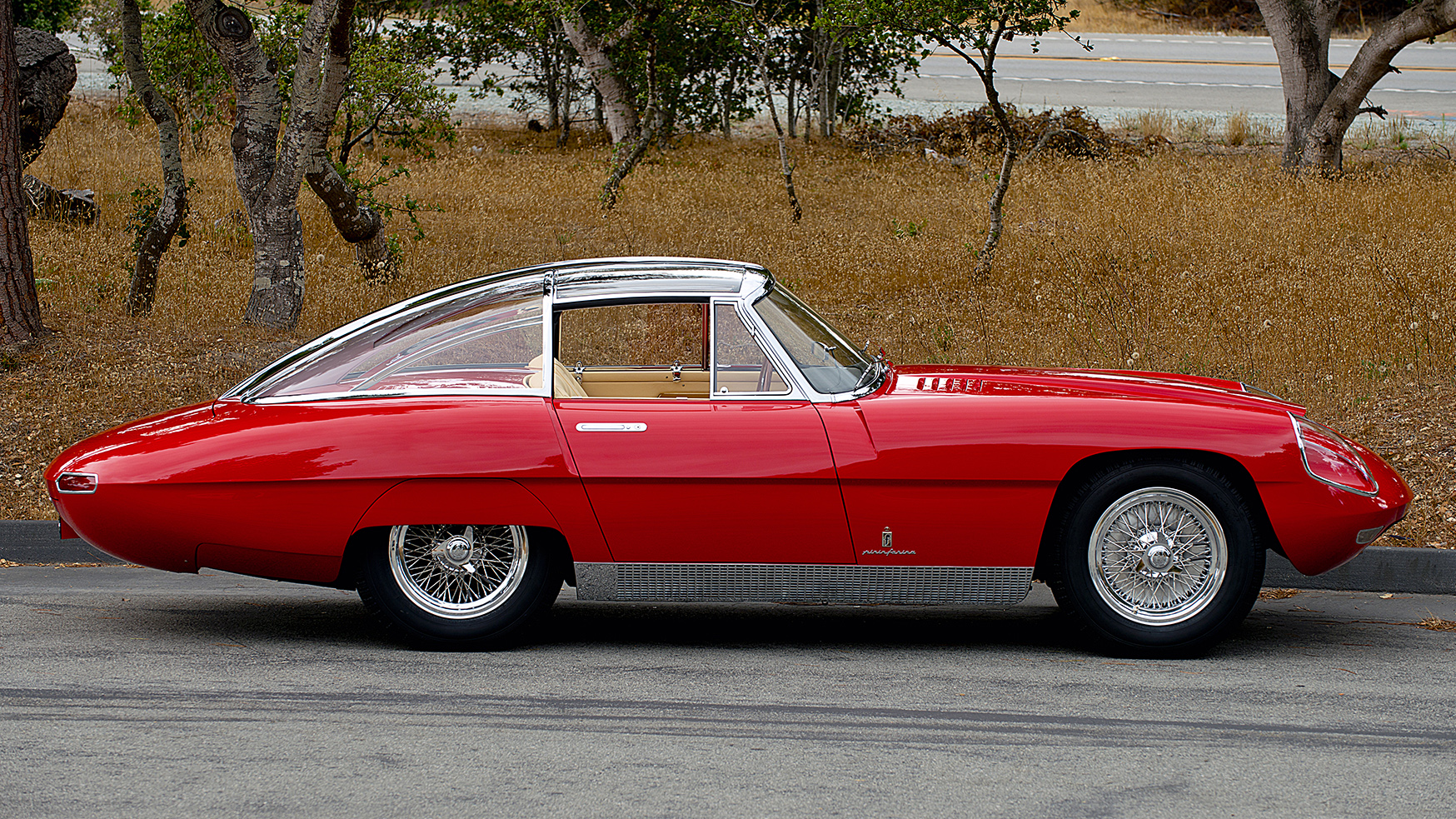 Borgogno says the interior has nautical influence, with huge swathes of wood on the deeply curved dash. Or carbonfibre – it'll be super customisable. The concept has suicide rear doors, but the real thing has the normal kind. That'll help keep the structure strong in the absence of a metal roof.
It'll be fast. Borgogno says 1,000bhp for the top version, with maybe a 600bhp 'entry level' version. All will have three-motor torque-vectoring 4WD. The all-wheel-drive isn't just for dynamics, but for slippery and bumpy soft-roading. It should get decent range, with a 125kWh battery. Charge fast too, as it will run at 800V, as per the Taycan.
Entry level being £250,000, running to maybe a third of a million for the top one. So we're in Bentley Bentayga territory. Of course it won't be that practical, because it's not so roomy and has a smaller boot because the upper body is so slim. Still, you can't put a price on flamboyance.
Unlike the Battista, which is basically a Rimac platform and power system, the next Pininfarina cars will have their own platform. Borgogno says that's vital to get the proportions that make his wide-hipped concept so striking. To do the new platform, Pininfarina has teamed up with solid partners. Bosch is heavily involved, and the metal body structure is by vast industry supplier Benteler.
Who's it aimed at? The boss Perschke points out that by 2021 there will be hundreds of Tesla S and X and Taycan owners out there, some looking for their next car. He only needs to sell 1500. "Lots of people bought a Model X but could afford a much more expensive EV. It's just that it didn't exist. Then there are the Bentayga and Urus customers."
Pininfarina is an old coachbuilding and design name, but a newcomer to own-brand manufacture. That makes it just one of dozens of newcomers aiming at the high-end EV market. How will it be different? Don't all electric cars kinda feel the same anyway?
"For us, design has to be the number one thing. Exterior and interior. We are Pininfarina. Also materials, the touch and feel. That's our strength and heritage. And we'll have best in class range because of our battery packs and 800V fast charging. We have taken on senior engineers from Ferrari and AMG, so dynamics will be strong too, not just performance but ride and handling."
For all things electric, visit Top Gear's shiny new hub