Rimac: supercar bosses have to be "good drivers"
Mate Rimac talks us through his car history, and the time he slayed a hot rod in an E30
"Now we can talk," Mate Rimac beams to TG.com. We've finished going over the work stuff – the next Rimac supercar, his company's 'MP4-12C' moment, and a track-focused C_Two – when we pull on a thread he's mentioned a few times throughout.
He loves cars. Proper petrolhead, which is a strange dichotomy considering his company is the hot name in electric supercars right now, working with luminaries such as Porsche, Koenigsegg and Pininfarina. But no, petrolhead through and through.
"I don't know why I'm a petrolhead," he tells TG, "because my family didn't have anything to do with cars. I was born with it I guess. My mother tells me stories that I used to pretend that my hand hurts, only so she'd put me in the car to make me stop crying. This is before I could walk or talk.
"She has all my drawings from when I was in kindergarten and school, and always I'd be drawing cars. I've been crazy about them all my life." He checks us through the list: cycle licence at 12 years old, moped licence at 14, motorbike licence at 16, driving licence at 17. "As soon as I could, I did everything." His first car? Um, a diesel Skoda Octavia. Best to move on.
Despite Mate's repeated requests, he says his parents never listened nor indulged the racing bug that bit him, so he went through an alternative route. "I bought an old, rear-drive car and some spare tyres," he laughs. That 'old, rear-drive car' was an E30-generation BMW 323 (respect). At least it was at first. Mate and his friend who incidentally was a mechanic, swapped in a 2.5-litre straight-six from the E34-generation 5 Series, and bolted on a shorter diff.
Both he and his mechanic then began merrily drifting that little E30 at special drift events, until one fateful day, the engine blew. The official story goes this explosion was Mate's turning point, because he replaced the six-pot with an electric motor and battery setup. From there, everything would be geared towards electric propulsion, the culmination of which sits just behind us, all 1,887bhp worth of hulking C_Two prototype.
It was fate. Destiny, even. The universe reaching out its hand, and Mate reaching back. Or… not, as what really happened was less poetic. "The real story is I wanted to build in a V8 from the E39 M5," Mate tells us. Lightweight E30. Big M5-sourced V8. As collaborations go, it's up there with Paula Abdul and MC Skat Kat. Perfection, in other words.
All these guys who used to laugh at me and my silent little E30 started cheering
"I noticed some Americans had built an E30 with that E39 V8, with turbos. So that's what I wanted to do. But I couldn't find the right car at the right price. There was a crashed E39 M5 [presumably with the engine intact], but it was really expensive, €20k."
Indeed, ploughing twenty thousand Euros into an old E30 might seem like a solid investment for us, in reality it's a little painful. But why, we ask, go for an electric setup? Why not just a cheaper BMW six-pot?
"I was a champion in Croatia first at a local level, and then at a national one, for electronics. I won loads of competitions for electronics innovation, had two patents when I was 17… so on the one side I was mad about cars, but also crazy about technology.
"Plus, Nikola Tesla is from Croatia, and he invented the electric motor. I was fascinated by him and his invention, and I'd always thought about building an electric car."
Step forward, Mate's explodey E30. Initial efforts to convert the E30 into an e-E30 concluded in something "heavy, not very powerful and with limited range". So he began working on his own componentry.
In its final evolution, his little BMW was an absolute monster: 600bhp, 664lb ft of torque and 0-62mph in 3.3s. It broke five records for electric car acceleration in its FIA class, even if, as Mate fondly remembers, it was "super wobbly and very tricky to drive"; a result of sticking the motor in the gearbox tunnel and batteries on the rear seat. "I realised it doesn't make sense to convert combustion engine cars, you have to build one from scratch," he says, alluding to a very early business plan to make money transforming old biffers into EVs.
Still, he had fond memories of whupping combustion engine cars on the drag strip. "I eventually had this drag race against a 1,000bhp+ American hot rod – big fire-spitting V8, huge tyres. I was sitting next to him thinking 'oh sh*t'.
"The lights turned green, and I saw he had a bit of a bad start, whereas I had a perfect one. I can hear this car screaming behind me – I don't hear my own car, only his – and start pulling away more and more, and I won.
"Then all these guys who used to laugh at me and my silent little E30 started cheering. That was a great feeling."
Almost as good as that time he drove a Hyundai rally car. Hyundai of course, bought a stake in Rimac, and one day treated Mate to a WRC drive. "I got a passenger ride at first and saw the driver's foot and hand motions, and thought, 'no way, I'm going to embarrass myself driving this'.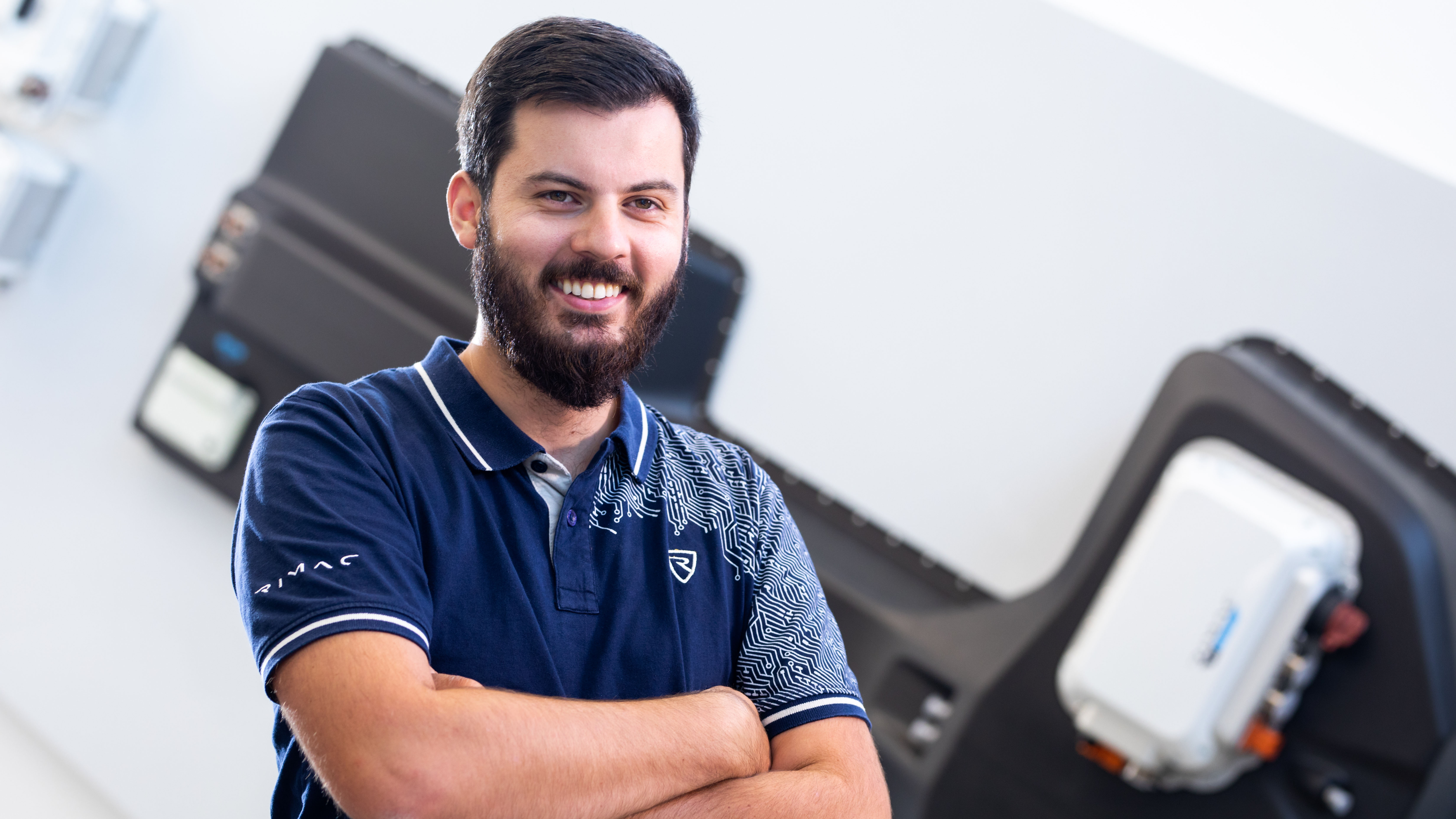 "But after a few passenger laps, I got in… and absolutely nailed it." He's smiling a lot now. "I couldn't do it on asphalt, because those drivers who do that are like machines, but on gravel, I was like a professional."
I ask if Mate thinks he's a handy driver. "Oh yeah. I'm usually modest, I think, but if there's one thing I do well, it's drive. I think it's important that somebody who makes decisions [about car dynamics and engineering] is a good driver."
He talks at length about marrying the technology and being able to, in a nutshell, skid a quad-motor electric hypercar around a corner. "You have to understand the technology behind the car, but also be a good driver to understand what the car should do. If you have no idea about what's underneath, the engineer can tell you whatever they want. You have to challenge it."
How does he challenge himself, aside from drifting Hyundai rally cars on gravel stages and 'nailing' it? "For ten years after that E30, I basically didn't have a car because I put everything into the company. Then, after all that time, I bought an M5 [the current generation].
"I also bought the first generation BMW Z4 M. I don't have a Concept One, because I'm not a 100 per cent shareholder of the company – if I want a product, I have to pay for it. The C_Two, I really want to buy. I will have one eventually."
Our time with Mate comes to an end, so we ask about a dream three-car garage. Without hesitation, he blurts out "an E30 M3, definitely. A Johnny Cecotto edition". Boy loves his Beemers, that's for sure.
What else? "A C_Two, obviously." Then a pause. "I guess I need something with four seats?" TG humbly suggests this is his dream garage, he can have whatever he desires. "OK, the third one will be LaFerrari. I've driven that car a lot. The design, the sound, the look and feel… it's a very special car," he says with a smile.
A special V12 hypercar. He did say he was a petrolhead, after all…
For all things electric, visit Top Gear's shiny new hub