Electric
Tesla Model 3 vs Hyundai Kona vs BMW 330i
Tesla's Model 3 has got two markets to conquer: the eco and the enthusiast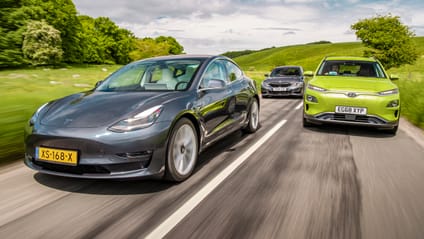 A standard Top Gear group test goes like this: take cars of the same size, same price, aiming at the same buyers by doing the same job. Tease out which of them is best at that job. Write it down. But today's group test, you'll already have discerned, is different. A regular buyer's-guide kinda test this is not. Truth is, anyone contemplating buying any one of these three probably wouldn't even begin to entertain any of the others. At first blush, they make a pretty much random convoy.

Allow me to explain by drawing a Venn diagram in your mind. Two overlapping ovals. In one: 'long-range EVs that don't cost silly money'. In the other: 'brilliant sporty saloons'. Wherever you look, these ovals are both pretty sparsely populated. If you're looking for a sub-£40k, over-250-mile EV, the world offers only three choices, and two of them are crossovers from Hyundai-Kia, the Kona Electric and the e-Niro. The other is the Tesla Model 3. And the great sporty saloons? We recently proved that among the petrol choices the new BMW 3 Series rules the roost. But of course there's now another one driven by another force, and experience in the US tells us it's pretty great too. The Tesla Model 3.

Photography: Jonny Fleetwood

Advertisement - Page continues below

So there the Tesla is, sitting in the intersection of our diverse Venn. Should we have had a plug-in hybrid? Well, the PHEV versions of the BMW as well as the C-Class and Volvo S60 are all unavailable on account of model changeovers. Being out of reach is a theme of this test. The Tesla and Hyundai are both sold out well into next year.

Such is the constantly-changing nature of Tesla's line-up, the day after these pictures were taken, Tesla withdrew the version pictured here, the Long Range Dual Motor, from the UK line-up. Despite the fact they've been taking deposits on it.

For a couple of months you could buy only the RWD Standard Range Plus with 258 miles WLTP (less than the Hyundai's 279) for £36,490, or the 329-mile, crazy-fast AWD Performance, which at £49,140 seems a fabulous bargain. Now, Tesla tells us the Model 3 Long Range Dual Motor is back on sale, completing a three-model range once more. It costs £45,490.

You'd think that given the difficulty of finding EVs to compare, they must be quirky novelties. They aren't. They're entirely mature products and drive like it. The engineers have done their job. It's the planners and production people and accountants who've been flat-footed by demand.

Anyway, let's ride the unicorn. If you want a fast drive down a road of unpredictable corners and surface friction, the Tesla's your car. Even beyond the BMW. Even without the 'Performance' powertrain, this Model 3's torque – immense, instant and wholly precise and predictable – and colossal all-drive traction combine to do the business. It also changes direction cleanly and in a tight, smooth corner, the traction control has enough humour to allow you a little oversteer. At times it feels its mass – braking over a crest shimmies the tail, and going in too hot brings messy understeer. Big dips and high-frequency corrugations can both stretch the damping beyond its natural decorum, but really that's being picky.

Advertisement - Page continues below

The Hyundai too has a super-responsive powertrain but it can't really make the most of it. It's by no means a soggy set-up, but out of slow corners or roundabouts, traction can be slippery. And bumps bring torque steer too. When you crack on, it pitches and sometimes hits the suspension's bumpstops, but then it's a small crossover and that's how small crossovers are.

It's not how 3 Series' are. The 330i is fabulously fluent, its steering at one with your hands. When the going's good, its whole being communicates with you, yet when the road turns difficult it isolates you from the worst effects, yet still tells you enough that you can make the most of things. It's huge fun, even if it's not as quick out of slow corners because the drive goes only to two wheels. But as the Hyundai reminds you, it's the right two.

At low to medium speeds, the Tesla will always have a more scintillating answer to your right foot than the BMW. But once the BMW is in the right gear and has spooled up its turbo (quick by ICE standards but dozy in comparison with harnessing the rotational forces from electromagnetism), the 30i is an exhilarating powertrain. The loss of two cylinders from BMW's classical half-dozen isn't too grievous: among 4cyls it's in fine voice. And even if you don't crave the music of pistons and are happy with the whirr of electric drive, the sound of an actual engine is a useful clue to speed.

The BMW also has more progressive brakes than the EVs too. There's a sort of turbo-lag in the braking of both of them as their processors juggle regen and friction braking. You notice it mostly when you're gently easing down – stop hard and there's nothing to complain about.

In real-world acceleration from rest, the Tesla Dual Motor munches the other two. The Standard Plus has similar figures to the BMW, but it's more accessible and effortless. At bigger speeds, the BMW's acceleration tails off less than the Tesla's. The Kona might struggle for traction and have a power deficit, but as in the Tesla, initial departure is simply press 'n' go.

When they're accelerating, the EVs are quiet in comparison with anything combustion-powered that isn't a Rolls-Royce. But on a motorway the BMW is quieter. It's also calmer-riding than the Tesla, which doesn't deal with sharp potholes as adroitly. The Hyundai suffers roll-rock because you sit higher, but at town speeds its comfort isn't bad for a crossover.

Perhaps surprisingly, the 3 Series still has more rear space than the Tesla, at least for the two who aren't sitting on the centre tunnel. The Hyundai is more cramped again in the back, and its seats-up boot is a whole lot smaller. But then it's smaller overall, an advantage for most city driving and parking.

The Tesla's cabin speaks eloquently of its creating team's need to question the received wisdom. It's simply, starkly beautiful. Apart from the stalks there's no calligraphy or icons to sully its plain surfaces. The only hardware switches are the little mouse rollers on the steering wheel – mysterious at first, but then they have multiple functions that are mostly pretty easily committed to muscle memory, such as audio and cruise control. Then, if you're in the right menu, even steering column adjustment.

And that giant screen, with its clean fonts and gorgeous graphics, its strokable responsive touch-sensitivity attaining near-erotic levels. Another piece of genius from the Silicon Valley people – as when they started making electric cars from scratch – because they hadn't got the stuffy old car-industry memo that said it just couldn't be done.

Except, in this case it can't. It might be usable on a 30mph choked California freeway with autopilot engaged, but in our conditions and speeds it's vastly frustrating. The speedo is too small, and opening menus – even to adjust mirrors or wiper speed – involves a succession of pop-ups and dismiss boxes that are too small to be reliably hit. The screen's size and floating mount means there's nowhere to brace your hand, so your outstretched jabbing fingertip loses accuracy as you bounce along the road. Driver distraction seems to be have been so far from Tesla's mind that there's even a full web browser available on the move.

The BMW's dozens of hardware buttons don't have the same blank-slate visual appeal, but with practice they can be operated by feel alone. BMW's new simulated dials on a screen are less clear than the hardware dials that went before, and the new iDrive probably has too many functions. But if you buy a base-model 3 Series you have a simpler system (still connected for traffic etc) and actual dials, and in the future we'll probably look back on that as an industry high-water mark for attractive clarity.

Advertisement - Page continues below

Hyundai inexplicably lowered the tone of the Kona cabin by spraying most of the dash in an awful fake matte silver as per a £49 microwave. And the inhomogeneity of the graphical textures and fonts on its displays looks cheap too. But the whole control and information layout is easy to use, and the connectivity straightforward.

The outside of the Kona is a retinal assault, what with its jiggy plastic cladding and randomly distributed lighting. Drive a 3 Series and you melt into the background, but this generation is a well-finessed job. The amorphously rounded Model 3 announces itself with a dolphin nose that's friendly if not pretty.

So, after a day's driving, time to refuel. No probs with the BMW, obvs. New Tesla buyers pay for Supercharging at 24p per kWh. It's stunningly effective and available as advertised. Trying to get the Hyundai charged on an Ecotricity motorway CCS point was slower (by a factor of three versus the Tesla), more frustrating (we had to phone to get the charger reset), more expensive (30p per kWh because I use a different supplier at home) and there was just one point available at M4 Membury. Elon Musk makes a noise about wanting to encourage us all to drive electric even if not in Teslas, but won't take the simple step of making his chargers – which now have CCS plugs – available to other cars. Never mind – you'll normally charge your EV at home, and that's under 4p a mile. Both these EVs can make close to their advertised range when driven gently, but the Tesla doesn't want you to drive gently, does it?

Advertisement - Page continues below

A simple 1-2-3 verdict doesn't tell the full story. The basic, £31k, 39kWh Kona is admirable for its price, although the base-model RWD Tesla seems a bargain too. The Kona's electric system works well but it's not a great car because no small crossover is, and that doesn't repel their droves of buyers. The Model 3, though, is a great electric car, and an intriguing and extremely good car, full stop. That makes it absolutely a 3 Series alternative. Emphasis on the alternative.