News
Elon Musk says Tesla will quit California over coronavirus lockdown
"Frankly, this is the final straw" says boss
Elon Musk could be about to rage quit California. He's expressed fury on Twitter over lockdown restrictions in Alameda County where the Tesla Motors Fremont factory is situated, and tweeted the following barrage over the weekend:
Advertisement - Page continues below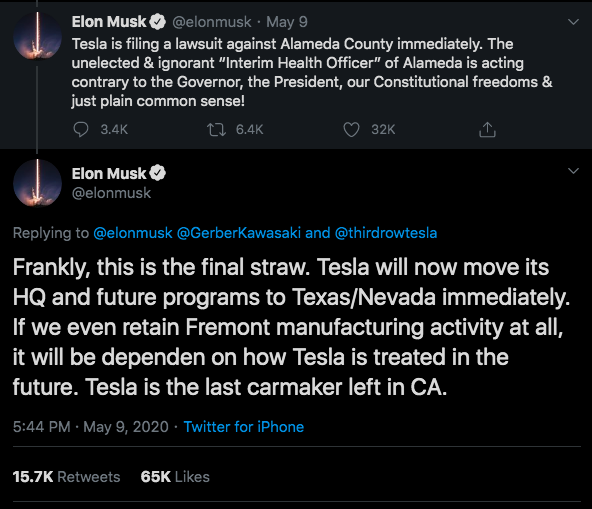 Musk continued tweeting, appealing to followers to protest to their local government officials over the issue and comparing the Alameda County lockdown to other nearby counties which he stated had been suffering 'no ill effects' from continued industrial operation.
Local government in Alameda does not consider Tesla manufacture to be an 'essential business' and has therefore been ordered to be closed until the end of May at the earliest, following an original lockdown beginning on 23 March.
While lots of carmakers globally are beginning to start production again, with the likes of VW, Ford and Porsche all reawakening productions lines, Tesla remains dormant. It's the only carmaker based in California, with CEO Musk repeatedly voicing frustration in recent weeks at what he sees as over-zealous, unconstitutional measures against personal liberties in the US.
So far, more than 80,000 people are known to have died from COVID-19 in the United States, with more than 1.3 million known cases recorded. Both figures are the highest tolls for a single county in the world.
Advertisement - Page continues below
Earlier in May Tesla shares saw $14billion wiped off their value after Musk tweeted that he thought Tesla's stock price was too high. In, erm, mildly better news, the Tesla Model 3 was the UK's best-selling car in April, while the market as a whole contracted by 97 per cent.
Have a baby, lose a fortune, take on the government – it's all in a week's tweeting for Elon Musk, who also had time to record a podcast with Joe Rogan in which he said the 250mph Tesla Roadster now won't arrive until after 2022, as a 'dessert' once the Cybertruck and Semi have successfully reached full-scale production. Place your bets what happens next.
Top Gear
Newsletter
Thank you for subscribing to our newsletter. Look out for your regular round-up of news, reviews and offers in your inbox.
Get all the latest news, reviews and exclusives, direct to your inbox.