News
Feast your eyes on Top Gear's flying cars gallery
You've seen the Singer ACS rally car mid-flight, now it's our turn...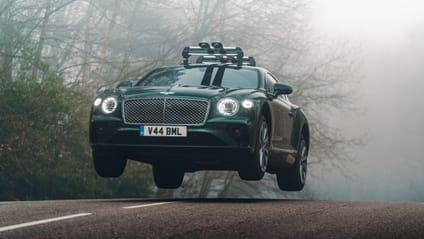 Earlier this week, we brought you news of Singer's new rally car, including some splendid images of it hurtling through the air at great speed. Impressive, no?

Anyway, that got us thinking. What cars have we captured in similarly, er, lofty, positions? So we went trawling through the archives, and decided it only fair to share some of our best shots with you. You know, like this two-tonne-plus Bentley Continental GT. We were just testing the staying power of the roof rack, honest...

So grab a cuppa, click through, and enjoy. And remember: please don't try this at home...

Advertisement - Page continues below

What else is there to do when in the desert - and in a Toyota Hilux - than to find the tallest dune and attack it at speed?

Well, it doesn't have quite the finesse of the flying cars in Blade Runner, but it's not a bad effort from the mighty BMW 1 Series M Coupe...

Advertisement - Page continues below

Little wonder the Ford Fiesta has been the UK's best-selling car for 11 years on the trot with tricks such as this...

Dodge claimed the 840bhp Demon was "the world's first production car to do a wheelie". Naturally, we had to go one step further...

Not your traditional drag race, but then again, this wasn't a test of speed, more... who could get the best air, bro. Hennessey F-150 VelociRaptor or Mercedes G500 4x4 Squared, which wins it for you?

We can't imagine many Lamborghini Huracan Evo RWD owners can claim to have taken flight in their £150k+ supercar, but it's nice to know the car's capable of it. You know, just in case

Advertisement - Page continues below

You might have seen the new Defender advert. It's the filming of a sequence from the new Bond movie No Time To Die. But anything the new one can do, the old one could too, right?

Turns out the new GR Yaris isn't the only WRC-inspired Toyota. The GT86 is capable of a few tricks or two, too...

Advertisement - Page continues below

What's that? Can a Ford Ranger Raptor weighing over 2.5 tonnes fly, you ask? It would seem so...

The Volkswagen Golf GT: for decades, the bastion of sensible hot hatches. Just not here.

We answer all the important questions on our supermini road tests. You know, 'how long's the warranty?', 'what's the best colour for hiding dirt?' and 'where will it finish in Rally GB?'

If their facial expressions are anything to go by, the Ariel Nomad did not provide the First Class flying experience they were expecting. No hors d'oeuvre or warm flannels here...

It might look fun, but if you haven't tried it, then here's what you need to know: sand is not soft, when you hit it, really, really fast... Still, a Dakar car is tougher than most.

What makes a good hot hatch? Well, it needs to help you live your life, and it needs to be fun to drive. With the emphasis on the latter. The old Vauxhall Astra VXR seems to have it nailed here.