First Look
Eight things you need to know about the new Volkswagen Golf
The eighth generation Golf is deeply clever. And it has the Joker's face...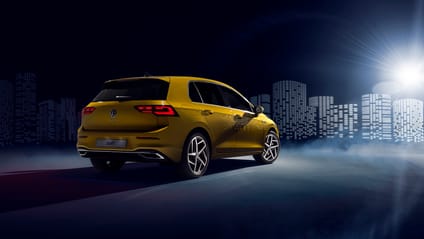 Stuff like adaptive cruise control, auto high-beam, traffic-sign assist, Apple CarPlay and so-on normally needs to be optioned from build. Not so here - owners can add select bits of equipment later by visiting the 'Shop' in the Golf's infotainment system. 

They pay their monies through their VW ID, then the software is sent over-the-air to their Golf to remotely activate the feature. How very... Tesla. This can also be done temporarily - so if you just want ACC for a long trip, but usually drive around town, you can effectively 'rent' it for as long as you need it. The Shop is also used to buy data plans (all Golfs have a built-in eSIM), subscriptions to services and various other things. 

Images: VW & Philipp Rupprecht 

Advertisement - Page continues below

There will be a GTD, GTI, GTE and R

VW has confirmed there will be fast versions of the new Golf. A fast diesel (yes, really) in the form of the GTD, a fast front-wheel drive petrol in the GTI, a plug-in hybrid GTE (pictured) and 300bhp-plus all-wheel drive Golf R. 

Of course, when we cornered Jurgen Stackmann (Member of the Brand Board of Management responsible for Sales, Marketing and After-Sales) at last month's Frankfurt Motor Show he said "if there is a future for R it must be electric". It remains to be seen to what extent the MK8 Golf R will be electrified, though Lars Hentschel from the powertrain department tells us his team is working on a few different options for future electrification, including Audi SQ7-style electronic compressors. Of course, this particular Golf R may not be electrified at all. That could well be another generation down the line. 

We know nothing about the GTD and GTI besides that they're definitely happening, though it's unlikely VW will stray too far from the established formula. VW has been a little more open about the GTE, which will use the same plug-in drivetrain as before (a 1.4-litre petrol engine plus battery and e-motor, driving the front wheels through a DSG gearbox) but with a bigger battery. So whereas the old car could do less than 50 km on e-power, the new one ought to be able to do nearer 70. There will be no e-Golf - its successor is effectively the ID.3.

There will be a Golf MK9. Probably

Think about it - when this Golf comes up for replacement in seven or eight years time, who knows what the car industry will look like? By then, will there be a demand for a car like the Golf, that doesn't look like an SUV and is powered by an internal combustion engine instead of an electric motor? Or by then will it have been totally overwritten by the all-electric ID.3 and forthcoming ID.4 SUV? Our friend Lars says no, the Golf will survive well into the future. "No way it's 100 per cent electrification in 2030. Even my boss Mr Diess is not enthusiastic. That would be far too much. There has to be a next generation Golf, I'm convinced," he tells us.

Advertisement - Page continues below

Mild-hybrid is the way forwards. For now

All but one of the Golf's petrol engines are 48-volt mild-hybrid - only the 89bhp 1.0-litre three-cylinder misses out. The others - a 108bhp version of the same 1.0-litre, plus 128 and 148bhp versions of the 1.5-litre four-cylinder - get the tech, which adds a belt starter generator to the seven-speed DSG gearbox and a small battery under the passenger's seat. Practically, this means the Golf can coast without its engine running, regenerate energy through braking and that it gets a little e-boost when moving off. All that supposedly translates into better fuel consumption and lower CO2 emissions. 

But if you're really bothered about that kind of thing, you'll want one of the plug-ins. There will be two, both with a 1.4-litre petrol engine, six-speed DSG and 13kWh battery. Us Brits will only get the more powerful one - the 242bhp GTE. 

The sole diesel option is a 2.0-litre with 113 or 148bhp. It doesn't come with mild-hybrid tech, but Lars tells us it probably will in the future (the Audi A6's 2.0-litre TDI is mild-hybrid, remember). Nonetheless, VW has worked hard to make it as clean and efficient as possible. The company claims it's among "the world's cleanest and most efficient combustion engines". 

VW has also developed a new six-speed manual for the Golf. Go for it, though, and you miss out on any and all electrification.

C2X (car-to-X) tech is fitted to all Golfs as standard, whatever their trim or drivetrain. Practically, it means Golfs (and ID.3s, because it gets the same tech) can communicate with other cars and infrastructure up to about 1000 metres away in real-time. 

The system registers broken-down vehicles, traffic jams, emergency vehicles (and the direction from which they're approaching) and so-on, then flashes up a warning in the instrument cluster. Cleverly, the system does not rely on mobile phone networks to work (as similar systems have done in the past) - but an EU-standardised type of Wi-Fi. This means there's no subscription to pay, it works when there is no mobile signal (in tunnels, for example) and with other types of car, not just other VWs. That said, it is of somewhat limited use until other manufacturers start rolling it out - the Golf is the first car in Europe that uses it. 

The info the system collects isn't stored anywhere, and can't be used by police forces to nab you for speeding for example, but you can still opt out if you really want to.

The suspension has 15 different settings

DCC is nothing new, but here the scope of personalisation is high... where specced, the suspension can be adjusted through 15 different settings when Individual Mode is selected. It gives options harder than Sport and softer than Comfort.

It can save you from almost certain death

Among other things, the Golf knows when another vehicle starts turning right (or left elsewhere in Europe) across your path. If a crash is imminent, the Golf can slam its anchors on and start sounding its horn to warn the other driver (and berate them for doing a bad thing). 

There's also other tech that's filtered down from the likes of the Mercedes S-Class and Audi A8. The adaptive cruise control, for example, now uses GPS to adapt the car's speed for approaching corners, roundabouts and junctions. 'Travel Assist' is adaptive cruise turned up a level, the equivalent of Tesla's Autopilot, with steering assistance up to 130mph. 

You can take your hands off the steering wheel but you shouldn't - this is a 'level two' autonomous system (as are all others currently on the market), meaning the driver has to have their hands on the wheel and "monitor the system" at all times. VW says it's technically capable of changing lanes for you, but new EU laws mean it can't.

Advertisement - Page continues below

There aren't many buttons inside

Well, that's not strictly true. There are lots on the steering wheel. The window switches and mirror controls are still proper buttons, too. And the hazard light switch and SOS emergency button - these controls have to be physical push-buttons by law. 

But most everything else is a touch-button, or has been integrated into the main infotainment screen. The lights are controlled by touch buttons, while traditional climate and volume controls have been replaced by touch-sensitive sliders on a little shelf beneath the 10-inch centre screen (where you might want to brace your hand…). You can tap them to increase the volume or temperature by one unit, or slide your finger across them to make bigger changes. A double tap on the climate sliders switches the heated seats on or off. The controls for the sunroof are where you'd expect to find them, but they too have been replaced with a touch-sensitive slider. All this makes us nervous. 

Arranged around the hazard switch, below the main screen (which will be this big on all UK cars - Germans get a smaller one as standard, then this bigger one as an option or on higher trims) and between the air vents are shortcuts for the climate, parking, safety and drive-mode selection screens. Next comes a couple of USB-C ports (adaptors at the ready) and a pretty deep storage tray with a wireless phone charger. 

Go for the auto, and the arrangement of the centre console is very Porsche 911, with a little push/pull toggle to select a gear rather than the big lever of old.

Oh, and the new Golf is the first car to get VW's new badge (in Germany, anyway. Britain doesn't get the new Golf till next year, so the facelifted Up gets it first here). It's not massively different from the last one - a bit simpler, cleaner. Jürgen Stackmann says the new logo, and all the stuff that goes along with it, "marks the start of the new era for Volkswagen". He says VW "is undergoing a fundamental transformation towards a future with a neutral emission balance for everyone," and that "now is the right time to make the new attitude of our brand visible to the outside world". Righto.