First Look
Six things you need to know: new Volvo V60 Polestar
362bhp Volvo wagon gets new engine, WTCC tech, cool looks and speed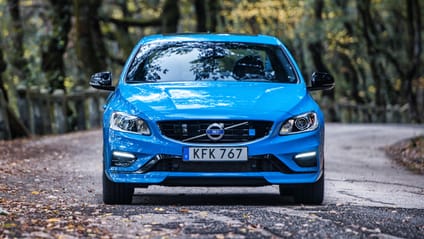 Out goes the six-pot, and in comes a four-cylinder turbo

Yep, that 3.0-litre straight-six has been canned in favour of a 2.0-litre, four-cylinder turbocharged unit. It's a twin-charged engine (meaning it's turbo- and super-charged), featuring a bigger turbo, new conrods, new cams, a larger air intake and a higher capacity fuel pump.

Advertisement - Page continues below

There is more power

One of the bits that matter, surely. The four-pot produces 362bhp, eclipsing the old car's 350bhp. It's slightly down on torque compared to the older car though: there's now 347lb ft of torque (the T6 had 369lb ft).

It's faster than before

Another important, pub-friendly metric. The new car, complete with its BorgWarner four-wheel-drive setup – which is said to send more power to the rear wheels – and eight speed auto box will go from 0-62mph in 4.8s (0.2s quicker than before).

Advertisement - Page continues below

It carries DNA from Volvo's 2016 WTCC racer

The new V60 Polestar shares the same basic chassis (and engine) of the S60 racer run by the Polestar Cyan Racing team, which competes in the World Touring Car Championship.

For the new car, much weight has been stripped – it's 24kg lighter over the front axle and 20kg lighter over the rear compared to the earlier car. Better handling is promised.

It's got shiny new wheels and bigger brakes and is more efficient

You get 20in lightweight alloys, 371mm slotted brake discs, retuned electric power steering and a claimed combined fuel consumption figure of 34.9mpg.

It looks really cool

It just does, doesn't it? But then Volvo estates have always been cool. See here.