News
Five of Subaru's most interesting STIs
As Subaru Tecnica International turns 30, here are its highlights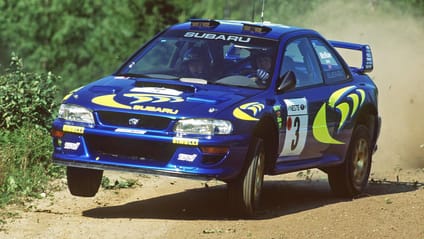 Subaru's STI division is 30 years old. Yes, really. You may know the name best from wildly winged special edition Imprezas (and Legacys, and Foresters…), but Subaru Tecnica International's expertise stretches far wider. Indeed, STI is behind the wonderful World Rally cars piloted by Colin McRae and Richard Burns. It has three WRC titles and 47 individual rally victories to its name.

Indeed, we could dedicate this whole section to rally cars of the 1990s. But we won't. Instead, these are the most interesting road cars and one-off specials to wear an STI badge. Chastise us for what we've missed out in the comments box below…

Advertisement - Page continues below

Subaru Impreza STI 22B

Effectively the road car version of the 1990s rally car, the 22B is a bona fide classic that now fetches more than £100,000 in auctions. Yikes.

As well as a swelled body kit to bridge the gap between road and rally stage, there were closer ratios on the manual gearbox, quicker steering and plenty of power. Its 2.2-litre boxer four produced a claimed 276bhp, but like many of its Japanese performance car contemporaries, it was a mere claim that seemed far meatier in person…

Subaru Impreza STI RB320

A special edition dedicated to the late Richard Burns. It took a 2007-vintage Impreza STI and added an Prodive Performance Pack, which lowered the suspension and upped power to 316bhp, or 320PS, as the name hints at.

The name also nods to how many were made. It was limited to 320 cars and came with a nice plaque, while it was painted exclusively in black. Its contemporary price – a fiver under 30 grand – seems like a bargain nowadays, given the performance, ability and specialness on offer.

Advertisement - Page continues below

Subaru Impreza STI CS400

The most powerful Impreza STI officially sold by Subaru, albeit with more than a little help from Cosworth. It's an oddball, and while astonishingly powerful, not one of the finest fast Imprezas made.

But it's important for being a 400bhp mega hatch long before Mercedes-AMG or Audi's RS division had the idea, and it's also key because it gave the unloved Impreza hatchback an important place in Subaru history. Mind, at £50,000 new, it was almost double the price of its base car. Just 75 were made.

Subaru WRX STI Isle of Man TT special

Subaru already held a four-wheeled record for the Isle of Man TT course, but decided to go back in 2016 to better its record. To do so, it turned a relatively stock WRX STI into, um, a not-stock-at-all STI.

Built by Prodrive – who also had its hand in the Impreza WRC icons – its interior was almost entirely binned, its gearbox was a proper motorsport paddleshifter, while power doubled from the road car to 600bhp. Oh, and Mark Higgins was put behind the wheel,.

The result? A 17m 35.1s lap time, which means an average speed of 128.7mph, a mere 5.2mph off the two-wheeled record. Watch the lap here.

Subaru WRX STI Type RA NBR

If STI's good at anything, it's taking a lost cause of a Scrabble letter selection and making a car name out of it. The zenith of such thinking is this, a car which also happens to be the fastest four-door around the Nürburgring.

Like the IoM special, it's reasonably far removed from its road car base: its aero pack includes DRS, it gets a rally-spec gearbox and it's been boosted – once again – to a chunky 600bhp.

If you're a stickler for rules, you probably think its 6m 57.5s 'Ring time is therefore a bit pointless. If you're not, though, revel in an STI that's as quick around the Green Hell as a Porsche 918 Spyder. The lap is here.