Formula One
10 things we learned from the Qatar Grand Prix
Emergency tyre limits, Mercedes collide, heatstroke and a new three-time champ . The Qatar GP had it all…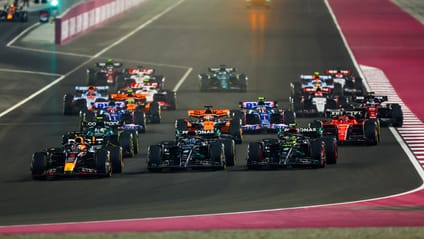 Max Verstappen is champion of the world (again)

It's been a question of when and not if for months now, but Max Verstappen has finally sealed his third world title and did so with six races to spare; the joint record for wrapping up the championship early. Dominant.

All the Dutchman had to do in the sprint race on Saturday was not lose six points to teammate Sergio Perez, and when the Mexican was sent spinning into the gravel in a three-way collision with Esteban Ocon and Nico Hulkenberg, the job was done.

Having celebrated with a few sparkling waters (and some balloons, apparently), Verstappen returned to the track on Sunday and did what he's done for most of the season: win the grand prix from pole. One more and he'll be on 50 F1 wins…

Advertisement - Page continues below

Lewis Hamilton takes full responsibility

Mercedes had the chance to land a knock-out blow in the battle with Ferrari for second in the constructors' standings in Qatar, but instead it bungled the opportunity when Lewis Hamilton and George Russell tangled moments after lights out.

Starting from second and third on the grid, Hamilton on soft tyres enjoyed a better getaway and made a lunge for the lead in the first corner, but he didn't leave his teammate enough space and the result was an immediate DNF for the seven-time champion.

The accident also dropped Russell to the back of the field, but he fought back impressively to finish fourth. Could both Mercs have finished on the podium without the crash?

After watching the replay Hamilton admitted it was "100 per cent my fault" and apologised to Russell and the team, and the drivers embraced afterwards. As Russell put it: "No hard feelings."

The heat was "too extreme"

Even though the grand prix was run after sunset, scorching temperatures of more than 30 degrees Celsius and high humidity in Lusail made several drivers dangerously unwell during the race.

Williams' Logan Sargeant was so ill he had to retire; his teammate Alex Albon was treated for acute heat exposure after the race; Alpine's Esteban Ocon threw up inside his helmet; George Russell was seen steering with his wrists at one stage as he used his hands to direct air into his visor; a dehydrated Lance Stroll staggered over to an ambulance in parc ferme having struggled to climb out of the car.

Race-winner Verstappen - who had to sit on the floor in the cool down room - said the conditions were "too extreme", and several other drivers said it was close to or beyond what was tolerable. Or indeed safe.

Good job next season's Qatar GP is scheduled for December…

Advertisement - Page continues below

Oscar Piastri's mum cancelled her pilates class…

… so she could watch him win the sprint race. Probably worth it on balance, right?

The Aussie continued his impressive rookie season by taking pole position for the sprint ahead of teammate Lando Norris, and when Max Verstappen slipped back from third on the opening lap the win was on.

Piastri briefly lost the lead to George Russell as the Mercedes driver started on the soft tyres, but they quickly lost performance and the 22-year-old eventually swept past again on his way to a first win of any kind for McLaren since Daniel Ricciardo triumphed at the Italian Grand Prix in 2021.

On Sunday Piastri was equally impressive, leaping from P6 into second place at the start ("Thank you Mercedes," he noted afterwards) and taking the chequered flag only a few seconds behind the Red Bull of Verstappen.

McLaren snatched the pit stop world record

No wonder both McLarens were so hot on the heels of Verstappen's Red Bull: the pit crew put in a mind-blowing shift that included a new world record pit stop on lap 27 of the grand prix.

With Lando Norris diving into the pits to swap his old medium tyres for another set of mediums, his car was stationary for just 1.80 seconds; a mere two hundredths quicker than the previous best set by Red Bull at the Brazilian Grand Prix in 2019. Bravo!

F1 sure loves a tyre controversy

Tired of tyre talk? Us too. The grand prix was thrown into chaos mid-way through the weekend when Pirelli discovered that the track's kerbs were damaging the tyres to such an extent that dangerous failures were a real possibility.

That left the FIA no choice but to impose strict limits on how long the tyres could be used for, with a cap of 18 laps meaning every driver would have to stop at least three times.

The result was chaotic - at one stage Alex Albon was leading on an offset strategy - and it also meant drivers could push harder for longer, adding to their struggles with the intense heat.

Obviously this would be the weekend that news of a new tyre deal for Pirelli - which could keep it as the sole supplier until at least 2027 - would emerge, with Bridgestone rebuffed again. Hmm.

Lance Stroll is finding it tough

That much is obvious to anyone giving a cursory glance at the standings. The Canadian has scored just 47 points all season, barely a quarter the total amassed by teammate Fernando Alonso so far.

Stroll struggled again in Qatar, failing to make it out of Q1 again, and after which he tossed his steering wheel out of the cockpit and appeared to shove his trainer out of the way as he left the garage.

He later fronted up and said he and his trainer were still on good terms. However, he scored no points in the sprint or the grand prix and with McLaren in red hot form, Aston Martin looks set to finish fifth in the constructors' championship having started the year with the second fastest car.

If he decides he's had enough of F1, there's always Aston's new Le Mans programme...

Advertisement - Page continues below

Sergio Perez's form has vanished again

Not looking good for Perez, is it? The Mexican's form went AWOL in Monaco in May and arguably it hasn't returned: Qatar was another chastening weekend as qualified only 13th for the grand prix and eighth for the sprint shootout, bringing home a solitary point on Sunday.

The sprint race crash wasn't his fault but the grand prix was a mess as he was penalised several times for breaching track limits. Had Hamilton not DNF'd, he'd be in real danger of losing P2 in the championship right now.

Perez has a contract for Red Bull for 2024, but will the team tolerate this kind of performance if the rest of the field closes the gap next season?

The teams really don't want Andretti

Anyone who doesn't understand why there's widespread opposition to an eleventh F1 team, just listen to what the impassioned Williams team principal James Vowles had to say to Sky Sports this weekend: "We're incredibly lossy. We lost 20 million last year. For 2023, you're going to see that number goes up by multiples.

"What we've said from the outset is 'Absolutely let's add an eleventh team', but let's grow the pot so it makes financial sense. Not shrink the pot, which is what this is going to do quite significantly.

"I have 900 employees that I have a responsibility for. They go home and pay a mortgage. I want to keep 900 employees and I want to keep paying their bill."

He also added that General Motors - the parent company of Cadillac, which has partnered with Andretti for its F1 bid - is an "incredible organisation" that should be in F1.

Is he right, or does the grid need to like it or lump it?

Advertisement - Page continues below

Ferrari is still its own worst enemy

Says a lot about the sheer amount of stuff going on in Qatar this weekend that we barely noticed that Ferrari only got one car onto the grid on Sunday.

An hour before the start the team found a fuel leak on Carlos Sainz's car, and without enough time to fix it the Spaniard was forced to watch from the sidelines having finished sixth in the sprint on Saturday.

That left Charles Leclerc as the sole Ferrari in play on the grand prix, and so poor was the car's pace that he was caught and passed by the Mercedes of George Russell, who had dropped back to last place early on.

Ferrari is 28 points behind Mercedes with five races (and two more sprints) left to run. Can it overhaul its main rivals from here?