Formula One
Eight things we learned from the Saudi Arabian Grand Prix
As Sergio Perez cruised to victory, Alonso's penalty saga meant it took almost four hours to decide who'd finished third...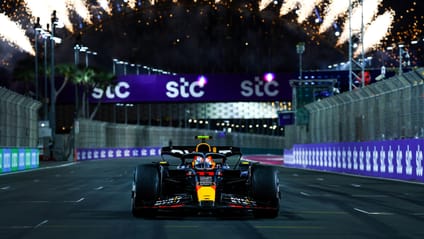 Sergio Perez is still a demon on street tracks

Before this weekend Sergio Perez's only pole position in F1 came at last year's Saudi Arabian Grand Prix, and the Mexican made it two from two on Saturday as qualified in P1.

Had Max Verstappen not had his mechanical problem in Q2 it may well have been a different story, but Perez put a fine lap together to go a tenth and a half faster than his closest challenger.

It wasn't all plain sailing when the lights went out: Fernando Alonso got the better start in his Aston Martin and led for a couple of laps, but Perez soon fought back and after he'd passed the Spaniard, no one else could catch him.

That's five wins Perez has amassed in his F1 career now. Not bad for a driver who was very nearly ejected from the sport a couple of years back.

Advertisement - Page continues below

The Red Bull can start anywhere and still beat everyone else

It says something about Red Bull's pace that most people thought Max Verstappen was still favourite for the race win despite starting down in P15 after that issue in qualifying.

As expected the double world champion picked his way through the field with ease, although the arrival of the safety car made his job a little easier when it was deployed on lap 18.

That left Verstappen in fourth with his rivals right in front of him, and while he made light work of George Russell and Fernando Alonso, he didn't quite have the pace to reel in his teammate.

Still, he managed to grab the bonus point for setting the fastest lap, so he's still top of the championship standings. Has the one-horse race for the title gained another runner?

The FIA had a bad day at the office

Hard to argue that the FIA didn't have a bit of a shocker in Saudi. Fernando Alonso did exactly what Esteban Ocon managed a fortnight ago by earning a five-second penalty for not lining up in his grid box properly at the start. Strange that it happened two races running, but rules are rules.

The Spaniard served that penalty when he made his sole pit stop under the safety car, but in the last moments of the race it emerged that Aston Martin was being investigated for not serving that penalty properly. Again like Ocon in Bahrain.

The stewards found him guilty and applied a 10-second penalty that meant he lost his podium… after he'd, y'know, been on the podium to collect his trophy. Cue an awkward handover in the paddock to George Russell, who was promoted from P4.

Only that wasn't the end of the saga. Aston appealed and argued that while the jacks used to lift the car up in the pit lane were touching the car (which is what we all thought wasn't allowed), they hadn't actually lifted the car and so they weren't technically working on it. And the team dug out clips of previous examples where other teams weren't punished for doing exactly the same thing. So the penalty was rescinded. What a palaver.

Advertisement - Page continues below

Alonso got his 100th F1 podium

After all that, Fernando could re-celebrate what was his 100th podium finish in F1, making that two P3s in as many races since the start of the new season.

It arrived almost exactly 20 years (yes, two whole decades!) after his first podium at the Malaysian Grand Prix with Renault in 2003, when he crossed the line behind McLaren's Kimi Raikkonen and Ferrari's Rubens Barichello.

How long do you reckon it'll be before the Red Bulls take each other out and Alonso sweeps to a first race win since his last one in 2013?

McLaren must've broken a mirror recently

As well as being quite slow, McLaren just isn't getting any luck at the moment. And it could've been very different as rookie Oscar Piastri somehow dragged the car into Q3, starting the race from P8.

It didn't last. The Aussie had contact with the Alpine of Pierre Gasly on the opening lap, breaking the endplate off his front wing. And the shard that spun off struck Lando Norris near the back of the field… who then also needed to put for a front wing.

That put both McLarens in last and last-but-one, and things barely improved from there as they finished P15 and P17. Ouch.

Leclerc got a penalty in only the *second* race

Ferrari's reliability became something of a running gag last season as its engines kept breaking… and things haven't improved in 2023.

Leclerc had to retire from the Bahrain Grand Prix after a part that the team had replaced before the race also failed. The component in particular - the control electronics unit - can only be changed once a season, so unit number three meant an automatic ten-place grid drop for Saudi Arabia. Oh dear.

And Ferrari didn't really turn up in the race either. They managed to get both cars ahead of the Aston Martin of Lance Stroll at the pit stops, but the timing of the safety shortly after meant they lost out to the cars ahead, and they made no progress from P6 and P7 after that.

Hamilton has parted ways with his Angela Cullen

Lewis Hamilton openly admitted that he hasn't yet gelled with this year's Mercedes, having to settle for P5 behind teammate George Russell (who was faster all weekend) when the chequered flag arrived.

But the big story for the seven-time champ over the weekend was that he'd parted ways with trainer Angela Cullen, who he'd been working closely with for seven years.

Despite Hamilton and team boss Toto Wolff addressing the subject over the weekend it's not entirely clear what the reasons are for the split, although the Brit insists that he's still on good terms with Cullen and "can't wait to see what the future has in store" for her.

Advertisement - Page continues below

There wasn't a great deal of wheel-to-wheel action during the grand prix, aside from Verstappen cruising past most of the field, of course.

That said, Lance Stroll - still recovering from the cycling accident that left him with two broken wrists - pulled off a lovely move on Carlos Sainz on the opening lap, hanging his Aston out around the outside of the Ferrari in turn 13.

What a pity that his race ended on lap 18, when his team radioed in to tell him he had to stop on track.