Formula One
F1 2016: Ten talking points from the Austrian GP
Hamilton wins after colliding with Rosberg: lots to discuss after the race at Spielberg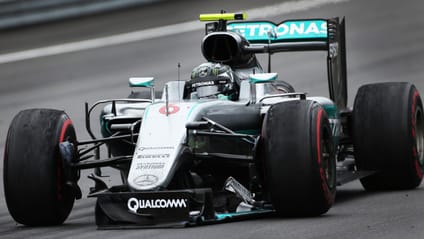 Hamilton clinched victory after last-lap contact with Rosberg

Lewis Hamilton reduced the gap at the top of the championship to just 11 points after passing teammate Nico Rosberg on the very last lap of the Austrian Grand Prix.

Rosberg had led for the majority of the race after fighting back from sixth on the grid, but the 31-year-old broke his front wing whilst attempting to keep Hamilton behind him, eventually limping over the line in fourth.

At the time of writing, Rosberg faces an investigation for causing the collision and for failing to stop with a damaged car. The stewards don't appear to blame Hamilton, although the incident will no doubt provoke cries of foul play from fans of both drivers.

And while Mercedes continue to hold a comfortable lead over Ferrari in the constructors standings, they will surely be aggrieved at yet more points dropped thanks to their drivers' inability to race cleanly wheel to wheel.

So who was a fault? We'll leave that one up to you...

Advertisement - Page continues below

Verstappen got another podium

The teenager has hit the ground running since his promotion to Red Bull, and his talent was there for all to see once more as he secured his second ever F1 podium at Spielberg.

The Dutchman had been on course to finish third after again holding off Kimi Raikkonen in the latter stages of a race, but he was rewarded with second after Rosberg's final-lap disaster.

Daniel Ricciardo meanwhile finished 25 seconds adrift of his young teammate.

Verstappen has outscored Ricciardo since he arrived from Toro Rosso in May. Could he find himself ahead in the standings come the end of the season?

Sebastian Vettel had a rubbish birthday

The four-time world champion turned 29 today, and no doubt he will have been hoping to celebrate with a win at the Red Bull Ring.

As it happened, the German was leading the race on lap 26 having overcome a five-place grid demotion for a gearbox change, but crashed out in peculiar fashion after a sudden right-rear tyre failure.

It's the third time this season that Vettel has failed to finish a race having retired in Russia and having failed to make the start in Bahrain. He is now 57 points adrift of championship leader Nico Rosberg.

Unless Ferrari find some performance gains from somewhere, Vettel's title challenge looks as good as over already.

Advertisement - Page continues below

Spielberg's kerbs caused multiple suspension failures

While the investigation into Vettel's tyre failure gets underway, the debate about the new kerbs at the Austrian track continues.

In a bid to force drivers to respect the limits of the circuit, the FIA introduced a new setup which featured yellow blocks on the outside of some corners.

After Sergio Perez, Daniil Kvyat and Max Verstappen all suffered suspension failures in practice, the drivers disagreed about whether or not the new kerb design was safe to race on.

However, Nico Rosberg's suspension broke on Saturday morning while he was nowhere near the yellow bumps. Mercedes later blamed the incident on a "strange frequency" when riding over the kerbs.

Back to the drawing board, then.

Qualifying threw up some surprises

We've grown accustomed to watching Lewis and Nico locking out the front row of the grid in qualifying in recent seasons, although not since 2012 has that Nico been of the Hulkenberg variety.

The 28-year-old had a storming final session as the rain came down in Spielberg on Saturday, qualifying third. But the Force India driver had a stroke of luck when fellow countryman Rosberg was demoted from second, putting Hulkenberg on the front row for the first time since his pole position at the Brazilian GP four years ago.

Also benefitting from penalties for other drivers was Jenson Button, who did an amazing job to qualify fifth while teammate Fernando Alonso languished in 14th. As Rosberg and Vettel dropped down the order, the British veteran found himself in a scarcely credible P3.

We don't know what odds you could've got on a McLaren-Honda starting from third this weekend, but if you did have a flutter on it, we imagine you're now in the middle of purchasing a modestly sized yacht...

Manor scored a point!

Another surprise that emerged from qualifying was the performance of Pascal Wehrlein, who was less than sixth tenths of a second shy of making Q3 as he secured a very respectable P12 on the grid.

But there was more jubilation to come for Manor as the Mercedes reserve driver raced superbly to finish in the top ten, snatching the last point-scoring position as Sergio Perez crashed out on the last lap.

It is only the second time Manor has ever scored championship points at a GP, with the other occasion being Jules Bianchi's ninth place at Monaco in 2014 when they were known as Marussia F1.

In the unlikely event that Mercedes decide Hamilton and Rosberg can't continue as teammates, they have a superb understudy waiting in the wings.

Jenson Button had a great race

There has been plenty of talk about the future of the 2009 world champion lately, with reserve driver Stoffel Vandoorne rumoured to be the favourite to partner Fernando Alonso at McLaren in 2017.

However, Button reminded everyone that he is still capable of competing in the top tier of motorsport with a fine drive to finish sixth at the Red Bull Ring; his best result since the US Grand Prix last season.

Teammate Alonso was less fortunate, retiring with half a dozen laps remaining.

Button though made the most of his great starting position, jumping ahead of Nico Hulkenberg at lights out to enter Turn 1 in second behind Hamilton, a position he would hold for eight laps.

And when the Safety Car emerged after Sebastian Vettel's crash, McLaren made the decisive call to bring Button in for the set of tyres that would take him to the chequered flag. Top effort.

Advertisement - Page continues below

Grosjean returned to the top ten

One of the big stories from the early part of the season was the arrival of American team Haas F1, and their unbelievable start to life in Formula One as Romain Grosjean scored well in three of the first four races.

Since then the team has struggled, and the confirmation that they were switching their focus to next year's car indicated that further championship points would be hard to come by.

Not so. Grosjean had another solid race, crossing the line in seventh ahead of Toro Rosso's Carlos Sainz while teammate Esteban Gutierrez continued his wait for points in 2016 with a third 11th place of the season.

Grosjean joined Haas in the hope of proving his worth to close partners Ferrari. Even if a drive at the Italian team looks unlikely, he's certainly doing all he can to grab their attention.

There was more misery for Daniil Kvyat

When the young Russian was demoted from Red Bull to Toro Rosso, Christian Horner said that the move would enable him to rebuild his career. Five races later, his future is looking increasingly bleak.

Kvyat has scored just one point since returning to his old team, whereas new teammate Carlos Sainz has consistently finished in the top ten in that same period.

So it proved again in Austria as the Spaniard finished ninth, after Kvyat had been forced to retire early on.

Toro Rosso announced that they were retaining Sainz for another season earlier this week. If Kvyat can't up his game in the coming races, then he might find himself cast aside altogether as the Red Bull programme looks to give other young prodigies a chance.

Advertisement - Page continues below

Lederhosen are back in fashion

Well, they must be, as Red Bull insisted that Daniel Ricciardo and Max Verstappen wear specially commissioned racing overalls this weekend featuring a modern take on the traditional Austrian outfit.

The suits differ from the drivers' ordinary uniforms with braces, lederhosen and matching socks printed onto the fabric.

Both Daniel and Max looked happy enough to be wearing them, although at second glance Ricciardo's smile doesn't appear to be as wide or as radiant as usual.

After losing out on two potential wins in recent races, hasn't the Aussie suffered enough?