Formula One
Williams hits 800 GPs: can you name all its race winners?
The Hungarian GP was Williams' 800th F1 race. Can you recall the 16 drivers who've taken the chequered flag for the team?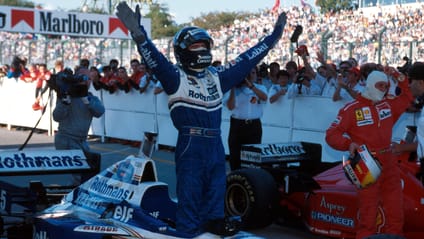 Wins: 1

Just two years after being established in 1977 by Frank Williams, Clay Regazzoni picked up the fledgling team's first of many F1 wins at the British Grand Prix in 1979, lapping everyone bar Renault's Rene Arnoux in his FW07. It would prove to be the Swiss driver's only victory for the team, and his last in Formula 1.

Image: LAT

Advertisement - Page continues below

Wins: 11

The Australian driver - seen here next to Mark Webber - backed up Regazzoni's win with three more victories on the bounce as the team finished 1979 strongly to end up second in the standings behind Ferrari. A year later Jones became Williams' first world champion as it picked up the constructors' title after a season where it utterly dominated the field.

Wins: 3

Ever the nearly man, Carlos Reutemann moved to Williams from Lotus in 1980, winning three races and landing 16 podium finishes in his two-and-a-bit races with the team. He should've been world champion in 1981, but results tailed off badly in the second half of the year and he lost the title by a single point to Nelson Piquet.

Advertisement - Page continues below

Wins: 5

One of the coolest racing drivers of his era? Quite possibly. All five of Keke Rosberg's F1 victories came with Williams, the first of which arrived at the Swiss Grand Prix in his title-winning 1982 campaign. He remains on of only two drivers to be crowned world champion in a season that yielded just one race win.

Wins: 28

That's an easy one. Nigel Mansell is Williams' most successful driver ever, winning almost a quarter of the team's total haul in two stints bookending a two-year stay with Ferrari. Only in Mansell's final full season did he convert his immense talent into a world title, winning eight of the first 10 races in 1992 as the Adrian Newey-designed FW14 crushed the opposition. Wouldn't be the last time we'd say that, either…

Wins: 7

Nelson Piquet joined Williams in 1986 as a two-time world champion and departed it as a three-time world champion at the end of 1987, narrowly beating Nigel Mansell to the title despite winning half as many races that year. More recently Piquet has become a figure of controversy for making racist comments aimed at Lewis Hamilton, and he is now reportedly banned from the F1 paddock.

Wins: 3

You're doing well if you got Thierry Boutsen: the oft-forgotten Belgian enjoyed a stellar F1 career with stints at Arrows, Benetton, Williams, Ligier and Jordan, though only with Williams did he manage to scale the top step of the podium. His last win came at the Hungarian GP in 1990, where he qualified on pole and held off a charging Ayrton Senna to win by just 0.288s.

Image: Photo4 / XPB Images

Advertisement - Page continues below

Wins: 4

The Italian made his debut for Williams at the final race of 1987 as Nigel Mansell recovered from an accident, having already agreed to partner the British driver for the following season. It would be the start of a five-year run with Williams in which he scored four wins and many, many second places, finishing a distant runner-up to Mansell in the world championship in 1992.

Wins: 7

Prost's time at Williams was short but sweet: his one and only comeback season with the team in 1993 returned seven victories, five further podiums and the Frenchman's fourth world title. After which he hung up his helmet for good.

Advertisement - Page continues below

Wins: 21

The son of double world champion Graham Hill, Damon made his debut in F1 at the relatively late age of 31, and the following year he was thrown in at the deep end alongside Alain Prost for 1993. The season after he shared the garage with Ayrton Senna, although the Brazilian was tragically killed just four races into 1994, effectively making Hill the team leader. His talent (and Williams' speed) was obvious, and though he missed out on the world championship to Michael Schumacher two years running, he eventually prevailed in 1996: his last win for Williams - when Murray Walker famously got a lump in his throat - secured him his sole world title.

Wins: 1

The young Scot was handed his F1 debut by Williams in the aftermath of Senna's death, and a handful of appearances led to his only full season with the team in 1995. When the car finished he missed out on the podium only once that year, claiming a maiden grand prix win in Portugal having started the race on pole.

Wins: 11

It's not often that a team decides to drop a soon-to-be world champion in favour of a rookie, but that's what happened when IndyCar champion Jacques Villeneuve joined Williams in 1996 and immediately pushed teammate Damon Hill all the way for the title in his first season. With Hill deposed for 1997, Villeneuve romped to the championship as he racked up seven victories. Sadly for him that's where his F1 career peaked: '97 marked the end of William's domination and the Canadian driver never won another grand prix.

Wins: 1

Frentzen was hired to replace Hill for 1997 and he brought home a win for the team in only his fourth race. However the San Marino Grand Prix at Imola proved to be his only victory and with Williams on the decline, the German moved onto Jordan after only two years.

Wins: 6

Ralf entered F1 in 1997 and he arguably should've already been a race-winner by the time he signed for Williams in 1999, victim as he was to team orders as Jordan secured its first ever one-two at Belgium in 1998. Anyway, it would take Schumacher until his third season with the team to convert his undoubted speed into a race win, finally prevailing at Imola in 2001 having started on the same row of the grid as seven-time champ and brother Michael. Schumacher won two races back-to-back with Williams in 2003 and was arguably in the title hunt only 11 points shy of his sibling, but the final six races were unfruitful and he never won in F1 again.

Wins: 4

Montoya's time in F1 was something of a rollercoaster: he joined Williams in 2001 fresh from having won the Indy 500 the year before, and he retired from 10 of his first 14 grands prix. And then out of nowhere (ish) he won in Monza, eventually placing sixth in the standings on the strength of just five points-scoring results. He continued to pepper the podium with the team for the next three years, collecting further wins at Monaco, Hockenheim and in his final outing with the team at Interlagos in 2004.

Wins: 1

Pastor Maldonado became something of a figure of fun towards the end of his, um, incident-packed career, but it's easy to forget that the Venezuelan remains the most recent Williams race winner. His victory at the Spanish Grand Prix in 2012 - in which he qualified on pole and then outpaced the Ferrari of Fernando Alonso on race day - is the stuff of legend. Hard to believe it was so many years ago now…

That makes a total of 114 grand prix wins since 1977, spanning seven world champions and nine constructors' titles; a tally beaten only by Ferrari. Wonder how long it'll be before it adds to those numbers again?