Hot Hatch
Renault Clio RS16 vs Ford Fiesta ST200 vs VW Golf GTI Clubsport S
Time for the little hellraisers to grace the RB Ring. Take it away, Chris...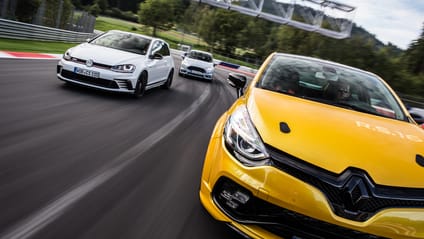 Were we to anthropomorphise these little hellraisers, I suspect the Fiesta ST would be spying this new Renault RS16 with mixed emotions. On one hand it would be a little bit concerned that its supposedly class-leading 197bhp was looking decidedly flaccid compared to the Renault's comical 271bhp. On the other, if Ford hadn't done such a fantastic job of the Fiesta ST and completely stolen the Clio 200's thunder, Renault might not have needed to respond with such a direct statement of intent.

Test 1: Alfa Giulia vs Abarth 124 Spider vs Focus RS

Advertisement - Page continues below

I don't need to spend much time talking about the ST because it is one of the standout cars in this test. It doesn't have the pace to come alive on a circuit this wide and fast, but its fundamentals are superb – the rear is mobile enough to navigate the fun/fear divide and the whole package just seems to buzz with excitement. Like the McLaren 570S, it feels like a road car trying to do its best work on a circuit, which kind of precludes it getting into the last few, but that doesn't stop it being, within its peer group, a clear leader.

Does bunging a Megane 275 motor and a manual gearbox into a Clio suddenly make it the finest hot hatch ever made? I genuinely can't answer that, because this was a development machine and therefore some way from being a finished production car, but I can tell you the following. 

It's very fast, but not as loopy as you may expect because the new Clio is about the same size as a Ford Granada. The manual gearbox is a blessed relief after the paddle-only situation of the standard car, and if Renault intends on building this, it needs to be less cautious with the chassis. 

Advertisement - Page continues below

By that, I mean the car needs to have a livelier rear end and feel less grown-up. The motor hisses and parps like a loon, but the chassis is so composed and capable that it rather sanitises the fireworks. I hate telling people how to do their job, but if I were Renault, that's what I'd do. Oh, and add some angry, visible exhaust outlets too. But I don't run a car company, and if I did, it would be insolvent within weeks, so Renault will wisely ignore my thoughts on the subject and do what it sees fit. 

Perhaps it should follow Volkswagen's lead? Hell-bent on making the upper reaches of the Golf range even more confusing, it has given us the GTI Clubsport S. A fast Golf which appears to be about as expensive as the supposedly more expensive, more-wheel-drive and generally brilliant Golf R. When I first read about this thing, I assumed it was simply the product of Mr Piëch's impish desire to rob Honda of a Nürburgring lap record. A pointless, two-seater folly. Wrong again, Harris.

This is one of the best cars here. It is overspilling with character, it reminds me why I love aggressive front-drive chassis and in this stripped-out track spec and running Michelin Cup rubber, it is crazy fast. Torque steer is better controlled than in the Clio, traction is better too and the gearshift has that rare positivity which invites you to be a little bit brutal with it. 

I am a hot-hatch obsessive, and have never found VW's offerings that interesting. This car continues a DNA strand founded by the great French hatches of the Eighties – unashamedly childish and enjoyable, desperate to draw the driver into the fun. I'd have one over the Focus RS. Didn't think I'd ever type that.