Le Mans 2016
Five things we learned at Le Mans 2016
The 24-hour race was action-packed from start to finish. Here's what it taught us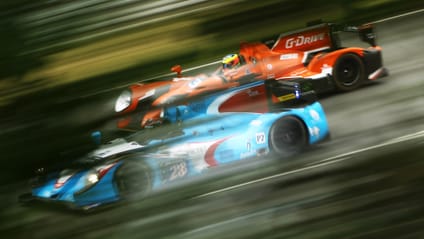 Cycling is great preparation for driving

It must be, given that Olympic cycling legend Chris Hoy found himself on the grid of the world's most prestigious endurance race just four years after swapping his bicycle helmet for a racing one.

"Thinking about starting out at Oulton Park doing track days, sitting for my test, the whole journey to get here... There were times when I didn't think it was going to happen," said the six-time gold medallist after his Algarve Pro Racing team finished 12th in the LMP2 class, and 17th overall.

"I thought – a bit like the Olympics – even if you don't make it, you might get half-way and do something exciting. But we made it here to Le Mans. And we didn't just make it, we finished the race. Just amazing."

Advertisement - Page continues below

Disability doesn't stop you racing

One of the great stories at Le Mans this year belonged to amputee Frederic Sausset, who competed for OAK Racing despite losing parts of all four of his limbs following an infection in 2012.

Driving a specially modified LMP2 car, Sausset was able to drive alongside two able-bodied teammates thanks to a removable system of prosthetics and levers that allowed him to control the vehicle.

Further concessions of an automatic gearbox and power-assisted brakes also helped him to contest the race.

Completing 69 of the team's total of 315 laps, Sausset helped his team to a respectable 38th overall, becoming the first Garage 56 entry to finish the race.

Anniversaries are best celebrated with champagne

Just ask Ford. They entered the World Endurance Championship this year in order to mark the passing of half a century since the GT40 won the first of its four Le Mans titles all the way back in 1966.

But rather than just turn up to make up the numbers, Chip Ganassi Racing were determined to claim victory in the GTE Pro class. And that's exactly what they did. Finishing first, third, fourth and ninth, they came agonisingly close to not just replicating the win of '66, but also the podium lockout of that year as well.

The result didn't come without its controversies though. Both the winning #68 Ford and second-placed Ferrari of Risi Competizione traded post-race penalties which eventually left the standings unchanged, but eyebrows will be raised given that the GTs were some five seconds faster than they were in testing at the start of the month.

Claims of sandbagging certainly won't disappear in a hurry.

Advertisement - Page continues below

Fire extinguishers are complex tools

At the Spanish Grand Prix last month, Nico Hulkenberg was forced to retire after smoke started pouring from the rear of his car. Peculiarly though, he had to put out the blaze himself after a marshal failed to use a fire extinguisher correctly, resulting in much ridicule on social media.

Not to be outdone, one marshal had a nightmare of a time in the closing stages of Le Mans on Sunday when the smoking car #28 car of Pegasus Racing pulled up near Indianapolis.

Whether the marshal in question simply couldn't pull the pin out, we may never know, but he struggled frantically for what seemed like an age to get his extinguisher to work.

With the flames building, he eventually had to retreat until backup arrived. Oh dear.

Motorsport can be really, really cruel

The biggest, single lesson that can be taken away from the 24 Hours of Le Mans this year is that to finish first, first you have to finish.

23 hours and 56 minutes into the race, Toyota looked like they had it all sewn up. Their #5 car needed to complete just one more lap of the 8-and-a-half-mile track, and a maiden victory at Circuit de La Sarthe would be theirs.

The wait continues. A catastrophic power failure enabled the #2 Porsche to coast past on the finish line, and because it took 11 minutes for Kazuki Nakajima to limp home on the final lap, they weren't even classified.

While Toyota came to terms with their agony, it was good to see that sportsmanship was still alive and well within the World Endurance Championship paddock. Anthony Davidson soon Tweeted his congratulations to Porsche, while the rest of the grid responded with an outpouring of commiserations. Top stuff.